Centerpieces
,
Christmas
,
Crafts
,
Create
,
Enrichment Ideas
,
Gift Ideas
,
Halloween
,
Holidays
,
Home Decor
,
Just for Fun
,
Pray
,
Teacher Gift
,
Tutorials
,
Valentine's Day
DIY Apothecary Candy Jar Decoration – a Tutorial
I was asked to help make a craft for our upcoming Super Saturday. (A fun day of crafts at my church) So I came up with these adorable Apothecary Candy Jars that make a perfect decorative piece for your home. I also made a few extra for my kids teachers for the holidays. (They make a quick and easy teacher gift!) They are also very inexpensive. Check out the tutorial below and let me know if you make any, I would love to see them!

Supplies:
Spray Paint (Color of your choice)
Ribbon (I like using gross-grain)
Wood Circles (I found these at Hobby Lobby)
Wood Ball Knobs (Hobby Lobby)
Candle Stick ($ Store)
Glass Jar with Lid (I used a Ragu Jar)
Glue (I used E6000 the first time and then switched to Hot Glue – it dries faster!)

First Spray Paint your pieces – candlestick, knob, lid, circle.


Once all your pieces are coated and dry (they may take more than 1 coat, I also painted the bottom of the circle too). Then glue your candlestick to the circle.


Then glue the knob to the top of your lid.


Then add a cute bow with your ribbon and glue the base of your jar to the top of the circle.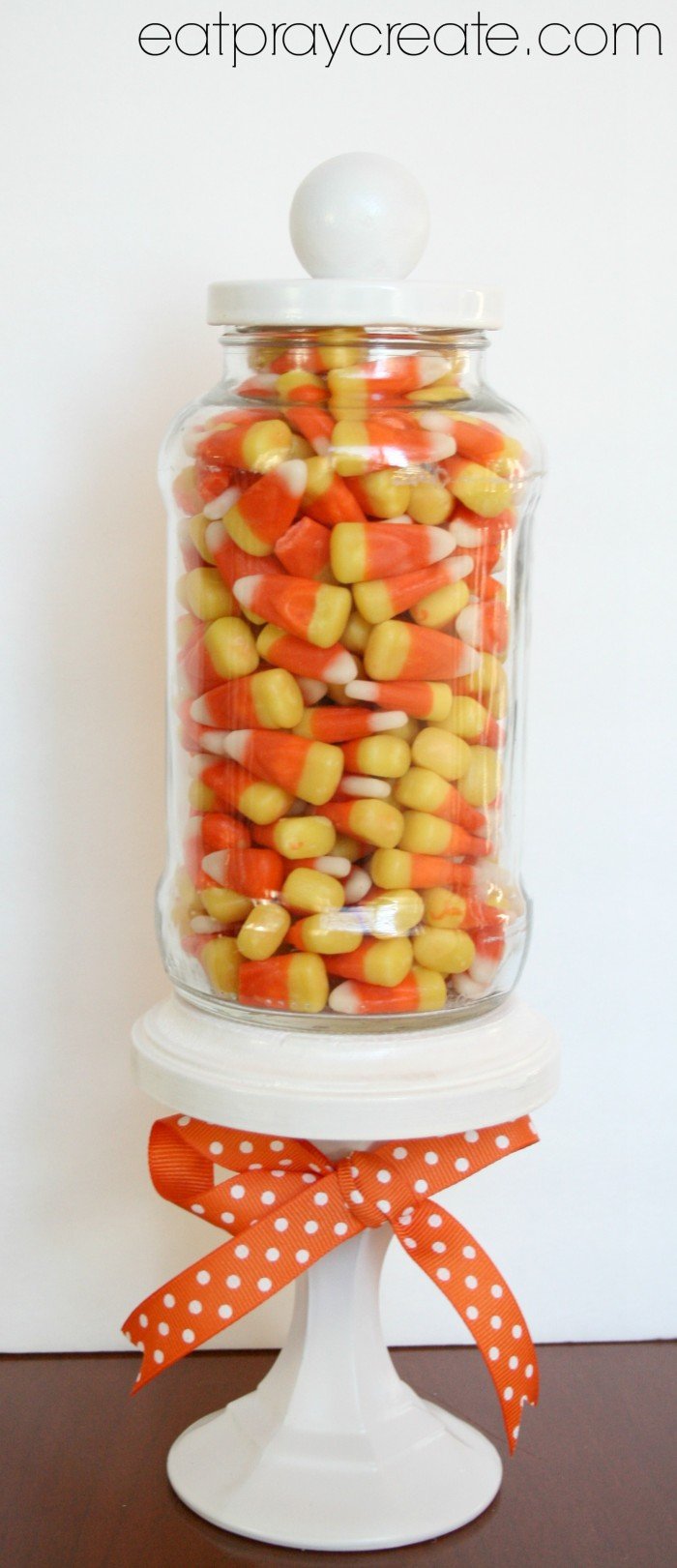 Make one for every occasion!


Hope you enjoyed the tutorial! Get creative….you can put other things in the jar besides candy…
Here's another Candy Jar Tutorial I made a couple years back.
And Click HERE to see all the fun Linky Parties I've linked up to!
The following two tabs change content below.
Hi I'm Taya! A stay-at-home mother to 5 cuties. I love to craft, sew, blog and make fun things. I'm the creator of the 'Eat-Pray-Create' blog and I'm so glad you're here!
Google+