Families are Forever Primary Bulletin Board Idea
I serve as a councilor in my church Primary organization. On Sunday's I help teach the children and work with the presidency to organize things in the primary. Today I want to share some of our 'Families are Forever' Primary Theme Ideas with you!
This year our theme is 'Families are Forever' and we have a large bulletin board that we decorate each year to match the theme. So we decided to create this giant 3D tree with the children's family photos hanging from the branches.
I just love how it turned out! This is how we made it…
Large Family Tree Bulletin Board Tutorial:
Staple light weight fabric to your board, tucking under the edges.
Crunch up some brown packing paper (I used some that was already crumpled that came in a package from an Amazon order). Staple a large section for your trunk and then smaller/thinner pieces as your branches. We just cut the pieces to the lengths and widths that looked good.
Attach your photos to black cardstock and hole punch the tops to add twine for hanging from the branches. You can use some tape on the back to keep the photos in place after hanging.
Then print the 'Families are Forever' pdf sign (FamiliesareForeverSign pdf) onto brown paper. I got my brown paper from JoAnn Fabric in the scrapbooking section. Then cut it out and back it with black cardstock and attach to front of the tree with tape.
We added some Fall cutouts and plan on changing them out in the spring with flowers. But you can decorate the bottom how ever you like.
We also made a cute 'Families are Forever' Banner and hung it from the piano at the front of the room.
 This is a very simple banner to make. Here's how to make your own…
'Families are Forever' Banner Tutorial:
Print off the Families are Forever PDF onto white cardstock. (familiesareforever pdf)
Cut them out in a triangle shape.
Glue them to black Cardstock and cut out (I used a paper cutter)
Finally, hole punch the corners and feed some ribbon through. Then hang your banner where you like!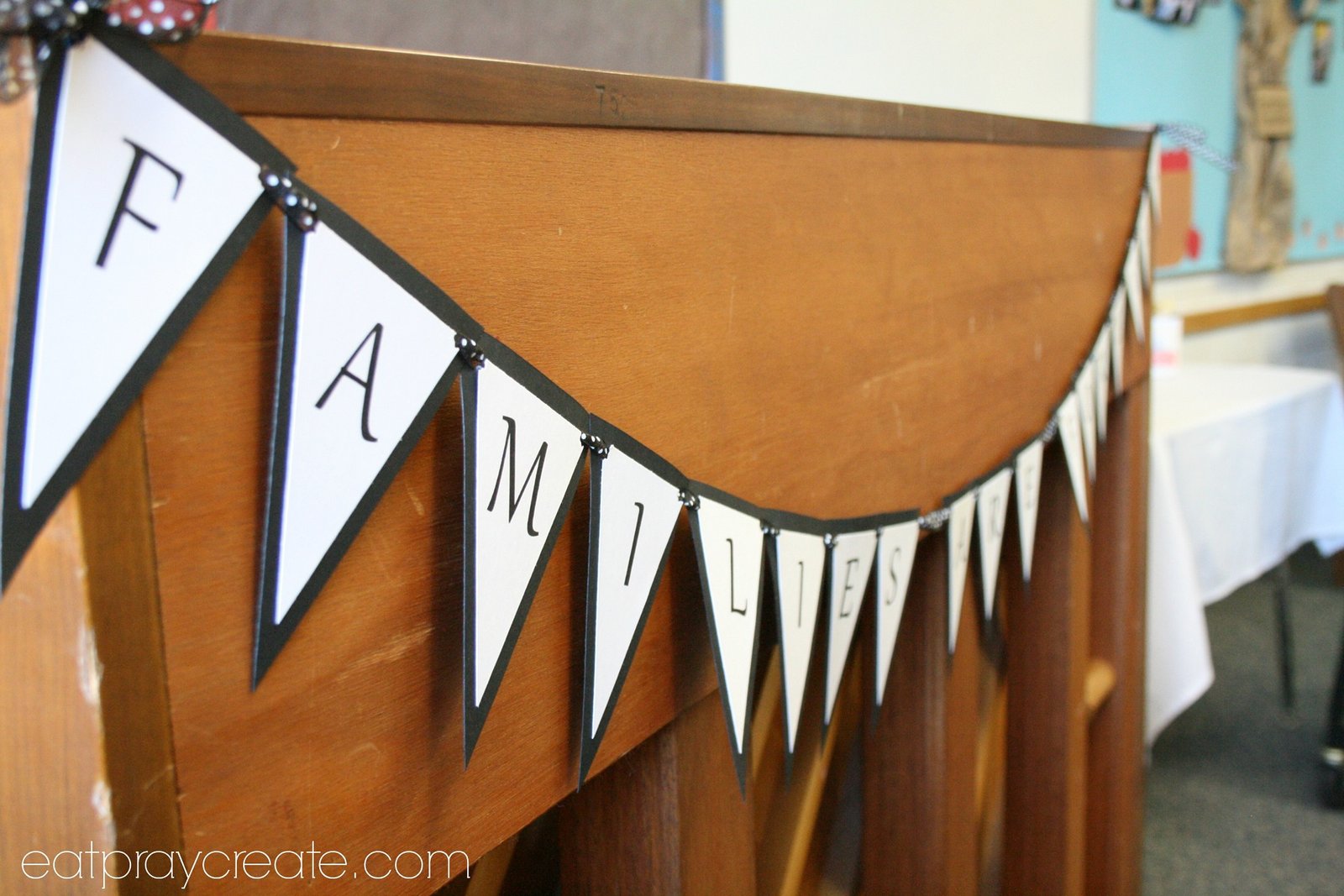 The last thing I want to show you is our primary name containers. During sharing time we call on the kids a lot to help out with the lesson. We want to make it fair for all the kids so we made little containers that hold sticks with their names on them. Then we just pull a stick out when ever we need a little helper.
These are really easy to make! Here's what you'll need to do…
Name Stick Holder Tutorial:
Gather Tin Cans (you can buy them at a craft store or wash a used can and peel off the label – we have 2, 1 for Junior Primary and 1 for Senior Primary)
Cover the outside of your cans with white cardstock. Then add a label (I used the 'Families are Forever' labels found HERE) Cut them out and attach one to each side of the cans, I used Hot Glue. Add embellishments if you like, I used matching scrapbooking flowers.
To make the name sticks just buy some large craft sticks and write the names of your primary children on the lower part of the stick using a permanent marker. Make sure to make a few 'visitor' sticks too!
Paint some wood shapes to attach to the ends. (I used Gold paint for these wood stars found at JoAnns craft store). Here is a tip for painting multiple little pieces at one time…attach some tape upside down(tuck the ends of your tape under) to your surface, I use a brown paper bag, and then attach your little pieces of wood to the tape to secure in place. Then use your paintbrush to paint the stars all at one time! The best part is your hands don't get covered in paint!
These name stick holders would also be great in a classroom setting! You could just decorate the tin can with a label that had your classroom number or teacher's name on it!
Do you have any other ideas for this years primary theme?? Just leave a comment back to your blog or contact me using the contact form at the bottom. I would love to see your ideas!!
Check out some more of our Church Ideas HERE!
Click HERE to see all the Linky Parties I've Linked up to:)
The following two tabs change content below.
Hi I'm Taya! A stay-at-home mother to 5 cuties. I love to craft, sew, blog and make fun things. I'm the creator of the 'Eat-Pray-Create' blog and I'm so glad you're here!
Google+