Finishing Garage Stairs using Vinyl Flooring
Finishing Garage Stairs using Vinyl Flooring
This is a simple and easy method for covering up plain wood stairs that are unfinished. It can easily be done in a day. This is great for those unfinished garage stairs that are such an eyesore! We love our finished Garage Stairs, and the inexpensive vinyl made it even better. Keep reading for a little tutorial on how to do it yourself! Look how well they turned out…
Here are our Garage Stairs before, notice the slight gap on the left-hand side between the wall and stairs(we covered that up as well)…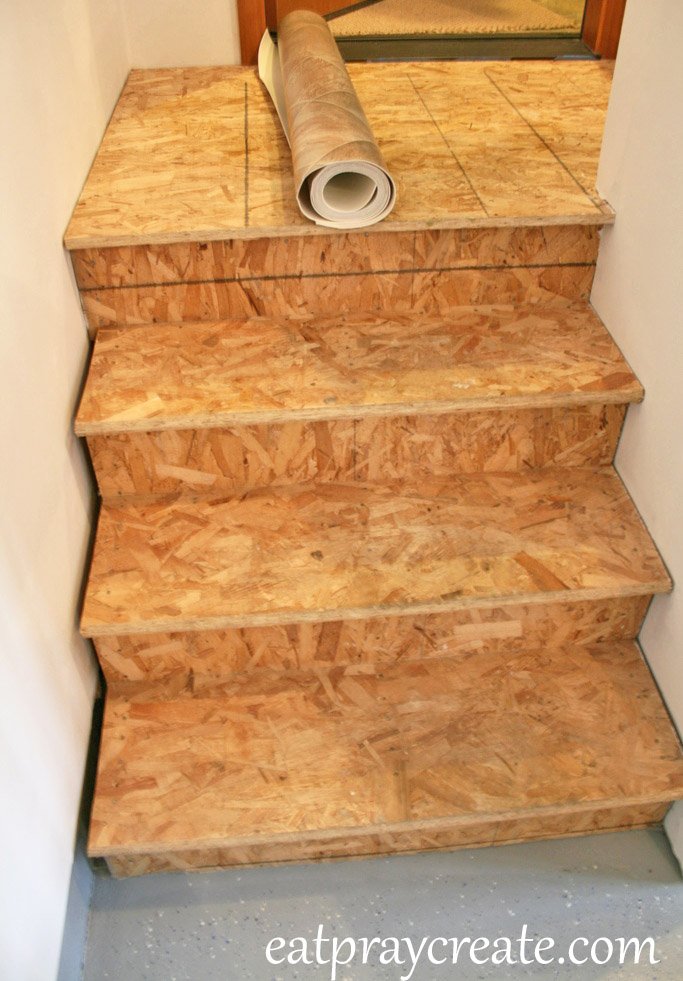 Wanna cover your unfinished Garage Stairs too? Here is what you'll need…
Supplies:
Sheet Vinyl Flooring (you will need to measure your surfaces and purchase enough to cover your whole area including the surface of the steps) – found at your local hardware store
Vinyl flooring adhesive (glue that is used with the type of vinyl flooring you buy)
Measuring tape/Marker
Utility Knife/Scissors/Wood Glue
White Trim (again you will need to measure around where you would like the trim and buy enough to cover the bottom edge of the wall)
White laminated particle board (the thin stuff for the face of the steps)
Aluminum Stair Edger (The kind that curls around the edge of each step)
Nails (for edger and nail gun)
Nail Gun/Hammer/Saw
Steps:
Measure each surface area and draw (on the wrong side of your vinyl) and cut out.
Lay out your cut top piece (ours was able to slide under the door jam) and then lift the edges and apply glue before pressing back down.
Continue this process with each step surface.
Add your white laminated particle board to the front of each step using wood glue and a nail gun.
Cut and add your aluminum edger to the front edge of each step using hammer and nails.
Measure the sides you want your trim (we only used trim around the top section). Cut your trim to fit each side and attach using a nail gun. Cut at an angle for the corners to match up.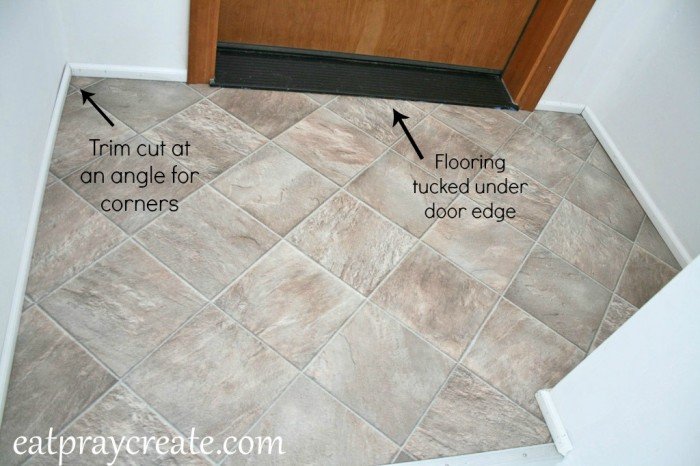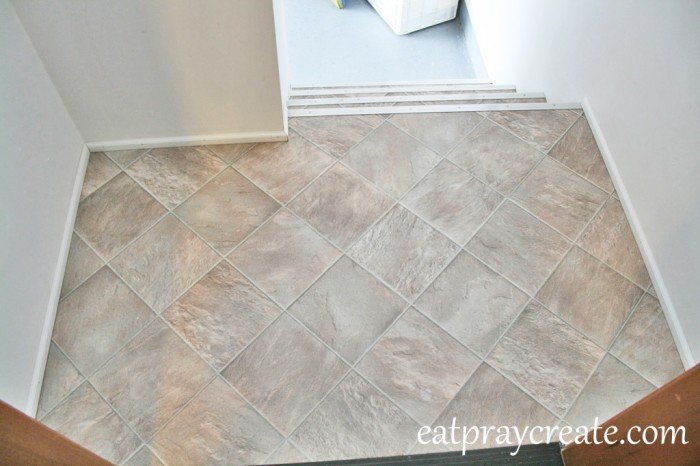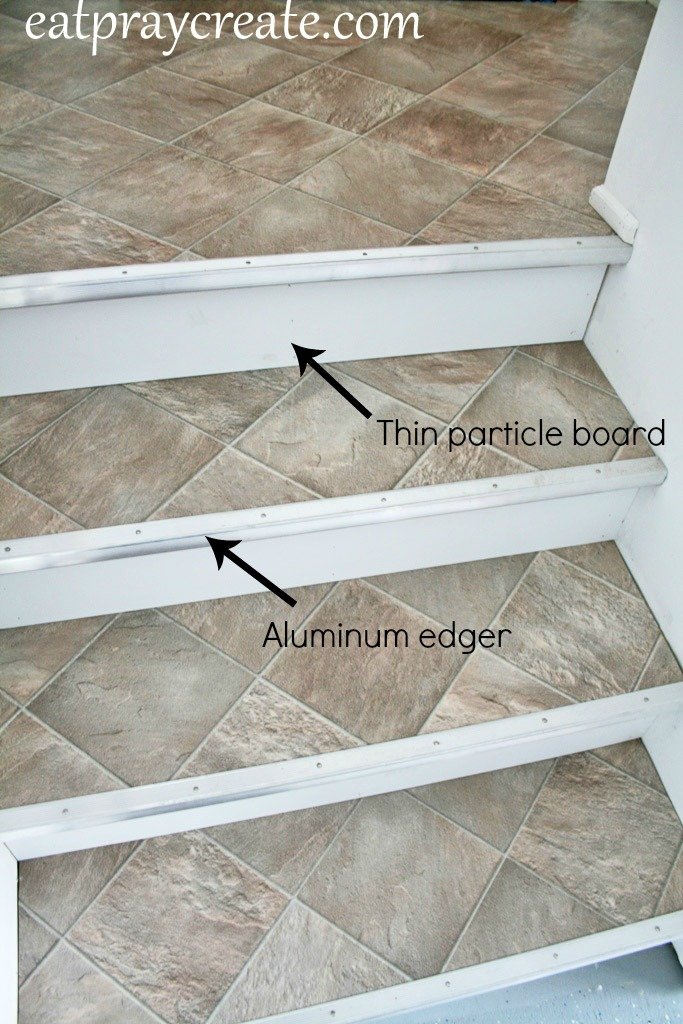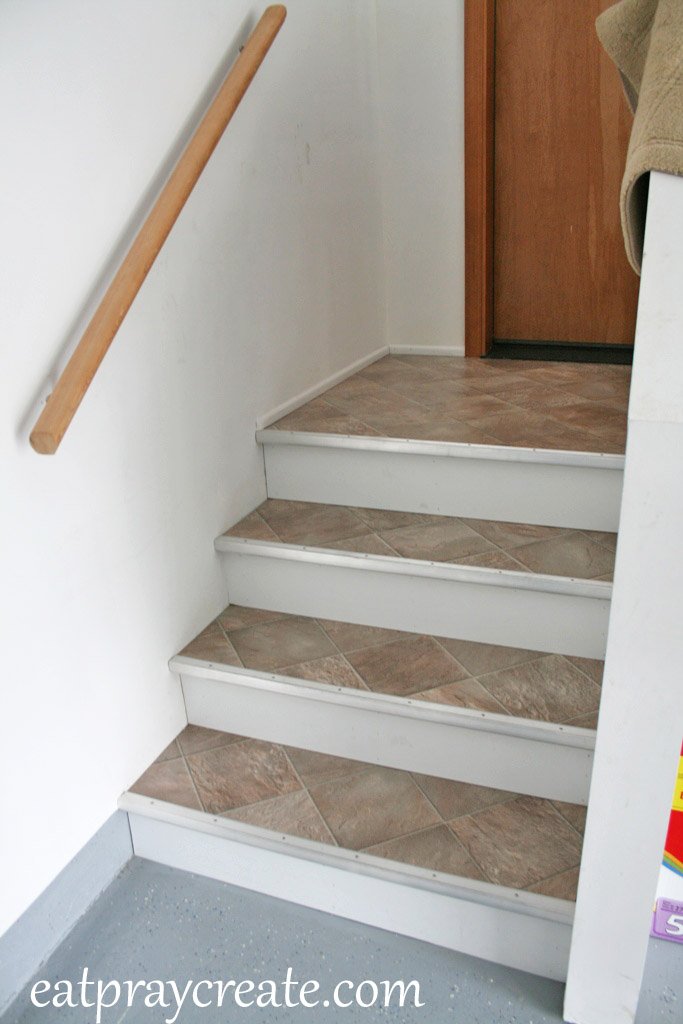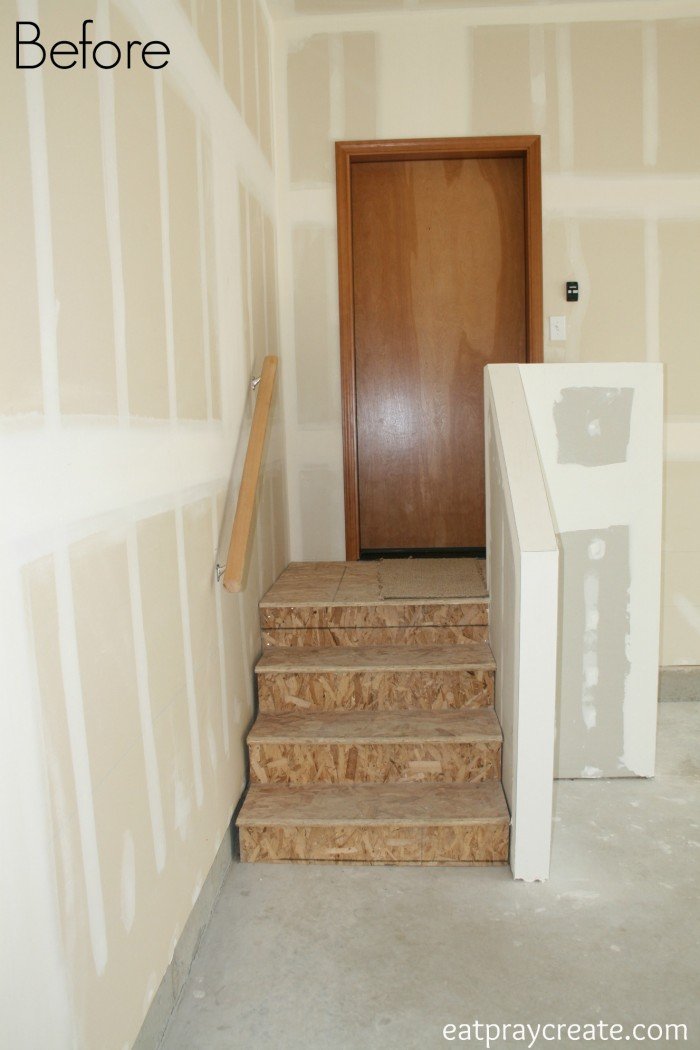 DIY How to Finish Garage Stairs! I hope you enjoyed these instructions. Don't forget to pin it by hovering over the photo and clicking the Pin it button!

Click HERE to see all the fun linky parties we link up to!
Need another project check out some of our other tutorials…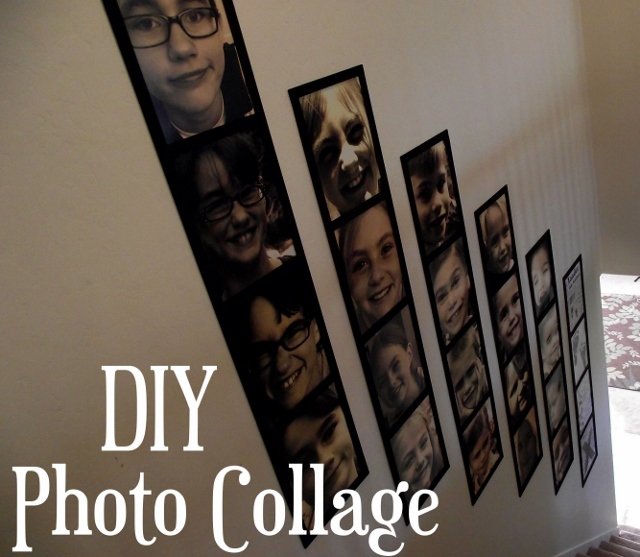 Have a great day!
-Taya
The following two tabs change content below.
Hi I'm Taya! A stay-at-home mother to 5 cuties. I love to craft, sew, blog and make fun things. I'm the creator of the 'Eat-Pray-Create' blog and I'm so glad you're here!
Google+