Under the Bed Rolling Lego Storage Drawers – A Tutorial
Our son LOVES Legos! But have you ever stepped on one of those suckers!?!? OUCH! After stepping on one too many Legos we decided we needed a better storage solution for them. Something that was easy to put away and something that he couldn't just dump out all over the floor.
That's when my handy husband came up with these under the bed Lego Storage Drawers that easily roll in and out from under the bed and are very sturdy. You could also use them for other stuff like clothes, toys, etc. We wanted to show you how we made them so you can make them too!
Enjoy the tutorial!

(this post contains affiliate links)
Supplies:
*Please note these are the supplies and amount of wood we used for our two drawers but you will need to adjust based on the space under your bed. The height, length and width may be different so make sure you take all your measurements first and adjust the size of your drawers accordingly! This is how much you will need for 2 drawers. Our under bed measurements were 42-1/2″ wide by 75″ long by 9-1/2″ tall.
Plywood (1 piece of 4 ft. x 8 ft.)
Primed Wood boards (for front panels – (1) 8ft. piece of 7-1/4″ x 3/4″, for side panels – (2) 12ft. pieces of 5-1/2″ x 3/4″, for inside panels (1) 8ft. piece of 3-1/2″x3/4″) **Note: We got the wood from Home Depot. Most wood sizes are rounded to the nearest inch, the sizes I mentioned are ACTUAL sizes if you measure the board with a ruler. In the store they may be labeled 7×1, 6×1, or 4×1 so take a ruler with you!
Sticky back white contact paper(Amazon )/scissors
White paint/paint brush/roller
White duck tape (optional, see link above)
Fixed Caster Wheels (Harbor Freight)
1-1/2″ or 2″ Screws, 1/2″ screws for wheels(see picture below)
2 Drawer Handles with screws
Tools: Drill, miter saw, circular saw.
Other: Ruler, measuring tape, pencil

Steps:
First lay out your plywood and measure and mark where you will need to cut. Use your circular saw to cut out 2- 34-1/2″x38-3/4″ rectangles for the base of your drawers.

Next mark and cut all your wood pieces for the sides of your drawers. See measurements under the 'Supplies' section above. Then paint all your boards, one side at a time. Flip when dry and paint the other side. Continue this tutorial once all your boards are dry.

Here is what your cut pieces will look like…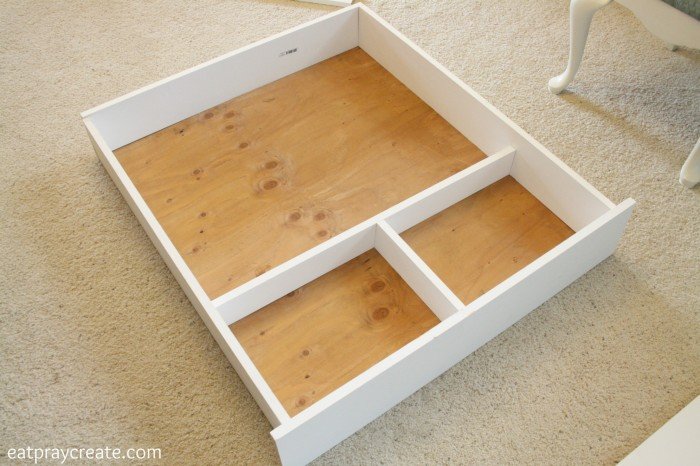 Now cover your plywood with your sticky-back contact paper roll. First cut 2 pieces that are long enough to cover the board.


After measuring out the amount you'll need (making sure it overlaps slightly in the middle and enough to wrap around the edges). Slowly peel off one end of the backing and attach around the edge, then slowly continue to pull the backing off as you press the sticky side down on the wood. Continue till wood is covered. Then repeat with the other piece.


We used white duck tape to secure the edges on the bottom side (where any edges weren't staying down well).


Now it's time to start assembling the sides. You are going to pre-drill each hole before screwing together (keep that in mind as you go). Start by screwing the 3 sides together. 2 screws for each corner.


Now measure and attach the middle piece, making sure it is all squared up. Screw in place from the outside.


This is what you will have so far, place face down…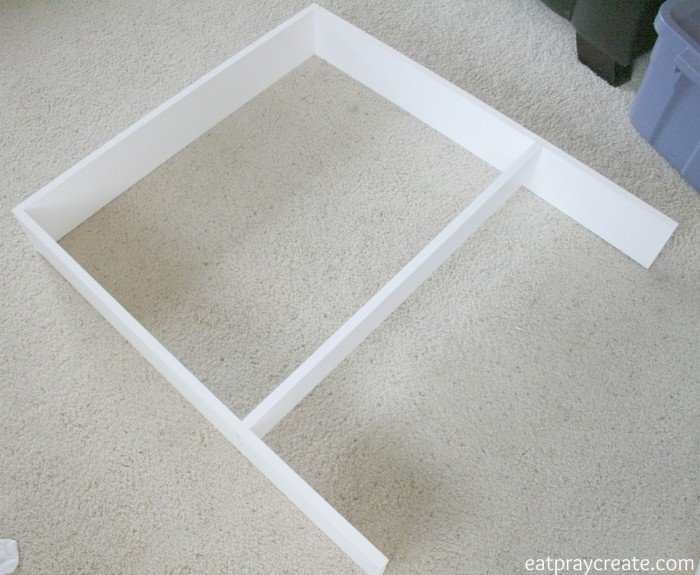 With your sides face down, lay your covered plywood face down on top of it.


Screw your plywood down along the edges (7 screws total – one on each corner and in the centers)

Now gather your wheels, short screws and front wood piece. Here are the screws we used…


And the wheels…


Screw each wheel down using 2 screws each. 1 wheel in each corner a couple inches from the edge.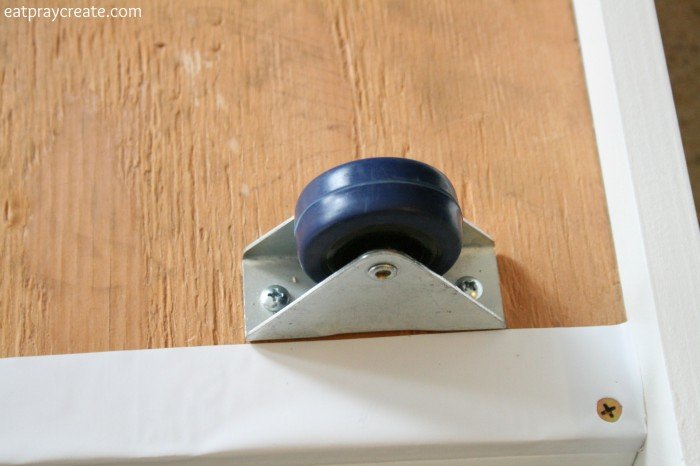 This is what it will look like with all 4 wheels attached (see pic below). Also drill a screw in the center of the board where your cross-board passes on the other side. This will keep your board stable in the center and not sag over time or bend when kids decide to climb in the drawer! Now place your front piece along the open front edge. You will want to make the top flush with the tops of the sides that are touching the floor. Screw in 2 screws to the front piece attaching it to the sides.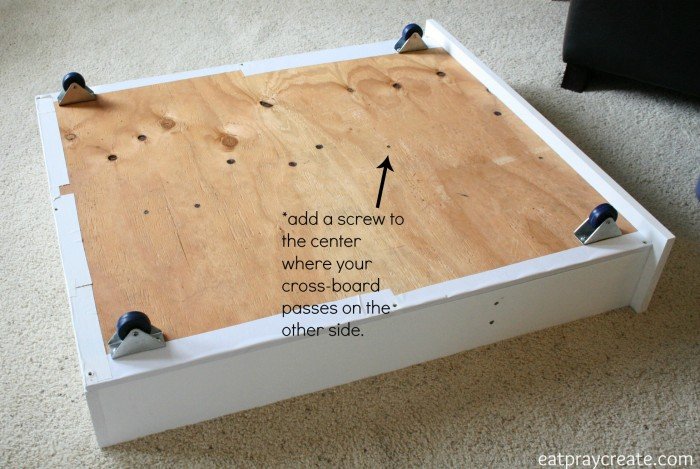 Flip your drawer back over and place your small piece in the middle and screw into place (one screw in the front and one from the back)…


Here's from the back…


Now grab your handle and the screws it came with…


Mark on your board to center. Then pre-drill your holes and then screw into place.


Nice…

Grab your paintbrush and a tiny bit of paint and paint over all your exposed screws. If you want them to be smoother you can caulk the screws first and allow to dry and then paint over them.


Now step back and admire your handy work!! (or should I say 'your husband's handy work!')


Now roll under bed…


Add Legos!


Easy for kids to roll in and out during play time!


Our son loves his new Lego drawers! We hope you do too!
Thanks for stopping by the blog today. I hope you come back soon. Click HERE to sign-up for our newsletter to stay in touch and download our free printable chore charts!
Click HERE to see all the fun linky parties I like to link up to.
-Taya
The following two tabs change content below.
Hi I'm Taya! A stay-at-home mother to 5 cuties. I love to craft, sew, blog and make fun things. I'm the creator of the 'Eat-Pray-Create' blog and I'm so glad you're here!
Google+