Simple DIY Baby Jesus Nativity – A Christmas Decoration
The Holiday Craft I was working on last week is a cute little
DIY Baby Jesus Nativity
A great addition to your Christmas Decorations. I was helping out at our Church's Super Saturday and this is the craft I was in charge of. Isn't it so cute!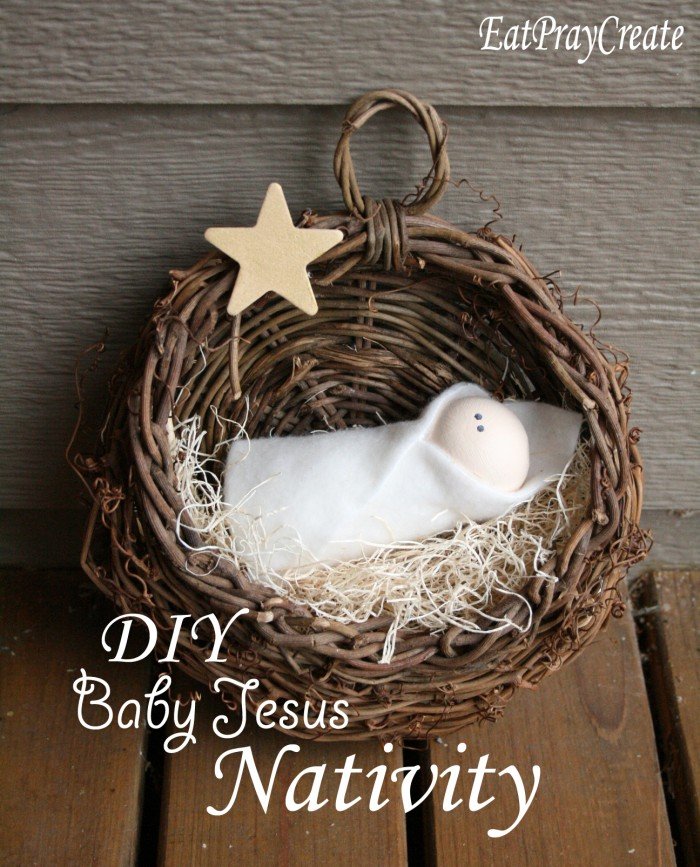 I got the idea from "Crafty Sisters" adorable Baby Jesus ornament. I simply "enlarged" their version and made it a cute Christmas Decoration you can hang on the wall. Crafty Sisters have a complete tutorial on how to make their Baby Jesus Ornaments over on their blog, check it out HERE.
If you want to make the wall decor version you will need:
Craft basket (found in the floral section at the craft store)
Cream felt or fleece (measurements below)
1-1/2 inch round wood craft doll heads
Wood stars
Paint (skin color and Gold)
Black Marker (for eyes)
Excelsior (for bedding, also found in the floral section)
Hot Glue Gun/Glue Sticks
*Follow Crafty Sisters tutorial, with these few minor adjustments.
-The square for the blanket should measure (6″x 6″) then cut off one corner 3″ down. And for the body (2″x 9″).
-No need to drill a hole in your star, just paint it gold and hot glue to the top of your basket (we used Crafty Sisters tip for the heads and taped all the stars down and then painted them all at one time). You will not be needing the wire.
*Here is what the baby looked like before I bundled him. Make sure to hot glue your body and head in place before swaddling. Hot glue the edges as you swaddle the side, bottom, and other side.
So simple, and so cute!!
Don't you just love this time of Year! Happy Holidays!
Be sure to check out our 'Felt Christmas Tree tutorial' I know you'll love it!
Click HERE to see all the fun Linky Parties I've linked up to!
The following two tabs change content below.
Hi I'm Taya! A stay-at-home mother to 5 cuties. I love to craft, sew, blog and make fun things. I'm the creator of the 'Eat-Pray-Create' blog and I'm so glad you're here!
Google+