Felt Christmas Tree Advent Calendar Tutorial – Part 1
Okay Holiday Crafters!! It's that time of year. Time to hurry up and get all our crafting done!! I have always wanted to make a Christmas Advent Calendar. And a few years back I saw Abby from "
A Feathered Nest
" post awesome pics of her Pottery Barn Knock off advent calendar!! I fell in love! Then after doing some more research this year I was inspired by Rach H over at "
Family Ever After
" and just had to make my own Christmas Calendar. I love how Rach has a sew along guide for all us fellow crafters who want to pursue such a time consuming and detailed project just before the holidays. But I'm gonna do it anyways because I know my children will use our Christmas countdown for years to come.
A few years back I made a Halloween calendar and it was well loved this year!! So who else wants to take on such a fun and exciting project?? Well I am here to help motivate and inspire you all to join along with me and make your very own Christmas Advent Calendar!! This would also be a great gift for a loved one who has little ones, so even if you don't have little ones at home you can still join in on the crafting!
**Update: Here is my completed Advent Calendar…
A Feathered Nest's Advent Calendar:
Family Ever After's Advent Calendar:
So without further ado, lets get started….
Here is a list of the supplies you will need (some items are optional) you can make this calendar how ever you like, I have a friend following along who would like a no-sew version so I will try and suggest hints for that and some of you may want to get more detailed so I will point you in that direction too. Mine is gonna be somewhere in the middle!
ITEMS NEEDED: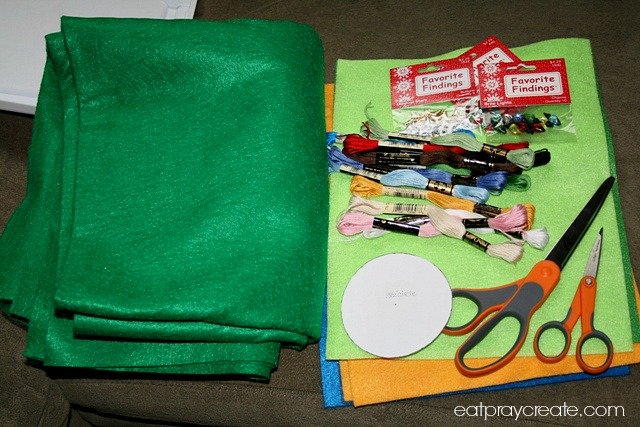 *Not all items are shown in picture*
Green Felt (1-1/4 yards of 72"wide) This amount may very if you are doing bigger pockets than 3-1/2"
Felt Scraps/Sheets (sold by the sheets at most craft stores like JoAnns, get a variety of colors…red, white, blues, greens, brown, yellow, etc. buy different shades too)
Scissors (fabric and paper)
Fabric glue
Ruler, pencil or pen
Large paper (you can use wrapping paper here)
Optional Items:
Embroidery Thread/Floss (all different colors)
Fusible Interface (if you plan on doing embroidery on your pockets you will need to iron on this stuff to the backs when done)
Batting (If you want batting in between your felt tree pieces, to add a little dimension)
Hand Sewing Needles (that your embroidery floss will fit into)
Embellishments (Christmas)
DETAILS and PATTERN MAKING:
I haven't gotten all my supplies yet but I had the materials to make my pattern and yesterday I sat down and drew out all the details of what I want my tree to look like. It is going to be a little different from the ones I have seen online. First of all I want a more rounded tree and I want circle pockets instead of squares. Let's begin making our pattern…
So start by rolling out your pattern making paper (or wrapping paper), if yours is not wide enough to draw the whole tree just draw half of it and you can cut the felt on a fold. Here is a picture of my tree pattern. I drew one side and then folded it in half to make both sides identical. Cut it all out.
**Just a note, this tree is VERY LARGE, the pictures are very deceiving because this calendar is actually quite huge!! If you want to make a mini version you are gonna have to downsize these measurements! I added my measurements so you get an idea of how you can draw yours (each measurement is at the widest part all the way across or from top to bottom in the center). Visit Rach's tutorial
HERE
to see how she made her pattern for more guidance if you need it.
Get out some paper and a pencil/pen and start drawing out your pocket designs. I want to do some that I have seen, and others that I thought of. Just do a simple sketch or write down the items you want to include, this will help you get an idea of what colors you want to use and embellishments you may want to buy. Here are some ideas for your pockets…tree, snowman, gingerbread man, holly, bell, mittens, dots, ornament, penguin, presents, moon, stars, wreath, stocking, Santa, candy cane, baby Jesus, birds, candle, ice skates, sled, reindeer, snowflake, skies, train, lights, etc. Here is my sketch of ideas, keep in mind I am a crafter not an artist!!
Now GO SHOPPING!! We will start cutting our pockets and our tree out once we get our supplies! I started cutting my circles out last night because I have tons of scrap pieces of felt lying around, but tomorrow I will be getting the rest of my supplies. Don't forget your coupon for the craft store!!
NOTE: The Squares in the other tutorials are 4"x3-1/2". I made my circles 3-1/2inches round. My tree pattern is based off of that size circle, you may need more Green Felt for your tree if you are making larger pockets. I would strongly advise you to make your pattern first and take it with you to the craft store to make sure the felt is big enough to cut 2 tree patterns from it, this is how I plan on cutting my felt tree out(see pic below). If your felt is not as wide (about 72")you may also need more felt. Rach from "Family Ever After" uses 2 yards of Green Felt for her tree. So the measurement may very, just a heads up!
And here is a sneak peak of my circles that I started cutting out!! (that is a penny and a quarter in the pic so you get an idea of how big a 3-1/2 inch circle really is!)
Now on to Part 2 found HERE!! And here is PART 3!
Here's another Christmas Advent Idea
Go HERE to see all the fun linky parties I've linked up to!
The following two tabs change content below.
Hi I'm Taya! A stay-at-home mother to 5 cuties. I love to craft, sew, blog and make fun things. I'm the creator of the 'Eat-Pray-Create' blog and I'm so glad you're here!
Google+