Simple and Cheap DIY Extender Slips
Ever have a skirt or dress that is just a tad too short? Or maybe your legs are just really long so skirts come up too high when you're sitting down? I know you've seen them before… the cute extender slips you can wear under your short skirts and dresses. But I'm here to share a little secret that will help you save money and still have your very own adorable extender slip!! Are you ready to learn how to make your own extender slip for LESS THAN $10. That's right, you can make your own extender slips for cheap and I'm gonna show you how…
So pretty!
Store bought extender slips can cost upwards of $20-$40. With this trick I have made them for $5 or less. And here's the secret… you buy your supplies from thrift stores or find them around your house! Slips are super cheap, usually $1-2, and get this you don't need to buy a bunch of expensive lace just head to the linen/home department of your thrift store and look through the bedding and curtains! That's right my extender slips are made out of recycled ruffle/lace curtains and bed skirts! Check out these curtains I found at Value Village…
Prices usually range but most of these I got for about $2.99-$4.99. Can you believe it?!? I know it's genius right, using pre-made ruffles and lace to make an extender slip, its awesome!! I can't take all the credit here, my amazing friend and model Tiffany actually had the idea when we were perusing a Value Village one day and now every time we're in a thrift store we go bananas in the linen section!
*Note: I've found the best prices for slips at Goodwill, average $2 a slip. And the most variety of lace/ruffle bedding and curtains at Value Village! Check your local thrift store the next time you're out and about and get inspired!
These make a great gift for friends, they're fun to make for a relief society or young women mutual activity, or for a girls night craft.
Let's get started with the tutorial…
Supplies:
Slip (about $2 at the thrift store or maybe you have one hanging out in your closet – free!)
Ruffles/Lace (enough to wrap around the bottom of your slip – I use curtains/bedding from Value Village)
Other sewing essentials: Sewing Machine, thread, scissors, pins, cutting mat, rotary cutter.
(for a list of My Favorite Sewing Supplies go HERE)
I'm going to show you 2 different ways to make these slips.
Method 1 –
Pick your ruffles. When I use a curtain with a finished upper edge I cut off the ruffle close to that edge.
If the material may fray I serge the edge or do a zig-zag stitch.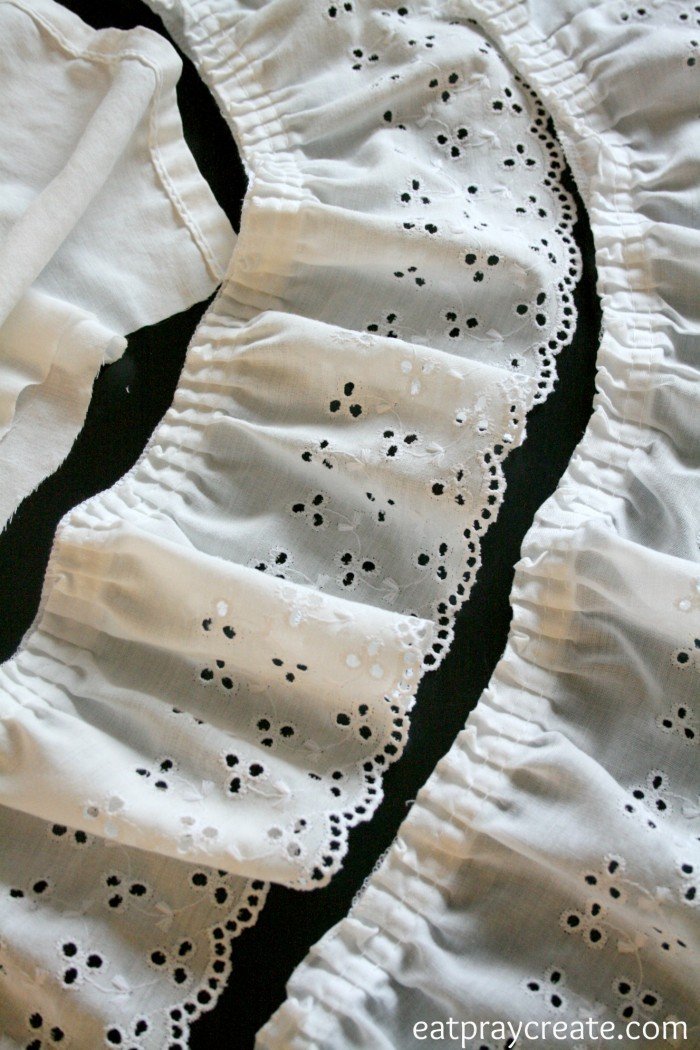 Now grab your slip. If it is too long try it on and mark with a pin where you want the ruffle to be attached. Then take it off and cut the slip all the way across using your rotary cutter. In the picture below my slip is folded in half.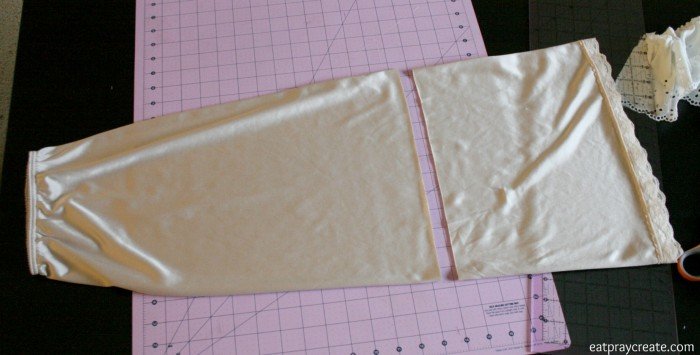 Now, sew one side of your ruffles together at the edges, right sides together. This is what it will look like…
Line it up with the bottom of your slip and cut off the excess leaving 1/2″ for your seams on the other end. Then sew those ends right sides together as well. The bottom of the slip and the ruffle should be the same length.
Now flip your ruffle right side out and pin the top edge along the bottom of your slip matching the side seams.

Once you've pinned all the way around, sew your skirt to your slip removing the pins as you go.

And that's it! You've got yourself an adorable new extender slip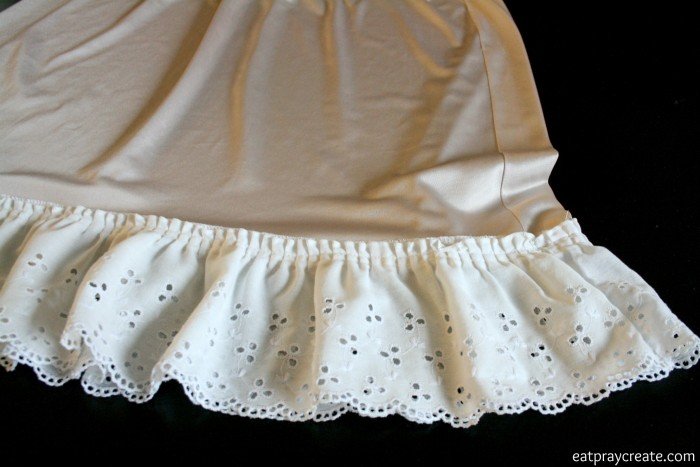 Method 2:
In this method I used the bottom edge of a bed skirt. First thing I did was cut the skirt the length I needed to fit around the bottom of my slip and serged the top edge. (if you don't have a serger just zig-zag stitch the edge so it won't fray)
Now put the ends right sides together and sew them up about a 1/4″ in from the edge. Finish the edges with your serger or zig-zag stitch.

If your slip is a perfect length and has a pretty lace at the bottom USE IT for the bottom edge of your extender slip. Here's how…

Place your ruffle on you slip by sliding your slip into your sewn circle ruffle. Once you have it right where you want it to lay, flip it up so that the right side is touching the slip and pin in place. (note: in the picture below my ruffle is face down, it just looks the same on both sides so it's hard to tell)


Make sure you pin just the one layer of ruffle and slip all the way around. And make sure your seam is along one of your side seams.


Sew your ruffle down to your slip removing the pins as you go all the way around. Then lay your ruffle down and iron the seam flat.


You can show as much or as little lace at the bottom as you like!


I've made a couple of these with the bed skirt. Here is another one on the left (and on the model)… and a store bought one on the right.


The possibilities are endless with these DIY extender slips! So cheap and easy! I hope you get a chance to make some. Please share them with me if you do, I hope I've inspired you to create one for yourself or someone you love! These are great to wear under any skirt or dress to add a little more style or to extend it a bit. Don't yah just love it!

Please 'Pin it' by hovering over the picture and clicking the 'Pin it' button! Or scroll down and 'share' on facebook or other social media! I would really appreciate the share!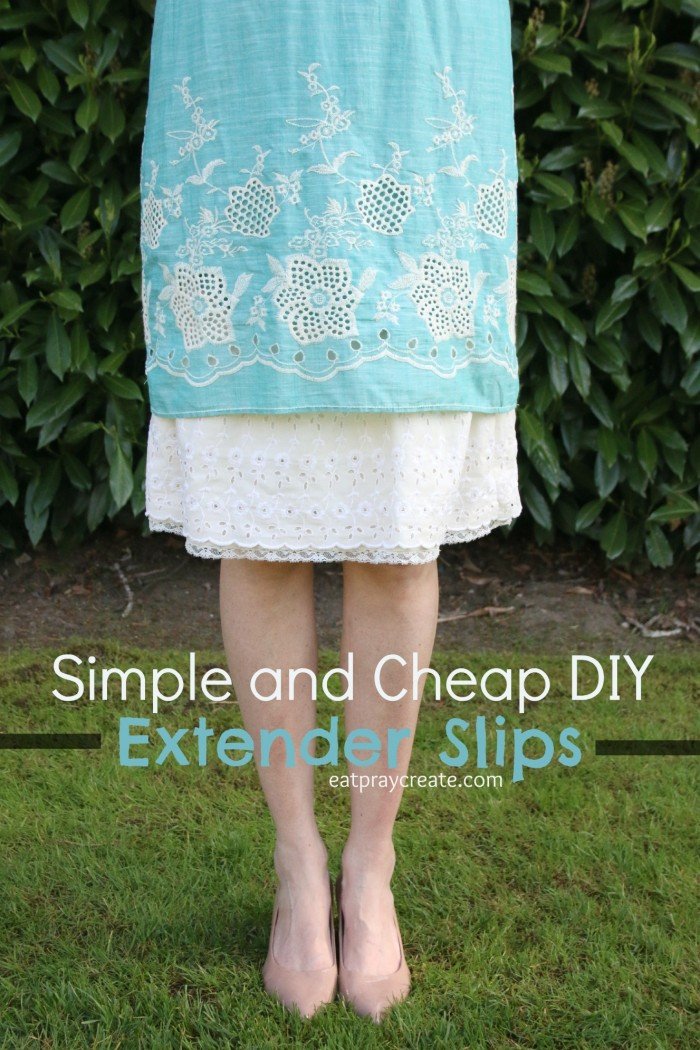 Wanna see some more great tutorials?? Go HERE.
Click HERE to see all the linky parties I link up to!
Hugs
-Taya
The following two tabs change content below.
Hi I'm Taya! A stay-at-home mother to 5 cuties. I love to craft, sew, blog and make fun things. I'm the creator of the 'Eat-Pray-Create' blog and I'm so glad you're here!
Google+