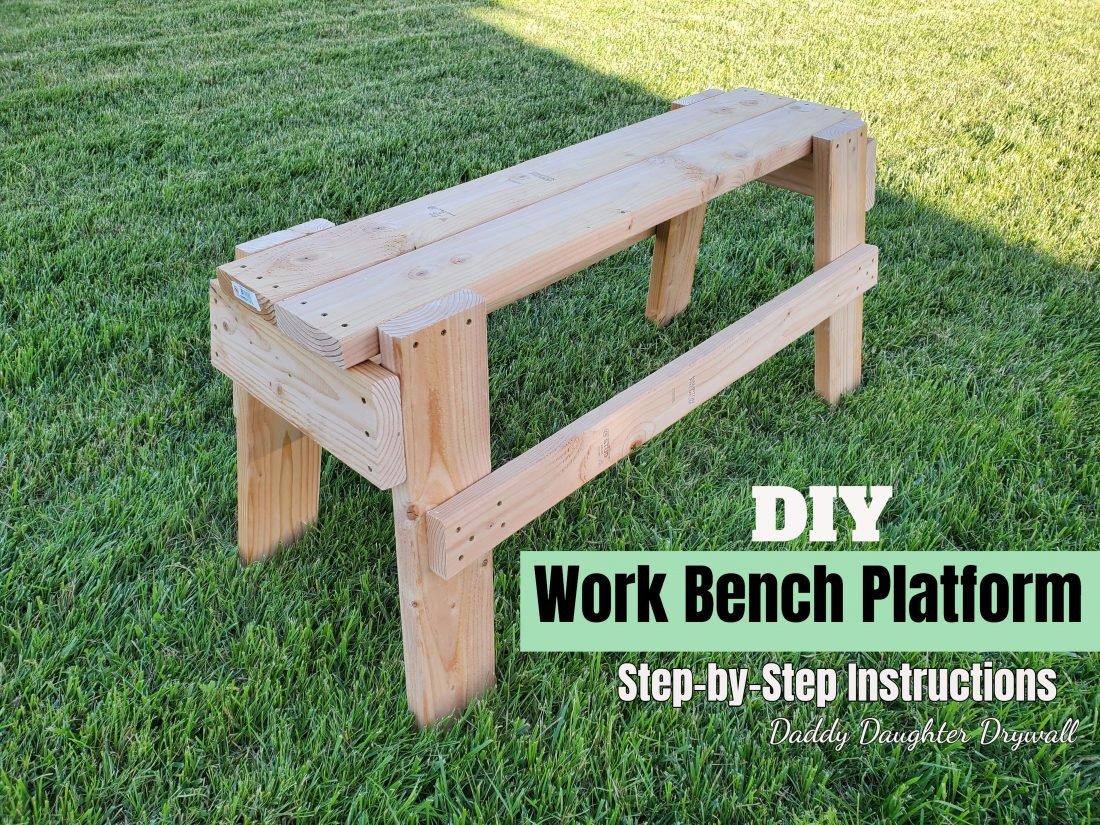 Work Bench Tutorial
Disclaimer: This is not a sponsored post. However, some links may be affiliate links where I earn a small commission if you purchase through my links at no added cost to you. Thanks for supporting my channel.
DIY – How to build a work bench or work platform for all your construction needs. Great for using while doing drywall, ceiling work, hard to reach projects. This bench is easy and quick to assemble with minimal supplies. Here's what you'll need to get started…
Materials needed:
Miter Saw – https://amzn.to/35yYzB4
Drill – https://amzn.to/2XvNIDI
Screw Gun – https://amzn.to/2XvNIDI
Wood Screws – 2-1/4″ to 2-1/2″- https://amzn.to/3oDGgCB
Measuring Tape – https://amzn.to/3nxQzqk
Pen or Pencil – https://amzn.to/2LiTqGN
Measurements:
Video Tutorial
Written Instructions:
First cut one of your 2x6s in half, creating 2 boards each 4 feet long. These are the top of your bench.
Cut the other 2x6s to make your legs. Change your saw pitch to 12 and your angle to 8. Then cut the end of the board. Rotate and cut the other end of the board, we made each of our legs 24.5" long (you can make the legs longer or shorter depending on the height of your ceiling – our ceilings are 9 feet). Repeat this process for all 4 legs.
Drill 3 holes at the top edge of the leg and set it in place 1.5" inches from the edge of your top piece. Screw into place. Repeat this step for the other 3 legs.
Place the bench pieces face down next to each other.
Take one of your leftover pieces of 2×6 board and line it up along the side. Using a pen or pencil mark the board where it needs to be cut. Using the same angle cut, cut the board. Drill holes in at the edges and attach to the bench legs. Repeat this process on the other end of the bench.
Flip the bench right side up and drill and screw the top to the side pieces.
Cut your 2x4s the length of your side legs, the top should be about 12" from the ground. Attach by drilling and screwing them to the legs.
Your bench is now complete!
**Optional: This bench is very versatile. You can adjust the leg length, and/or add a 3rd piece of wood to the top to make it wider and taller…depending on the project height you are working on. You can even make multiple sizes for different size projects. Add wheels to one side for easy rolling around. So many options for this workbench! Here are some other examples…
The following two tabs change content below.
Hi I'm Taya! A stay-at-home mother to 5 cuties. I love to craft, sew, blog and make fun things. I'm the creator of the 'Eat-Pray-Create' blog and I'm so glad you're here!
Google+