A couple years ago my husband created this incredible Craft Space for me to do all my crafting and sewing in! It was a birthday gift. He designed it and built everything so I could have a useful Craft Room that was organized and functional! I have been wanting to share how cute it turned out for some time. It doesn't always stay this clean but I love having a place for all my crafty things! Check it out…
(This post contains affiliate links)
*See end of post for where to find organization supplies I used in my Craft Room.
And in case your wondering what it looked like before all our remodeling here is a picture. Just a plain ole room.
It's so much cuter now!!
My husband built some shelves for that corner cubby and I made a long curtain to cover up all that storage space.


I got the brown baskets for these shelves from Target and the folder holders and white boxes from Ikea along with the shelves. The brackets (to hold the shelves) we got from Home Depot.


I put labels on them with my label maker.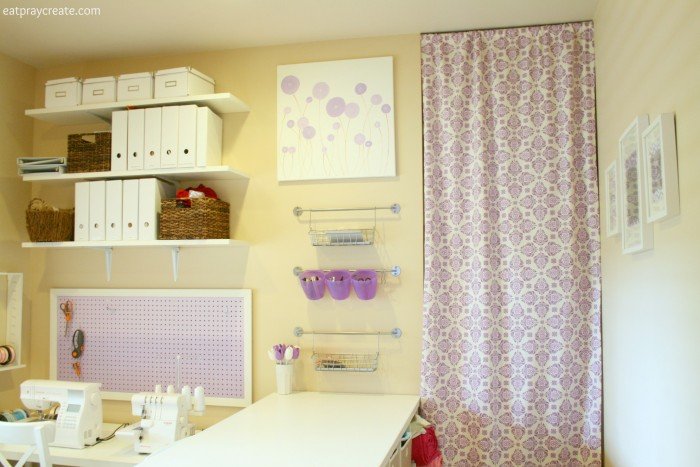 I got the frames from Ikea as well. But didn't realize at the time that Ikea frames are not made in normal measurements for the US. I had to adjust my pictures to fit their frame sizes.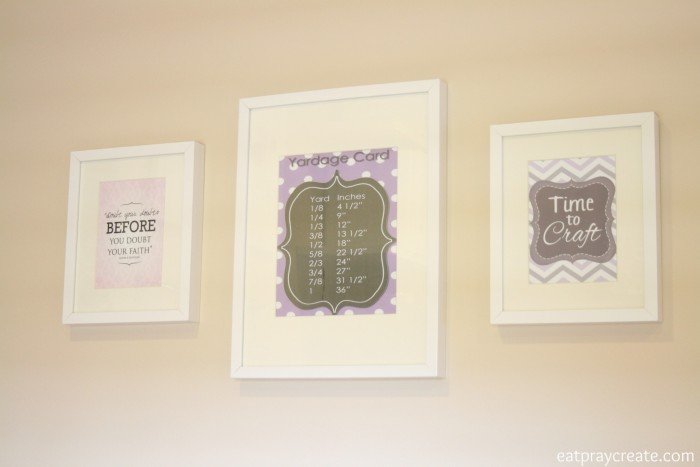 Hidden wall storage behind the door. And homemade curtains for the door windows.


A large vase (from goodwill) holds my craft flowers.


Look at all that fabric storage!! The top bins hold my sewing projects the rest hold my fabric scraps. Got these storage containers and bins from Target/Amaon and Home Depot.


I have bins for each color of scrap fabric…

And I wrap my fabric (ones with a yard or more) on comic book boards!!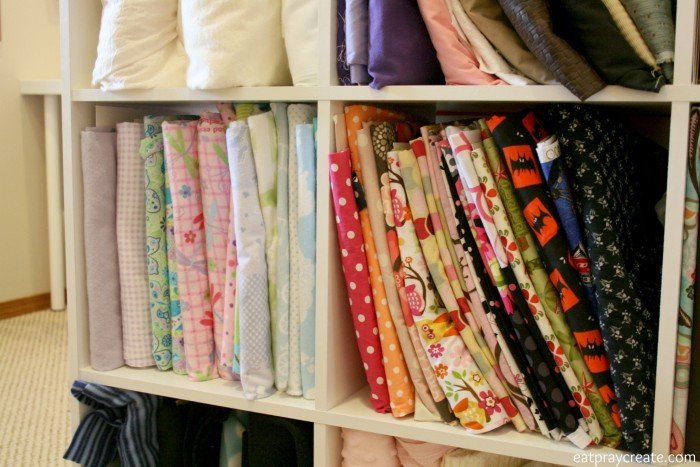 Ribbon Storage…

Got the cute Ribbon holder for 1/2 off at JoAnns craft store.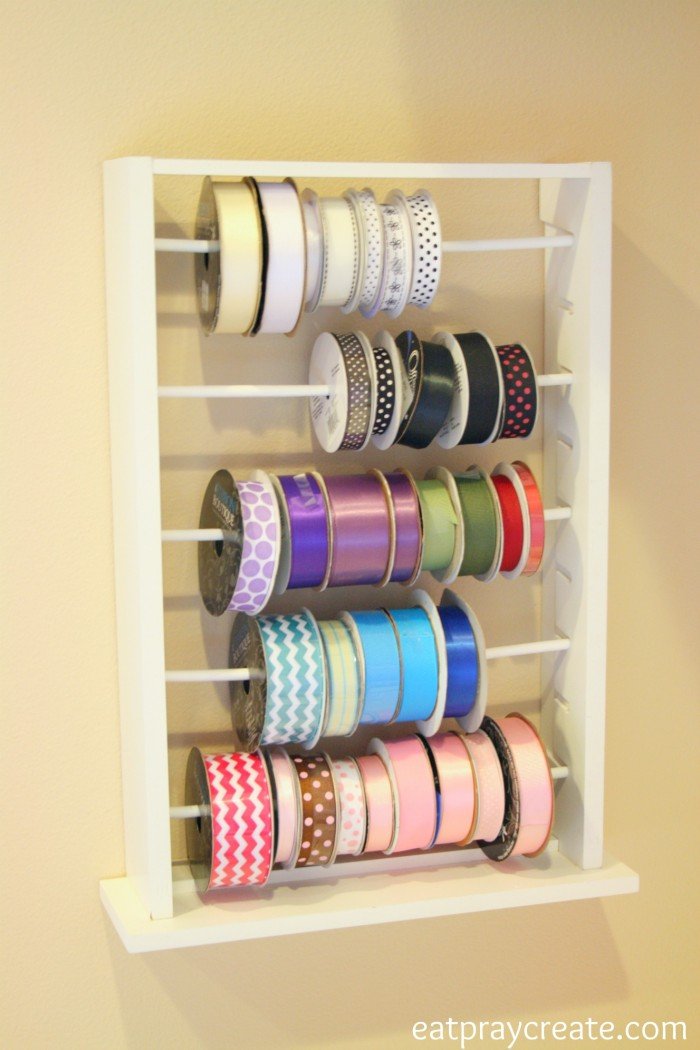 We had leftover pegboard from our garage makeover so I painted it purple and my husband added trim to the outside edge. Then screwed it to the wall using spacers in the back so I could add hooks to hold my sewing accessories. The peg hooks were also found at Home Depot.


Not sure what else I will be adding to the board yet!


I painted a 24×24″ canvas to match the room.


I just love it that my sewing machine and serger can stay sitting out on their own little table.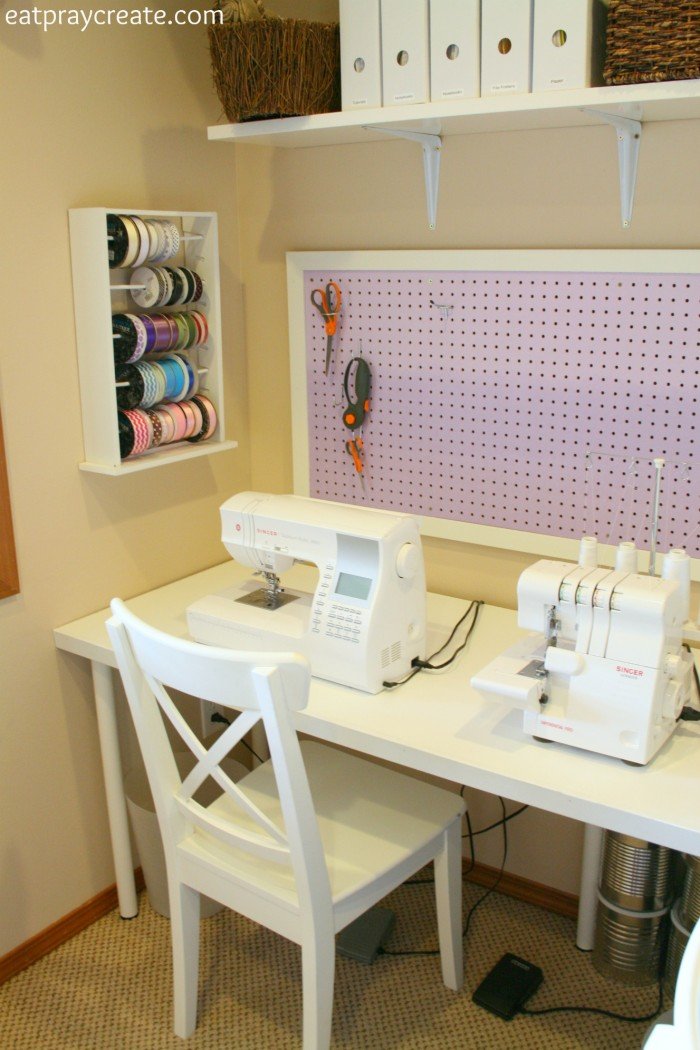 My awesome hubby went to Holland last year and found these adorable wooden tulips that matched my craft room perfectly!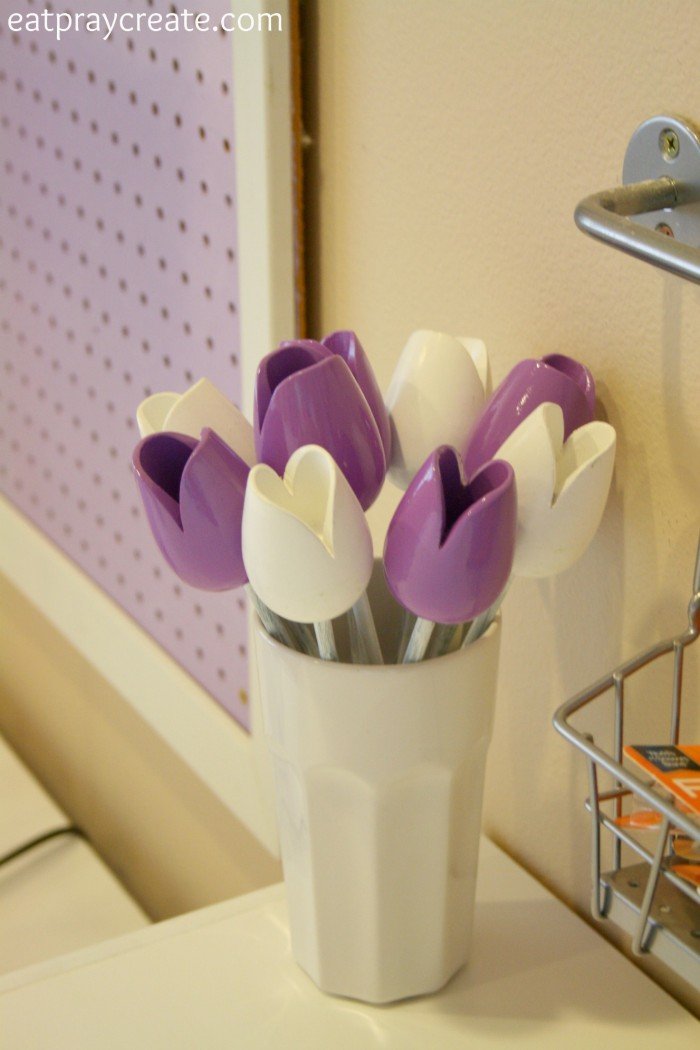 All this hanging storage is from Ikea.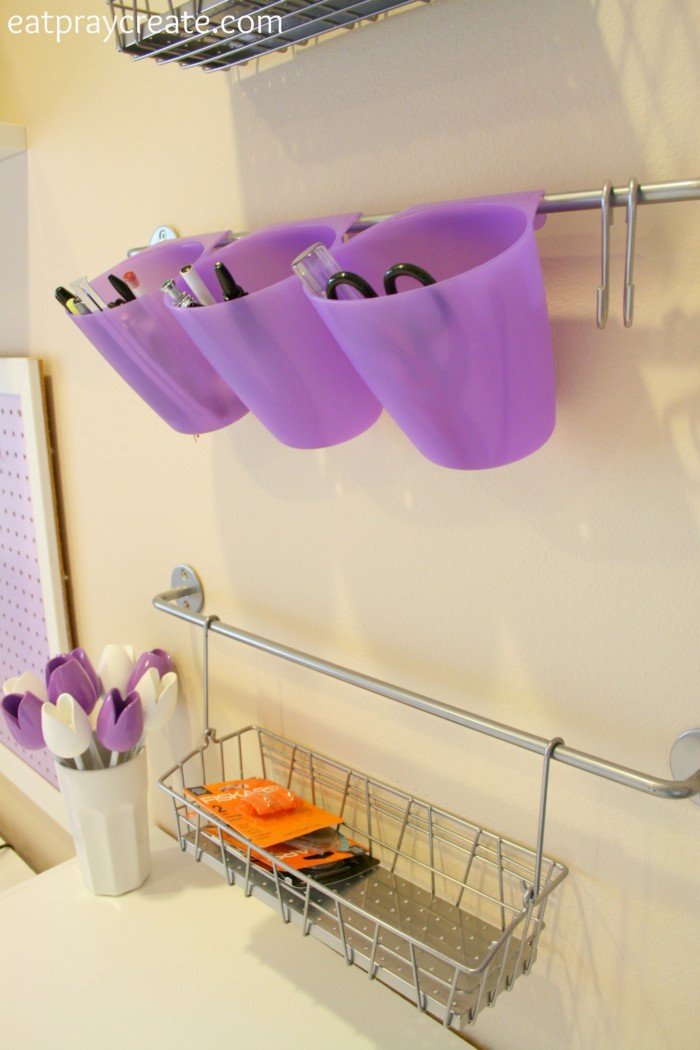 Hung "CREATE" letters above the window. Made the curtain with leftover material from the closet.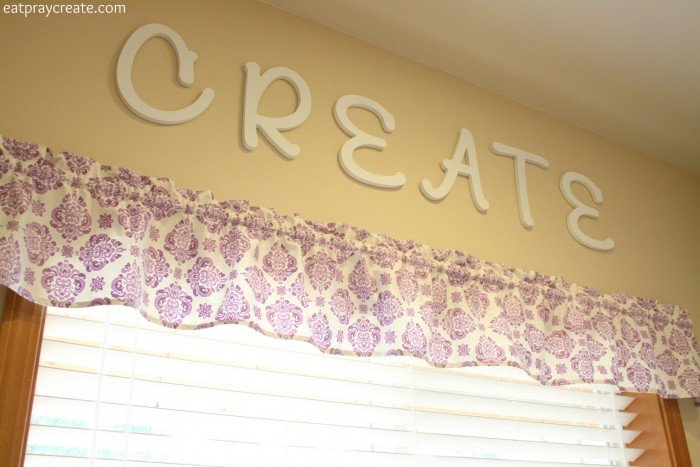 Cork board, file holder, and these awesome storage drawers from Ikea. Tyler built the little tabletop with trim overlay to fit on top of the 3 storage drawers to create the perfect place for my printer and other fun stuff.


Labeled the drawers as I filled them with all my craft accessories and embellishments.


Got this vinyl from JoAnns a long time ago. Put a clock in the middle!


I could spend my whole day in this room!


I love doing projects on my custom built tabletop!


Thanks for stopping by…here's a picture of my goofy self taking pictures! Oh and don't forget the baby safe door knob cover!! You don't want your curious toddler coming in your beautiful craft room and changing the settings on your serger or pulling all your fabric off your shelves or out of bins!!


Please 'Pin' and visit again soon! Just hover over the picture and click 'Pin'

Here is a list of my 'Must Have' Sewing Supplies. (a lot of items you see in this room). And here's a list of some of the organizing supplies you see above….
Amazon:

Target:
Brown Baskets, Storage Cubes (3×3), Storage Cubes 2×3,
JoAnn's:
Ribbon Holder, Wood 'Create' Letters
Ikea:
White File Holders, White Picture Frames, Wall Magazine Rack, Tall Storage Drawers
Have any questions or a craft room of your own to share, just let me know in the comments below!
Have a great day.
-Taya
The following two tabs change content below.
Hi I'm Taya! A stay-at-home mother to 5 cuties. I love to craft, sew, blog and make fun things. I'm the creator of the 'Eat-Pray-Create' blog and I'm so glad you're here!
Google+