Grandkids Make Life Grand Picture Board Tutorial
Looking for a great gift for Grandma and Grandpa? Well look no further, I came up with this little Grandparent's picture board several years ago and put it on my blog. It gets pinned like crazy! So I thought I would give you all a little step-by-step tutorial on how to make one, they are so easy and fun. The perfect personalized gift for Grandparents.
(This post contains Affiliate Links)
Supplies Needed:
Wood Board – (mine is about 2 feet long)
Paint/paint brush – (I used black for the board and white for the clothespins)
Vinyl/Craft cutter – (I used white and red vinyl and my Silhouette Digital Craft Cutter- see note below for more info.)
Mini clothespins – (you can find these at your local craft store, I found them at JoAnns, they also come pre-painted)
Embellishments – (mini flowers, scrapbook paper, ribbon, buttons, gems)
Hot glue gun/sticks or E6000 glue
Sandpaper (optional)
**Note: Vinyl is an adhesive backed Craft Vinyl that comes in sheets or rolls and is used in home decorating and crafts. I buy mine from amazon or ebay in all different colors. A Digital Craft cutter is used to cut your vinyl (and other things like paper, cardstock, fabric, etc.) I love the silhouette because you can use your own images and fonts without having to purchase additional cartridges.
Tutorial:
First Paint your board black (or desired color). -May take 2 coats. Paint the clothespins white.
Once dry, sand the edges of the board if you like that kind of look.
Cut your Vinyl out on your digital craft cutter. If you don't have one you can easily hand paint the wording on your board using a smaller paint brush and paint. (I used the font 'Marnie Regular' for Grandkids and the font 'Amaze' for make life grand.)
Apply your vinyl to your dried board. (Go HERE where I show you how to transfer vinyl)
Next, I attached the clothespins using hot glue. The part that opens up should be facing down.
Embellish the clothespins how you like using hot glue.
Last but not least, add pictures! I just cropped and printed photos using Microsoft word and printed on cardstock. You could also print pictures and cut them to your desired size.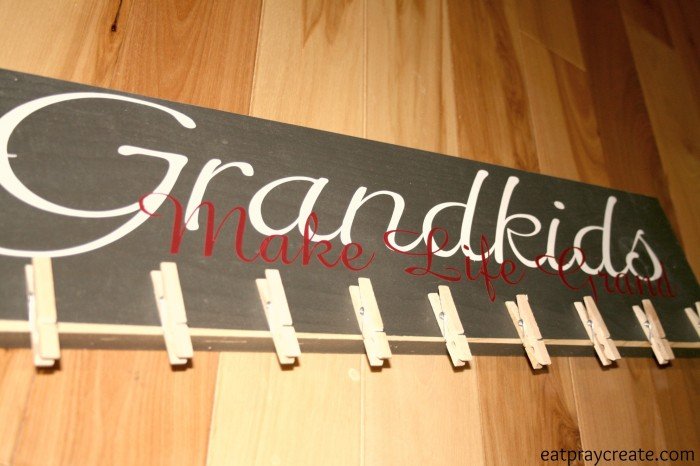 * Now your photo board is complete!
Have a great day!
-Taya
Click
HERE
to see all the linky parties I've linked up to:)
If you like this you may also like this…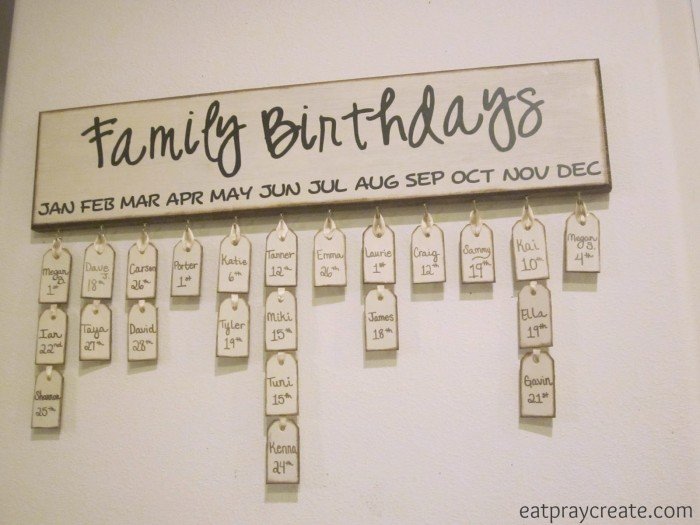 The following two tabs change content below.
Hi I'm Taya! A stay-at-home mother to 5 cuties. I love to craft, sew, blog and make fun things. I'm the creator of the 'Eat-Pray-Create' blog and I'm so glad you're here!
Google+