The perfect wall hanging to keep track of all your family birthdays! I made this for my mother-in-law for Christmas! She loves it, now she can easily keep track off all her kids/grandkids birthdays!
(This post contains Affiliate Links)
Here are the only pics I took of the process (sorry there's only 2!) Just paint a board the color you like, I then painted the egdes a darker brown. Cut your vinyl and line it all up. Attach vinyl, screw in some little hooks. Buy some little tags (I got these in packs at Joann's for very cheap) I painted them to match the top(paint extra for when the family has new additions). I wrote the names and date on each tag with a paint pen (also from Joanns) then I cut gold pieces of ribbon to attach each one together, the top one is in a loop to hang on the hooks. I just hot glued the ribbon to the back of the wood tags. Turned out so cute!! You can order vinyl online or even paint the wording if you don't have a vinyl cutter. UPDATE: The size of this board is 24 inches x 5-1/2 inches!
**This post has gotten really popular and lots of comments and questions so I decided to make a more detailed tutorial….see below!
Supplies Needed:
Wood Board – (mine was 24 inches x 5-1/2 inches)
Paint/paint brush – (I used cream and brown)
Vinyl/Craft cutter – (I used black vinyl and my Silhouette Digital Craft Cutter- see note below for more info.)
Wood tags – (you can find these at your local craft store in the wood section, I found them at JoAnns)
Metal Hooks – (found at the hardware store)
Ribbon – (I used a thin gold ribbon from the craft store)
Paint Pen – (Found at your local craft store, got my dark brown one from JoAnns)
Hot glue gun/sticks
**Note: Vinyl is an adhesive backed Craft Vinyl that comes in sheets or rolls and is used in home decorating and crafts. I buy mine from amazon or ebay in lots and different colors. A Digital Craft cutter is used to cut your vinyl (and other things like paper, cardstock, fabric, etc.) I love the silhouette because you can use your own images and fonts without having to purchase additional cartridges. I've also linked to wooden tags you may consider using – see examples below…
Tutorial:
First Paint your board and tags cream (or desired color). -May take 2 coats.
Once dry paint the edges the dark brown color, going over the top edges just slightly to get that rustic effect. I just lightly brushed over the edges of each of the tags.
Cut your Vinyl out on your digital craft cutter. If you don't have one you can easily hand paint the wording on your board using a smaller paint brush and paint. (The font I used for the 'Family Birthdays' part is 'Digs My Hart' and the months are 'comic sans ms')
Apply your vinyl to your dried board. (Go HERE where I show you how to transfer vinyl)
Next, I used a push pin to create a tiny hole below each month on the bottom of the board. Then hand screwed in all the hooks. If that is to difficult for you, you may have to pre-drill the holes using a drill.
Finally I added all the names and birthdays to the tags using a paint pen, simply write the person's name and date of birthday.
Last but not least, I cut little pieces of gold ribbon and attached a loop to the top tags for each month using a hot glue gun. Attach each additional birthday using a strip of ribbon and hot glue. (If you end up adding birthdays later simply cut the ribbon and attach a new piece to include the new birthday)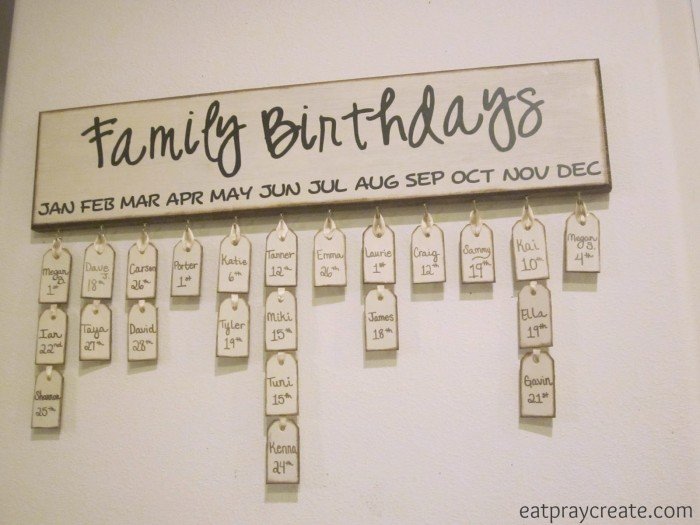 * Now your birthday board is complete! I hope you get a chance to make your own! I have been asked several times if I make and sell these, but unfortunately I just don't have the time. I do have a friend that makes them and sells them for $22. Check out her facebook page and send her a message, she would be happy to help! Here's her facebook page…
https://www.facebook.com/StirCrazySisters
 These are what hers look like…
There are also some people who sell them on etsy or you can find the Vinyl pre-cut on etsy too (for those who don't have a vinyl cutting machine)
Have a great day!
-Taya
Click
HERE
to see all the linky parties I've linked up to:)
If you like this you may also like this…
The following two tabs change content below.
Hi I'm Taya! A stay-at-home mother to 5 cuties. I love to craft, sew, blog and make fun things. I'm the creator of the 'Eat-Pray-Create' blog and I'm so glad you're here!
Google+