UPDATED – DIY Fitted Face Mask Tutorial & Pattern
Welcome! This is the updated Face Mask Tutorial. My previous tutorial and pattern have been a huge hit, with over 1 million views on youtube! I am so glad you guys love it. Over the last several months I have modified the original to include sizes for all ages, an optional filter pocket and a removable nose wire pocket. I've also included instructions in the video for all different kinds of elastic or tie straps. I hope you enjoy it!
**These instructions are the property of Taya Somes @EatPrayCreate. They can not be sold of distributed. They are for personal use only.
**This is not a sponsored post. However, some links may be affiliate links where I earn a small commission if you purchase through my links at no added cost to you. Thanks for supporting my blog.
Watch the Tutorial on Youtube:
Print the Pattern:
These are the different Printer settings for different sizes: (once the PDF pops up – click printer options – print size and adjust the percentage based on the chart below).
110% for X-Large Adult Size
100% for Regular Adult Size
93% for Teen Size
88% for 10-14 year olds
83% for 6-9 year olds
78% for 3-5 year olds
**Masks are NOT RECOMMENDED FOR CHILDREN UNDER 3!!
*If you don't have a printer try opening the pattern on your computer screen, brighten your screen and trace the pattern on a thin piece of paper. These are about how much distance is between each section of the pattern (for a regular Adult size mask):
Top 5″ (including swoop)
Top nose to chin 9″
Chin to Jaw 3-1/2″
Jaw to upper ear 4″
NOTE: Seam Allowance is about ¼" except when top stitching, that is 1/8"
SUPPLIES:
– 100% Cotton Fabric Scraps (Pre-washed and dried) See Fabric amount needed for each size mask below. – https://amzn.to/2AbEeFR
– Elastic (or Soft Elastic for around the head) – you can find it here: https://amzn.to/2VJOITu
– Flexible Garden Tie (aka soft plant tie) – you can find it here: https://amzn.to/39vV6mf
– Wire Cutters – https://amzn.to/3dVFuLW
– Sewing Clips or Pins – https://amzn.to/2URgNId
– Scissors or Rotary Cutter – https://amzn.to/2UqISX5 or https://amzn.to/3dQW7YP
– Ruler – https://amzn.to/30tHyXA
– Sewing Machine and Thread – my sewing machine https://amzn.to/2XLbvR4 – another great more affordable option https://amzn.to/2XLPzW2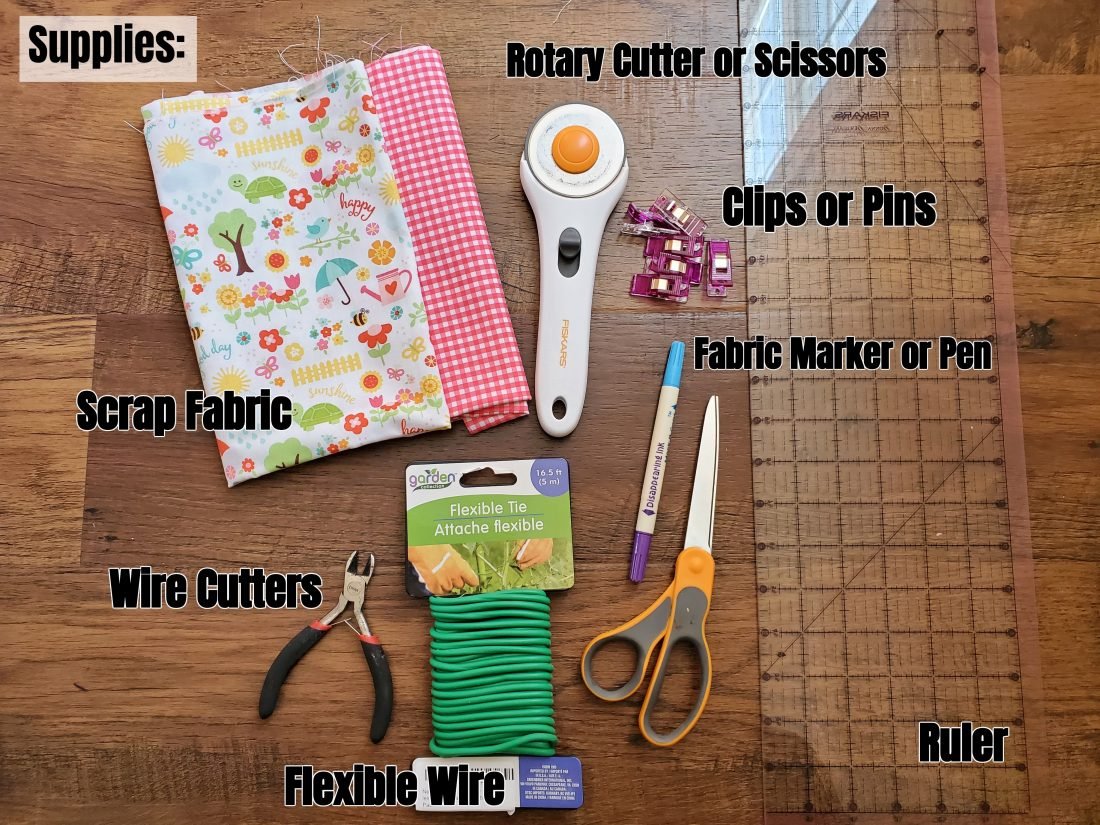 Amount of Fabric Needed for Different Size Masks:
(a ¼ yard can make about 2 masks – depending on the width of the fabric and size of masks)
Mask Size – Fabric size in inches
XL – 8"x 6" (4 pieces)
Regular – 7"x 6" pieces (4 pieces)
Teen – 6-3/4" x 5-1/4" (4 pieces)
10/14 – 6-1/4" x 5" (4 pieces)
6/9 – 6" x 4-3/4" (4 pieces)
3/5 – 5-1/2" x 4-1/2" (4 pieces)
Elastic Options:
*For Behind the Head Elastic – cut measurements as follows: (these are approximate measurements)
Large Adult Men's – 15″ and 11″
Regular Adult – 14″ and 10″
Teen – 13-1/2″ and 9-1/2″
10-14 year olds – 13″ and 9″
6-9 year olds – 12-1/2″ and 8-1/2″
3-5 year olds – 12″ and 8″
Masks are not recommended for children 2 and younger!
*Cut Behind the Ears Elastic as follows: (these are approximate measurements, you can adjust to fit to your face by measuring before you cut)
Large Adult – 6″ each
Regular Adult – 5″ each
Teen – 5" each – (if your teen is the size of a regular adult do 6″)
10-14 year olds – 4-1/2″each
6-9 year olds – 4″ each
3-5 year olds – 4″ each
*For Ties cut your bias tape, t-shirt strips, or ribbon as follows: (these are approximate measurements)
Teen and Adult – amount 2 each – 15" & 13" strips
10/14 – amount 2 each – 13" & 11" strips
6/9 & 3/5 – amount 2 each – 12" & 10"
Instructions:
*Cut pattern out.
*Trace pattern onto fabric. Cut 2 lining pieces and 2 outside pieces, opposite each other. Can also cut Non-woven interfacing to include in the pattern for more filtration or a third layer of fabric.
*Cut Fabric out.
*Put right sides together of each set and sew along the front curved edge.
*Cut notches along the seam so it will lay flat when turned. Be careful not to clip the thread you just sewed.
*FOR THE FILTER POCKET: fold bottom section under twice (about 1/4") and iron, then stitch in place from one end to the other. Repeat for both layers. (Skip this step if you don't want a filter pocket)
*Put the 2 pieces – front and back – right sides together.
*Cut Elastic (see guide above for how long to cut elastic) – ear and head elastic and tie options.
*Put elastic in between fabric layers. Clip or pin into place.
*Sew along right, top, and left side. Be sure to backstitch over elastic to secure.
*Cut pointy corners off and any excess elastic. Don't cut any seam threads.
*Turn right side out. Push corners out.
*Iron Edges Flat.
* Begin sewing along the outside edge of mask starting at the bottom and working all the way around the mask. Be sure and leave about a 3" gap at the bottom of the chin area for inserting a filter if desired.
*Create Wire Pocket by cutting a piece of fabric 3" x 2-1/2". Fold in half the long way, right sides together, and sew along the 2 short sides. Trim upper edges. Turn right side out and fold open seam inward. Iron flat.
*Sew top edge of Nose pocket to the top of inside of mask. Sew bottom edge next. Leaving the 2 short ends open.
*Cut a 2" piece of wire. Clip the wire ends shorter than the cover on each side and insert into mask pocket. (Remove when washing)
* Clip pleats in place along the sides of the mask (about ½" each side for regular and XL size masks, ¼" for other masks) Sew over the pleat 2 or 3 times.
Your mask is complete!!
**Recommended washing after each use. Remove Wire before washing. Wash on warm and hang to dry (mask will last longer) or dry on low setting in dryer.
The following two tabs change content below.
Hi I'm Taya! A stay-at-home mother to 5 cuties. I love to craft, sew, blog and make fun things. I'm the creator of the 'Eat-Pray-Create' blog and I'm so glad you're here!
Google+