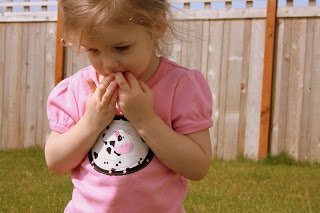 I made this very adorable outfit last week for my little neice Katie for her birthday. Before I sent it I took some pictures of Sam wearing it (it's so cute I think I am going to have to make Sam one!) Not super hard to make either. I bought the shirt and used fusible web (like double sided interface) to put the applique on. I also stitched around the edges. I had a pattern for pants that I just cropped into shorts(a nice length) and vwala….
I would like to sell something like this on etsy, I think it might do well, and it was very fun to make!

To view more please visit my blog!
The following two tabs change content below.
Hi I'm Taya! A stay-at-home mother to 5 cuties. I love to craft, sew, blog and make fun things. I'm the creator of the 'Eat-Pray-Create' blog and I'm so glad you're here!
Google+