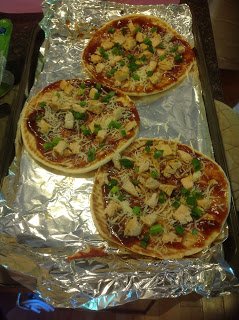 Meal Plan Monday – Week 1
Meal Plan Monday
The day of the week that I plan out our family meals for the coming week, make a grocery list, and go shopping. I like to have a monthly theme and this month our theme is: Soups/Stews/Chilies. I will plan at least 1 meal for the week that goes along with the theme. Click photos or name to find the recipe!

Weekly Meal Plan:


Monday – Pita Pizzas, Veggies, (Dessert: Monday Nights) Peanut Butter Rice Krispie Treats
Tuesday – Cajun Jambalaya, Salad, Fruit
Wednesday – Breakfast Burritos (sausage, eggs, potatoes, cheese), Fruit

Thursday – Leftovers

Friday – Chicken/Potatoes/Veggie Bake, Fruit salad, Rolls
Saturday – Sausage Egg Cheese McMuffins, Fruit
Grocery List:
(This is a list of items you would need to make this menu plan, I have a lot of it already in my pantry, check and see what items you already have and then go shopping!)
-Pitas(flat bread kind), mozzarella cheese, chicken, green onion, spaghetti Sauce, pepperoni, olives, rice krispies cereal, marshmallows, peanut butter.
-Cajun Seasoning, Rice, Frozen Veggies, Turkey Sausage Links, 2 cans canned diced tomatoes, salad, fruit.
-Tortillas, eggs, cheese, sausage, potatoes, fruit.
-Chicken breasts, potatoes, green beans, butter, Italian sea
soning package, fruit cocktail, cool whip, rolls.
-English muffins, sausage, eggs, cheese, fruit.
-Ground turkey, onion, garlic, celery, 1 can kidney beans, chili seasoning pkg., 2 cans diced tomatoes, 1 can tomato sauce, ketchup, sugar, 1 red pepper, salsa, 1 sm. can green chilies, 1 can corn, garlic salt.
Have a great week everyone!


To view more please visit my blog!
The following two tabs change content below.
Hi I'm Taya! A stay-at-home mother to 5 cuties. I love to craft, sew, blog and make fun things. I'm the creator of the 'Eat-Pray-Create' blog and I'm so glad you're here!
Google+