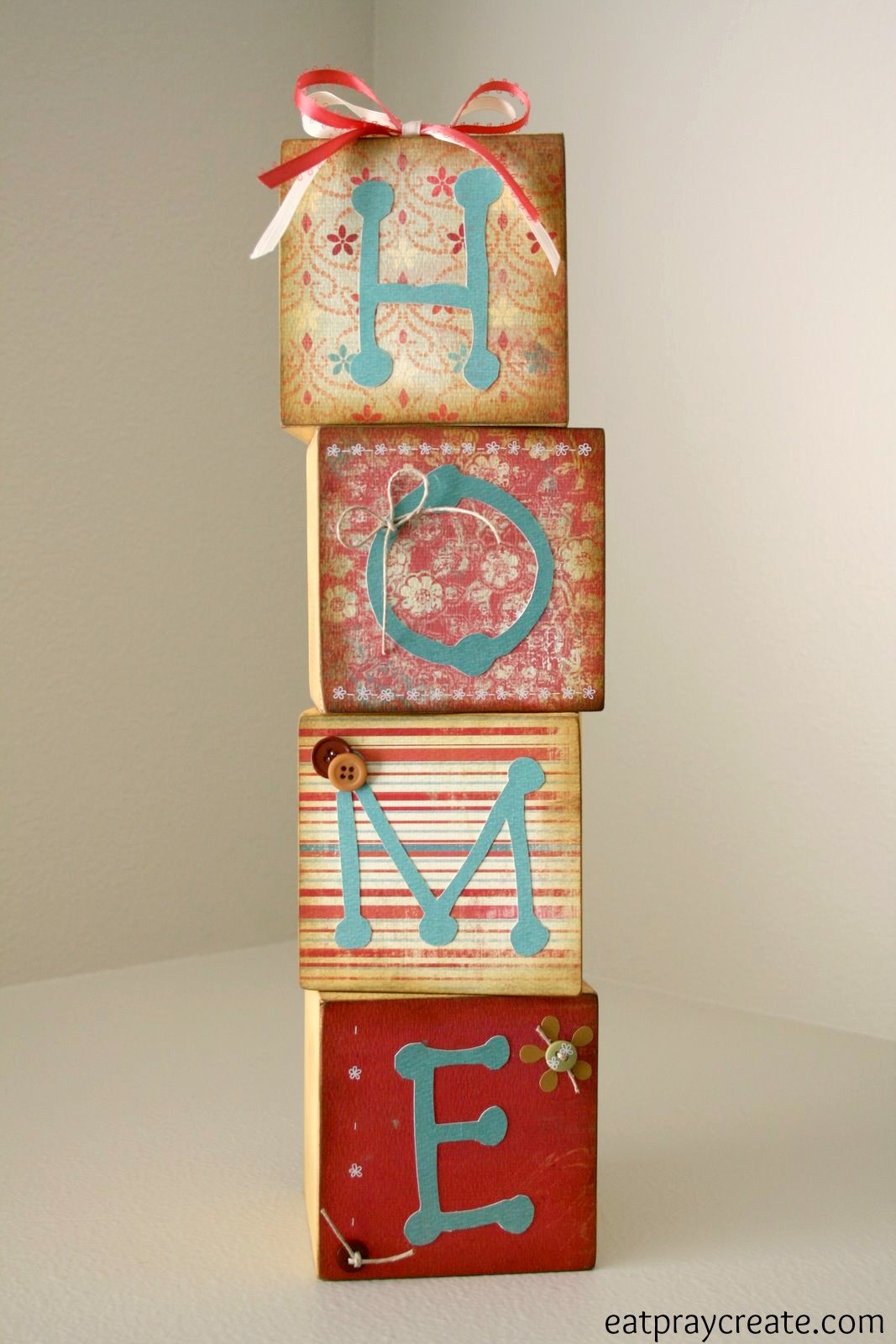 Baby gift ideas
,
Centerpieces
,
Christmas
,
Crafts
,
Create
,
Gift Ideas
,
Home Decor
,
Mother's Day
,
Teacher Gift
,
Tutorials
,
Wedding Ideas
DIY Home Décor – Wood Blocks
Here's a fun and easy DIY Home Décor idea…Wood Block Letters! These would make the perfect home decoration, house warming gift, birthday gift, going away gift, or you could even make them for Holidays or a baby nursery with baby's name on them! Tons of possibilities with these cute blocks. You could even put photos on the sides and rotate to change the picture. So fun!
This is an updated post the original post can be found HERE.
(This post contains affiliate links)
Ready to make some fun DIY Home Décor wood blocks? Well let's get started! Here's what you'll need…
Supplies:
3 or 4 inch unfinished wood blocks from Michaels craft store
Scrapbook Paper
Yes Glue
Embellishments (ribbon, buttons, twine, etc.)
Paint/paint brush
Stamp ink pad/makeup sponge
Hot glue gun
Steps:
I sanded and painted the blocks first, then I cut and glued the paper on with "yes" glue. Once it was dry I sanded the edges, then used a makeup sponge and stamp ink on the edges to get the rusty look. Then I put on letters and embellishments (hot glue gun works fine for embellishments).

* More detailed pictures of this type of craft can be found here…
These would look great on a mantal or shelf, I gave these to a dear friend as a birthday gift!
Note: You could also do other words or do another letter on the other side so you could change the word (put a "p" on the other side of the "m" and flip it to change the word to "hope" etc.) The blocks are about 2.50 each and depending on the cost of paper and embellishments you could make this craft for as little as $10.00. Save by using old paper scraps or using coupons at Michaels to get the blocks for cheaper!
If you want to see more awesome DIY Home Décor ideas go
HERE
.
Have a great day!
-Taya
The following two tabs change content below.
Hi I'm Taya! A stay-at-home mother to 5 cuties. I love to craft, sew, blog and make fun things. I'm the creator of the 'Eat-Pray-Create' blog and I'm so glad you're here!
Google+