How to Add Sleeves to a Prom Dress
If you've ever had to alter a dress before you know it can be very tedious! But adding sleeves to a sleeveless dress doesn't have to be complicated. I've got a simple little tutorial to share with you today on how to add a 4 inch wide sleeve to a strapless dress. Now you can add a little modesty to a dress without stress or spending a bunch of money! Here's the before and after…
Let's get started. Here is the dress before. It has no sleeves or straps at all…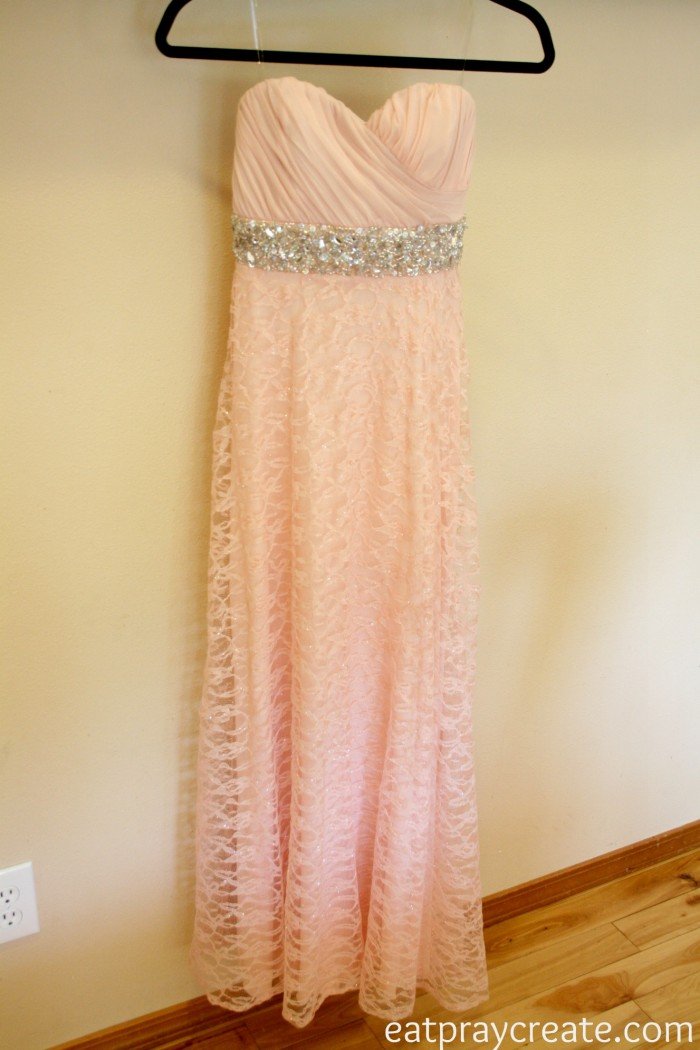 First you're gonna need fabric to make the straps/sleeves. Luckily my model was slightly shorter so there was extra material at the bottom of the dress. I simply cut 4 inches of lace off the bottom of the dress to use for straps and re-hemmed the bottom. If your dress does not have extra fabric to work with go check out your local fabric store, and take your dress with you to find a matching fabric. Try to use a similar fabric type as well to keep it cohesive.
Have your model put the dress on and mark where you want the straps to be by placing pins in the dress (be careful not to poke your model!). Then use a soft measuring tape to measure over the shoulder front to back. Write that measurement down and add 2 extra inches. Cut your fabric pieces out…I wanted 4″ wide straps so I cut the fabric 4″ by the length I just wrote down. Since I was using lace material I made each strap 3 layers of lace.
Now zig-zag stitch your long edges with a very small stitch (or fold the material over 2 times and stitch, you will lose a little width so you may want to cut your fabric wider if you use this option).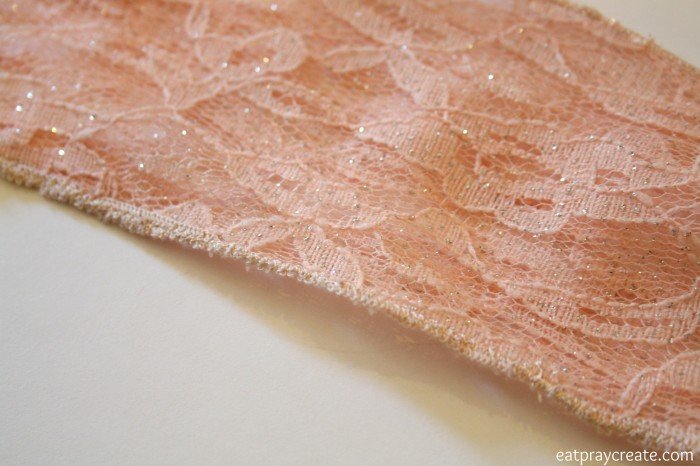 Then gather your ends and place matching bias tape over them and stitch a straight line to hold it in place.
Finally you will hand-stitch your ends to the inside of the dress where you have marked with pins, using a needle and thread. Make sure your needle doesn't pass through the front of the dress material. Go all the way around the bias tape attaching to the dress as you go. I sewed the front part first and then had the model put the dress on and make sure the placement was right and pinned the back of the strap in place before attaching it.
Now your dress is complete!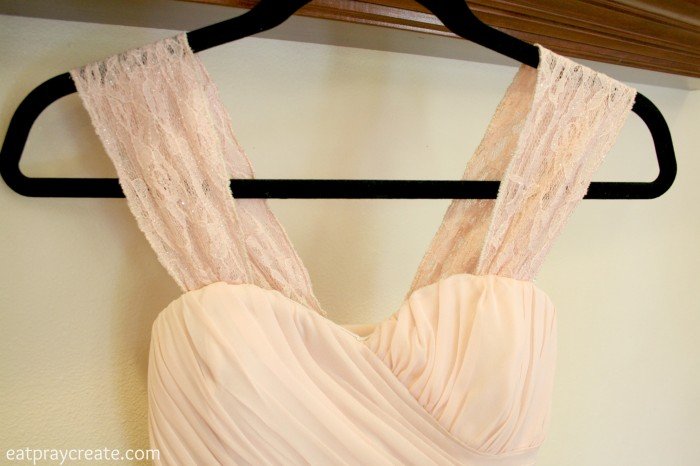 Don't forget to hover over the picture and pin it for reference later! You can also follow us on facebook by clicking HERE or sign up for our newsletter and get a free gift by going HERE.
Click HERE to see all the fun Linky Parties I like to link up to!
Have a great day!
-Taya
Going to Prom or Homecoming or a Wedding? Here are some fun Hair ideas for you…(click on picture to go to post)
The following two tabs change content below.
Hi I'm Taya! A stay-at-home mother to 5 cuties. I love to craft, sew, blog and make fun things. I'm the creator of the 'Eat-Pray-Create' blog and I'm so glad you're here!
Google+