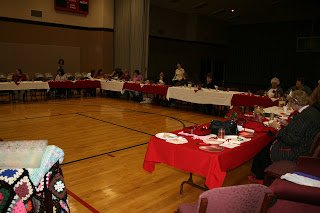 Sweetheart Sister Enrichment
We had a super Sweet Enrichment last night….
It included 5 of our sweetest sisters being spotlighted (tables displaying pictures, items they'd made, etc), their V.T. spotlighted them telling stories and interesting things about them. They came to the front and we crowned them, gave them a corsage, a box of chocolates and a homemade craft bag (I made those so I will post a pic soon). All the sisters were so cute!!! We also had a lovely homemade cheesecake dessert (last picture), a slide show of hands and service, and a musical presentation…Tabitha sang "His Hands." The evening was beautiful with red and white tablecloths and roses in the centerpiece vases(that all the sisters took home at the end) and chocolate kisses along the tables. We also had handouts at each place setting the had lyrics to the song on the video ("my sisters hands" by Sally Deford) and a scroll with a poem about the rose on it. Oh and heart shaped sugar cookies on doilies! It was such a great night (only a couple technical difficulties but all and all it was wonderful!)
The Audience above (U shaped set up)
Our Sweetheart Sisters and their display tables
Yummy homemade cheesecake for dessert!

To view more please visit my blog!
The following two tabs change content below.
Hi I'm Taya! A stay-at-home mother to 5 cuties. I love to craft, sew, blog and make fun things. I'm the creator of the 'Eat-Pray-Create' blog and I'm so glad you're here!
Google+