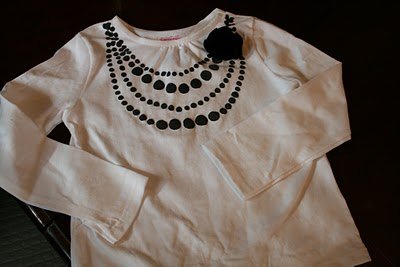 Saw this awesome idea to paint a necklace on my little girls t-shirt. You can find the tutorial HERE… and I just had to make one for my little Samantha. It is really easy to make and you can add a little fabric flower to embellish it even more!


Easy to do and very cute. The only advice I would give is to put more paint than you think on each dot. The more paint the puffier the dot after you steam it. The fabric paint is called "Velveteen" written up on the top edge of the bottle of fabric paint found at the craft store. It was intermixed with all the other fabric paints so I had to search for it but it worked great and I can't wait to make another one! Oh and make sure you put a piece of cardboard in between your fabric or you'll ruin the back (luckily I remembered).
I'm invisioning a cute black ruffly skirt to match!!
The following two tabs change content below.
Hi I'm Taya! A stay-at-home mother to 5 cuties. I love to craft, sew, blog and make fun things. I'm the creator of the 'Eat-Pray-Create' blog and I'm so glad you're here!
Google+