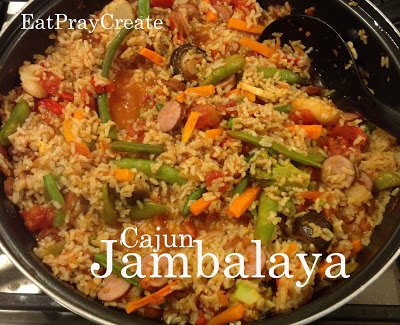 Cajun Jambalaya Recipe – Quick and Easy Dinner
Quick and Easy
Ingredients:
Turkey sausage links, cut up (3-4 links or more if you like)
2 cups frozen veggie bled of your choice
2 cups of rice (of your choice), cooked according to directions
2 cans diced tomatoes, 1 blended up in blender or magic bullet
2 tsp. Cajun Seasoning
1 tbsp. Olive Oil
Instructions:
1. Heat up the veggies on med. high heat in the olive oil. 5-7mins.
2. Add everything else into the pot (rice should already be cooked).
3. Cook until heated through.
*It's healthy and delicious! Enjoy!

To view more please visit my blog!
The following two tabs change content below.
Hi I'm Taya! A stay-at-home mother to 5 cuties. I love to craft, sew, blog and make fun things. I'm the creator of the 'Eat-Pray-Create' blog and I'm so glad you're here!
Google+