Banana Pudding Dessert Recipe
Jump to recipe
This is the perfect cool soft and fluffy dessert for any gathering. If you know me, you know I love dessert! My mom actually came up with this delicious Banana Pudding Dessert recipe and I could eat the whole pan by myself…it really is that good!
Here's the recipe:
Ingredients
1 pkg. Cinnamon Graham Crackers (or regular and 1/2 tsp. cinnamon/ 1/4 cup sugar)
1 stick Butter (1/2 cup) - melted
5-6 Bananas
2 cups Milk
1 - 5oz. box Instant Vanilla Pudding
1 - 8oz. Cream Cheese
1 - 14oz. can Sweet Condensed Milk
1 - 12oz. Whipped Topping
Instructions
Using a rolling pin, crush graham crackers in a large sealed plastic bag.
Mix crushed graham crackers with softened butter using a fork. (If you didn't have cinnamon graham crackers add the cinnamon and sugar to this mix).
Press into the bottom of a 9x13 pan and Bake at 350 degrees for 10 minutes.
While the crust is baking make your vanilla pudding by mixing the pudding mix with milk. Then put in fridge.
In another bowl combine softened cream cheese with sweet condensed milk until smooth.
Once pudding is set up add the cream cheese mixture to it.
When crust is done, remove from oven and crumble with fork. Set aside about 1/2 cup for topping. Press the rest back into the pan.
Layer sliced bananas on top of crust.
Then carefully spread pudding mixture on top of bananas.
Finally layer with cool whip and sprinkle crumb mix on top. Refrigerate until ready to eat.
© 2023 Created by Taya @ EatPrayCreate.com
Here are some pictures of the process: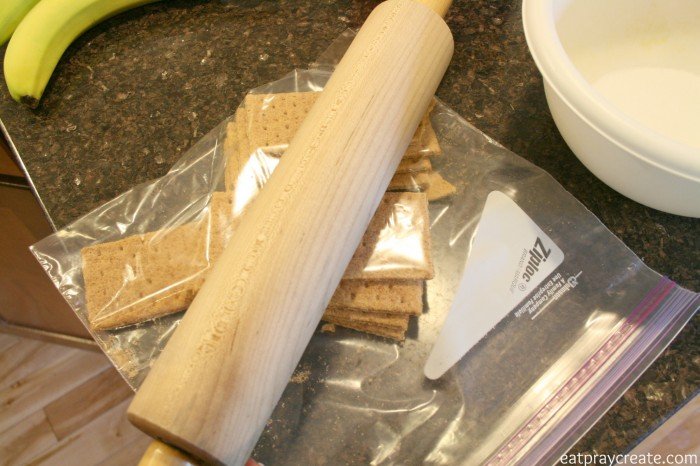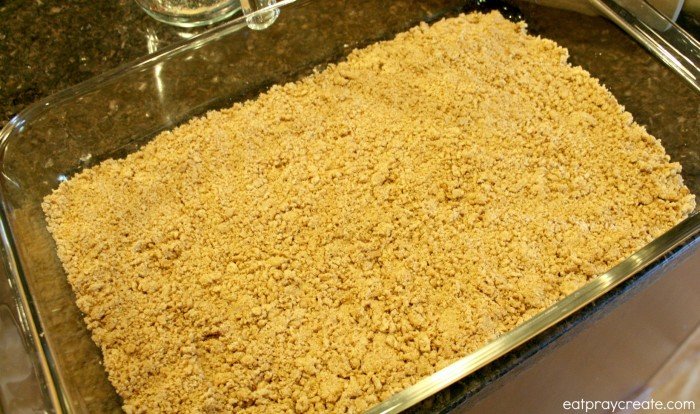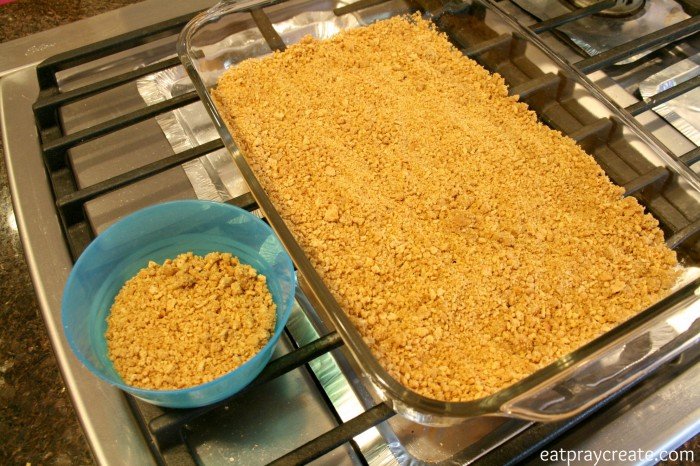 h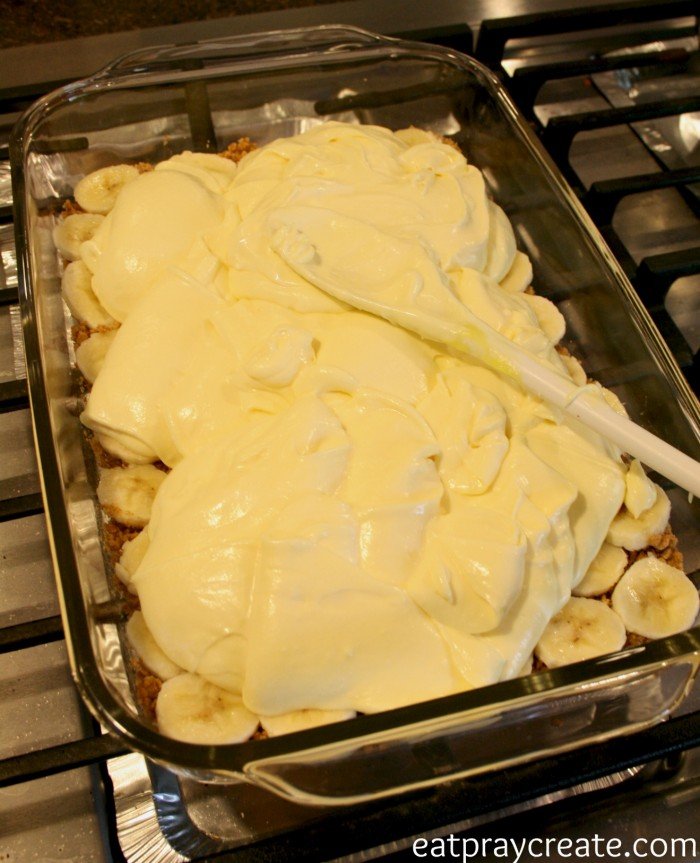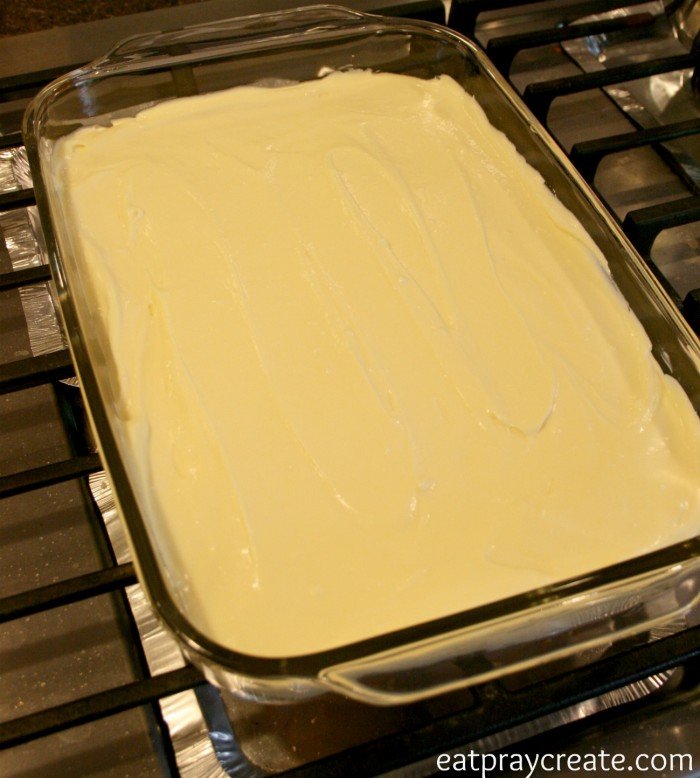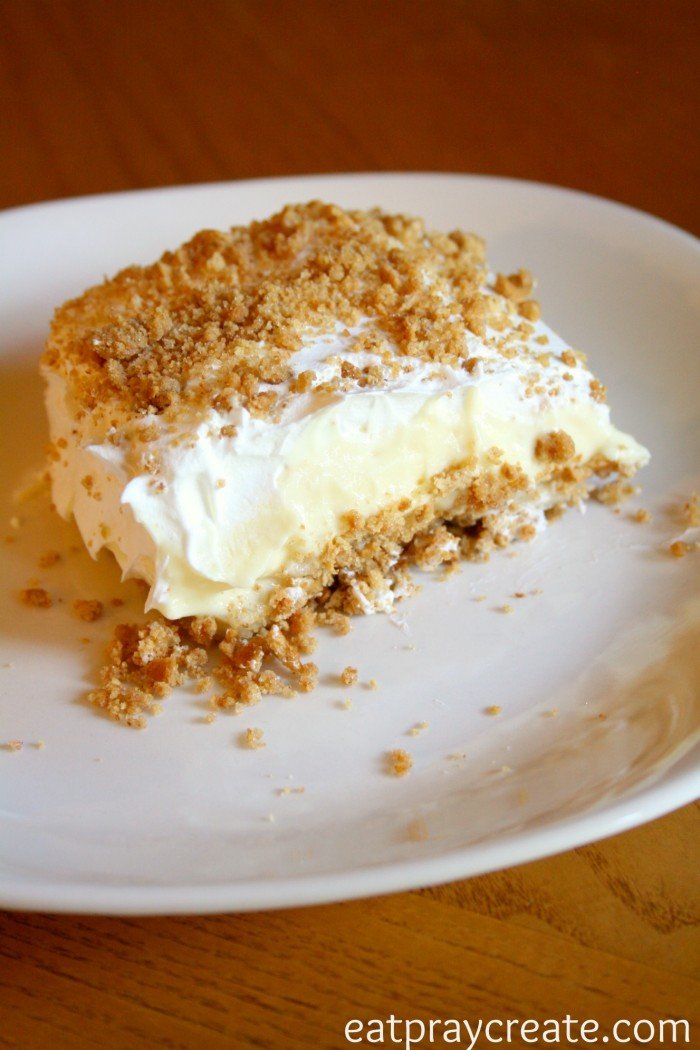 Click HERE to see all the fun linky parties we like to link up to!
Enjoy!
-Taya
The following two tabs change content below.
Hi I'm Taya! A stay-at-home mother to 5 cuties. I love to craft, sew, blog and make fun things. I'm the creator of the 'Eat-Pray-Create' blog and I'm so glad you're here!
Google+