Wedding Timeline Chalkboard Sign – DIY Wedding Series
Wedding season is just around the corner (although I was married in December..hehe). Today I am excited to start a new series here on the blog… a DIY Wedding Series where I will be sharing some DIY wedding accessory projects. Including a Wedding Chalkboard Timeline Sign, Wedding Invitations, a Mirrored Cake Stand, a simple DIY Bridal Bouquet and other Flowers, simple Party Favors and a Ring Bearer Pillow.
I know weddings can become very expensive very quickly so I wanted to give you a couple of fun ideas for things you can create yourself and help you save on your wedding budget. So today I'm showing you this adorable 'Wedding Timeline Chalkboard Sign.' An easy and inexpensive wedding decoration that everyone will love! And it's a great way to display your Wedding Itinerary.
My best friend Tiffany had this awesome wood-framed mirror that was purchased from the thrift store. The mirror was removed and we painted the backing with chalkboard paint and created this adorable chalkboard sign for my sister's wedding. We've also used it for another wedding reception and a baby shower (scroll down to see those signs!)
Here's what you'll need:
Large Frame – I would recommend looking at your local thrift store. It may be a framed mirror or picture!
White Paint
Chalkboard paint – (see below for the kind I used)
Large foam or bristle brush (I prefer using a foam brush for the chalkboard paint, it dries smoother, and a bristle brush for the frame)
Chalk markers (see below for the ones I used)
Directions:
Take apart your frame. Remove mirror or glass and backing.
Paint your frame white then allow to dry (may need more than 1 coat).
Paint your mirror or glass or the backing (it's really up to you) with you chalkboard paint. I find it easiest to paint side to side from top to bottom. Nice thin coat is best, and once it dries just apply another coat working side to side, top to bottom.
Once all pieces are dry put back together. I wait at least 24 hours (read your chalkboard paint can for recommendations).
Use your chalk markers to write/draw your wording and embellishments. The trick to chalk markers it shaking really well, then pressing the tip down on a scrap piece of wood or thick paper. Shake again and press again. Continue until ink starts to flow then begin to draw on your chalkboard. If the ink starts looking faded repeat the previous steps. Continue until board is complete, working top to bottom so you don't smear it. If you mess up or smudge the ink just keep a wet washcloth near by and wipe off right away, wait till the wet spot dries before continuing.
Here it is before writing on the chalkboard…
Now look how cute it turned out!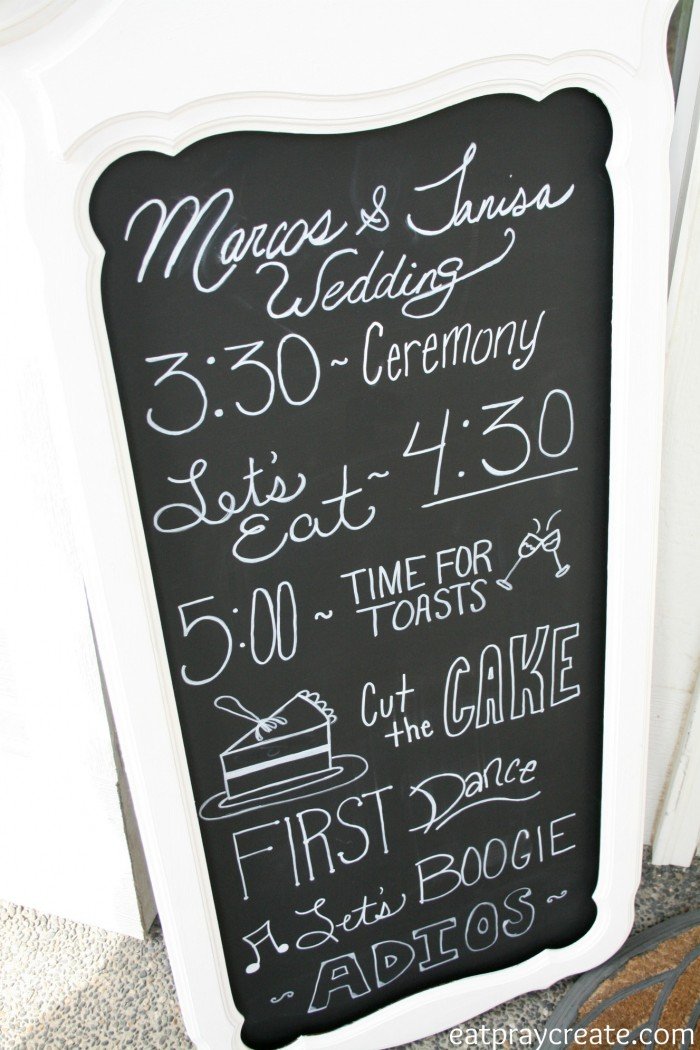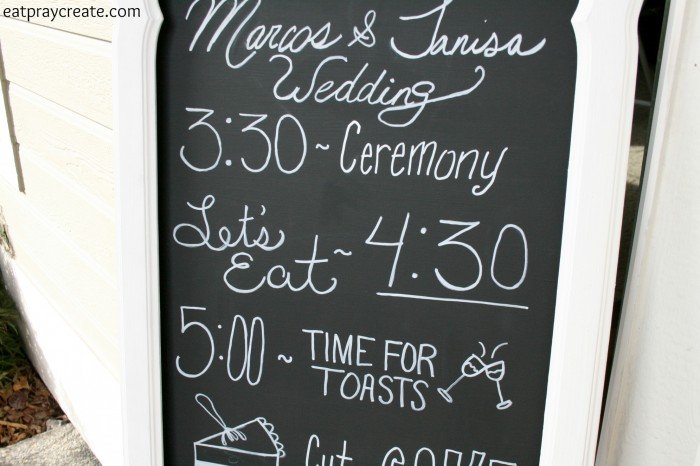 Here's another Wedding Reception Chalkboard Idea…


And a baby shower chalkboard sign idea…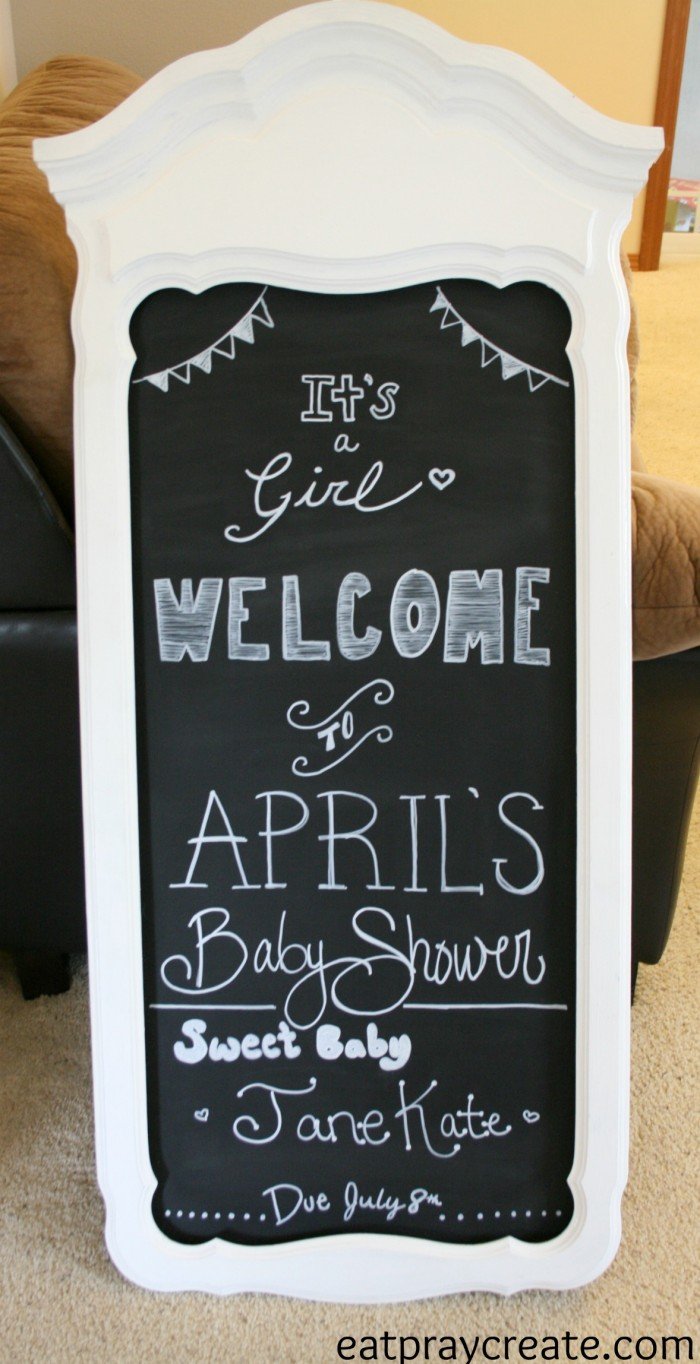 I hope you are able to find an adorable frame to create one of these Chalkboard Signs for your special day!!
Be sure to subscribe via email HERE to be notified of upcoming Wedding Posts! I can't wait to share more with you…
Need more wedding ideas click HERE to see all my wedding idea posts… and see more chalkboard sign ideas on my DIY Wedding Board on Pinterest by clicking HERE!
Have a lovely day!
-Taya
The following two tabs change content below.
Hi I'm Taya! A stay-at-home mother to 5 cuties. I love to craft, sew, blog and make fun things. I'm the creator of the 'Eat-Pray-Create' blog and I'm so glad you're here!
Google+