Church Christmas Party Decorating Ideas
If you're in charge of decorating for your Church's Christmas Party, I've got some simple decorating ideas for you!
*This post contains affiliate links.
Supplies:
Plastic Table Cloth Rolls – We get ours from Cash n Carry or find them here:Plastic Tablecover Roll
3D Paper Christmas Tree Centerpieces – Tutorial HERE
Snowflakes made from coffee filters
Paper End Rolls – found at your local newspaper
Use the above supplies to decorate for your Christmas Party.
I cut snowflakes out of coffee filters and made a table runner out of them. We also had Christmas printable games/coloring pages on the tables. Here's a free printable for the 'Name that Christmas Carol Game' and the other 'Guess the Christmas Carol' game.
These 3D paper Christmas trees are the perfect centerpiece. I've got a free printable pattern and tutorial so go check it out! They are simple to make and they are reusable!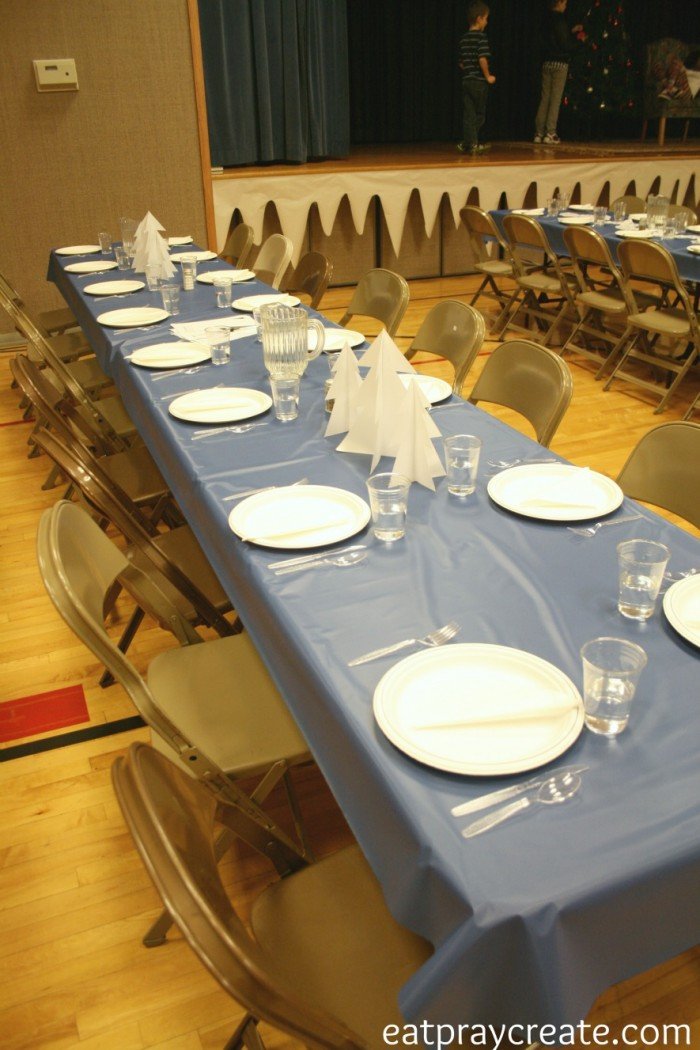 I taped the end paper roll along the front of the stage and then cut out an icicle shape. It turned out so cute!! White butcher paper would work great too. The end rolls from the newspaper place are super cheap (like $3 a roll)!
Added some extra supplies to the kitchen serving area…
So simple and very inexpensive decorating ideas! We added a tree and a chair to the stage for our special guest…
I have some more great decorating ideas from the previous year. Including invitations and ornament ideas for the primary. You can find them HERE.
Merry Christmas!
-Taya
The following two tabs change content below.
Hi I'm Taya! A stay-at-home mother to 5 cuties. I love to craft, sew, blog and make fun things. I'm the creator of the 'Eat-Pray-Create' blog and I'm so glad you're here!
Google+