Free Gift for Email Subscribers
Thanks for signing up for our Newsletter! If you found your way here and haven't signed up for the "EatPrayCreate Newsletter" please click the link below and sign up before downloading your free gift. Thanks!
Thanks again for signing up, now you can download your free Chore Charts!
If you're a mom you know how difficult it can be to motive your kids to help out around the house. It took me several years of trying all different kinds of chore charts, reward systems, and bribery. Finally I came up with this fun and easy to make Chore Chart System to help, and my kids love it! I hope your kids love it too!
Here are your free printables:
Printable Chores. Click here…ChoreChartPictures
Printable Rewards. Click here… ChoreChartRewards
Boy Chore Charts:
Boy Chore Chart Blue Grey PDF
Boy Chore Chart Navy Red PDF
Boy Chore Chart Orange Grey PDF
 Boy Chore Chart Seahawk PDF
Girl Chore Charts:
Girl Chore Chart Green PDF
Girl Chore Chart Pink PDF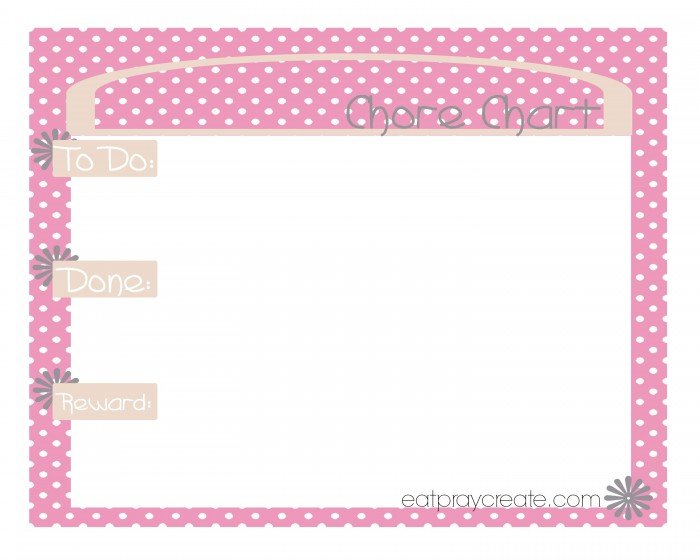 Girl Chore Chart Purple PDF
Girl Chore Chart Blue Red PDF
*You will need a PDF reader to download your Files. If you don't have one already you can go HERE and download Adobe for free.
After opening your PDF files simply save them to your computer. Go HERE for a step-by-step tutorial on how to add your child's name to their chore chart. Then print your charts, chores and rewards out on cardstock (a thicker paper). Then cut out your chores and rewards. Laminate your chart, chores and rewards if desired. This will help make them nice and sturdy. Add magnets to the back of your chores and rewards and to the front of your chart. You could also use sticky tack! You can find these resources here….

or at your local craft or office supply store.
Hang your child's chart up and have fun picking chores and rewards for them to accomplish throughout the day or week. Enjoy!
-Taya
**These Free Chore Charts from EatPrayCreate are for personal use only. Please do not attempt to copy or sell them elsewhere. If you have a friend or family member who would enjoy them too just send them HERE and have them sign-up for our newsletter and access their free printables too! – copyright@eatpraycreate.com
Google+