DIY Easy Car Seat Blanket Tutorial
I made a Car Seat Blanket for my baby boy to stay warm when he is in his car seat without having to try and cover him with a blanket that keeps falling off. Scroll down to see the very easy car seat blanket tutorial below. Here is my little guy all bundled up in his Car Seat Blanket…
I got the idea over at Imperfect Homemaking. She has a great tutorial on how to make this awesome hooded car seat blanket…
I wanted to make one like this but I didn't want to do all that sewing! So I made a very simple version. Lets get started….
Supplies:
Fleece -about 1-1/4 yards (Find a cute print of fuzzy fleece material you like)
Scissors
Pen
Sewing Machine/Matching Thread
and your Car Seat
That's all you need!!
Instructions:
1. Cut your fleece to get a perfect square, you may need to trim 2 sides to get a square about 45″ x 45." (some fleece comes very wide, wider than regular fabric, that's why it needs to be cut down.)Then fold your fleece in half and then fold in half again. It should look like this…
2. Draw a shape like this along the RAW edges. (not the folded edges)
3. Cut just inside your drawing.
4. Lay blanket out, fold in half and mark 5inches down from the top. Draw a line. Sew along that line.
(can you see the line I drew?)
Once sewn cut off excess fleece, about 1/4″ above your sew line.
5. Open up blanket and lay in car seat. Put a dot with pen where straps come out at shoulders and at the bottom sides. Also mark the middle bottom where clip comes out between the legs.
6. Lay blanket flat and draw lines from shoulder dot to side dots. Also draw a horizontal line (about 2 inches long) along the middle bottom dot.
7. Cut along those lines. (I had sewn a box around each of these openings before cutting but it was not necessary the fleece does not rip or fray).
8. Put blanket in car seat, pull straps through the openings (make sure the blanket is not blocking any of the straps of your car seat, if it is simply remove and cut blanket openings longer).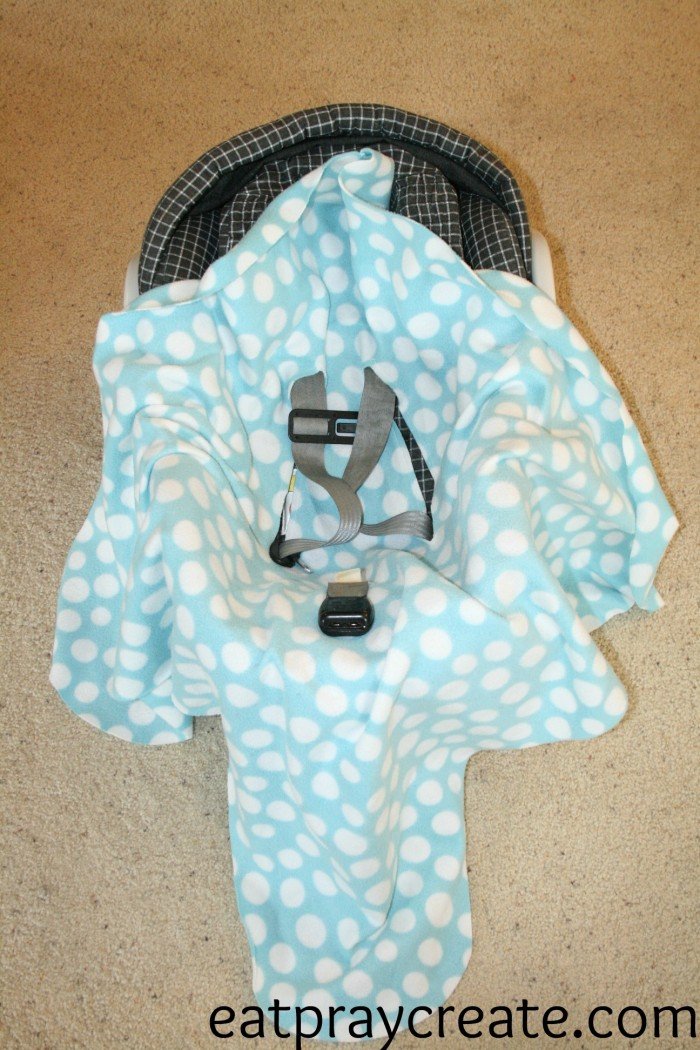 9. Buckle baby up nice and snug (the blanket should not effect the way the straps lay), then swaddle!
(My baby is teething, can you tell? He is always chewing on his fingers!)
I hope you enjoy this simple and easy Car Seat Blanket Tutorial. I love how soft and cozy it is for my little guy and I love that it stays in place when we are out and about during this cold season.
*Disclaimer: Please consider the safety of any homemade baby items before using. I am confident that this blanket does not effect the integrity of MY infant car seat performance. As with any baby item use your own judgement on items you create for your little one!
Click HERE to see all the linky parties I've linked up to:)
If you are new here WELCOME! I hope you enjoy all the fun tutorials and crafts here are Eat Pray Create. And if you haven't had a chance make sure you sign up for our email newsletter and get these adorable Chore Chart Printables for Free!!


-Enjoy, Taya
The following two tabs change content below.
Hi I'm Taya! A stay-at-home mother to 5 cuties. I love to craft, sew, blog and make fun things. I'm the creator of the 'Eat-Pray-Create' blog and I'm so glad you're here!
Google+