Wedding Favors – DIY Wedding Series
As part of our DIY Wedding Series, today I'm showing you how to make these adorable 'Hugs and Kisses from the Mr. & Mrs.'  Wedding Favors. They are simple to make and I've even included a free printable. And in case you missed it, you can find all our DIY Wedding Ideas HERE. Check out how cute these Wedding Favors turned out!
(this post contains affiliate links)
Supplies:
2″ circle punch (or different size if you make your own)
Tiny hole punch/paper cutter
Hugs and kisses printable (or make your own by following the instructions below)
Favor boxes of your choice and ribbon or twine to attach tags
Hugs and Kisses
If you are using my printable (with black and red wording) this is all you have to do…
First Print your tags and trim the edges a little bit.


Next use your circle punch to cut your tags out. I look through the bottom to make sure the wording is centered with a little extra space at the top.


Use your tiny hole punch to punch a little hole at the top.


Repeat for as many tags as you need!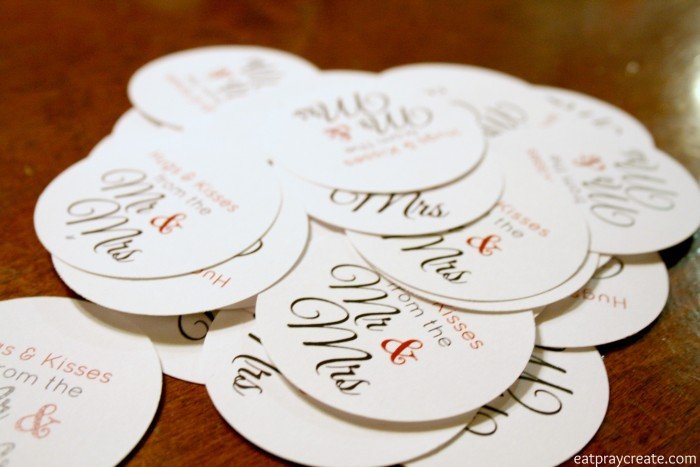 Attach your tags using ribbon or twine by running an end through the tag, then tie.

That's it!
Now if your colors don't happen to be red and black you may want to create your own printable, and I'm here to show you how I made these ones so you can make them too! In any color you like!!
First you need to go to PicMonkey (a free photo editing software) and click on 'Design' and 'Square.'
Click on 'Canvas Color' and click the 'transparent canvas' box to make your background blank.
Then you can add the wording. (click the Tt on the left and the font you like) I add each set of wording separately so I can move it around where I like it.
Continue adding your wording, change the colors to your desired color by using the color finder in your text editing box.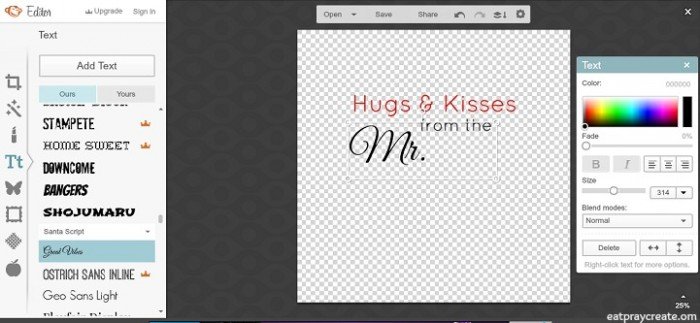 Then crop your square.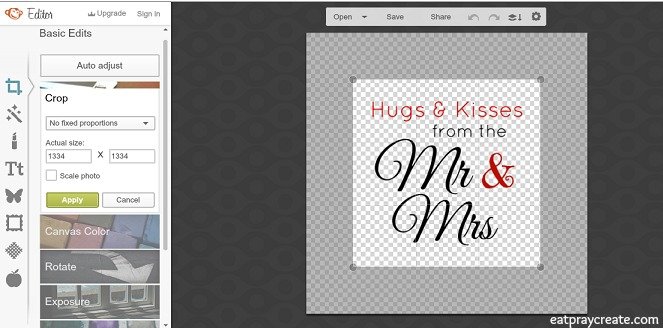 Finally save it to your computer.
Open up a Microsoft word program or other text program and insert your picture.
Drag the corner of the picture down until it is the size you like, if you are going to use a 2 inch circle punch make the dimensions about 1.9″


Right click your picture and 'copy' then 'paste' till you fill your document page making sure they aren't to close together for cutting. Print off a sample page and cut out with circle cutter to make sure they are the right size. Make any adjustments. Then print on cardstock and follow the instructions above to cut and attach your tags to gift boxes!
These adorable Wedding Favors make the perfect take home gift for your guests. Hover over the picture to 'pin it'
Click HERE to see all the fun linky parties we link up to!
And don't forget to check out all our other Wedding Ideas… by clicking HERE. You'll find awesome posts like these…
Have a great day!
-Taya
The following two tabs change content below.
Hi I'm Taya! A stay-at-home mother to 5 cuties. I love to craft, sew, blog and make fun things. I'm the creator of the 'Eat-Pray-Create' blog and I'm so glad you're here!
Google+