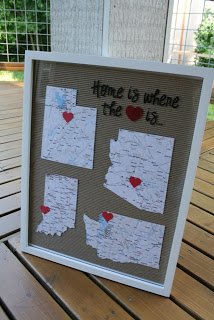 Home is Where the Heart Is – Framed Maps Tutorial
I saw this idea on pinterest but the maps were in a floating frame. I just used a regular frame and took the mat out. The crinkled cardboard came with this frame so I used it as my backdrop. This frame is a 14×18″ frame.
Wanna make your own?? It's really quite easy. Simply go to 
THIS WEBSITE
and find the maps of the states you have lived in and print the maps(click on the print PDF reference map). When printing I always clicked on "fit to printable area" so the print would be the size of my paper (I printed on white cardstock).
Print as many state maps as you need for your project…
 Cut them out using regular scissors (some states are easy!! some not so much!)
 (I don't have pics of the next step) Basically just lay your maps out the way you want them to look (if you are trying to make them like the one in the floating frame on pinterest simply use double sided tape to adhere each map to the glass inside your floating frame.) I just taped mine to my background. Then I added pre-cut hearts (I had some lying around, you can probably find some at a craft store/ cut them with a die-cut machine/ or hand cut some out or red cardstock). Place the hearts on each map where you have lived, just use double sided sticky tape. Then I used my Silhouette to cut vinyl that said "Home is where the "heart" is" and attached it to the outside of the glass! The font I used is called "Digs My Heart"
 And that's all there is to it!! P.S. you don't have to add vinyl if you don't want.
 I made this for a sweet friend of mine that is moving away. These are all the places she has lived with her sweet family. This makes a great going away gift or a house warming gift!
Click
HERE
to see all the linky parties I've linked up to:)
The following two tabs change content below.
Hi I'm Taya! A stay-at-home mother to 5 cuties. I love to craft, sew, blog and make fun things. I'm the creator of the 'Eat-Pray-Create' blog and I'm so glad you're here!
Google+