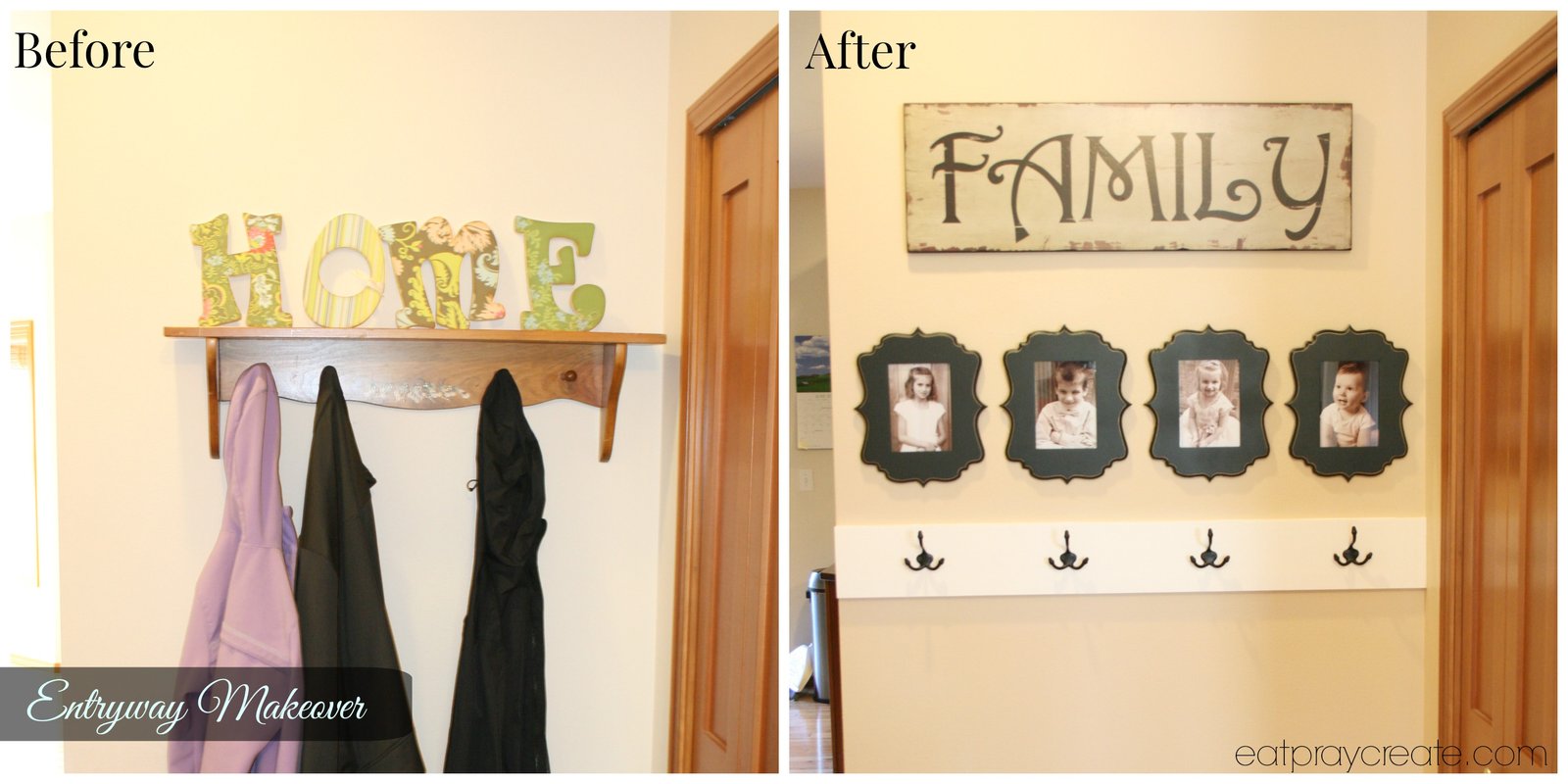 Today I wanted to show you all a fun and easy DIY Entryway Makeover! My entryway was looking a little blah… so I decided to give it a facelift. And yes a woman can do this all on her own! I accomplished this when my husband was out of town for work. Plus using power tools is kinda fun! Here is the before and after of my entryway… the first thing you see when you walk in our front door…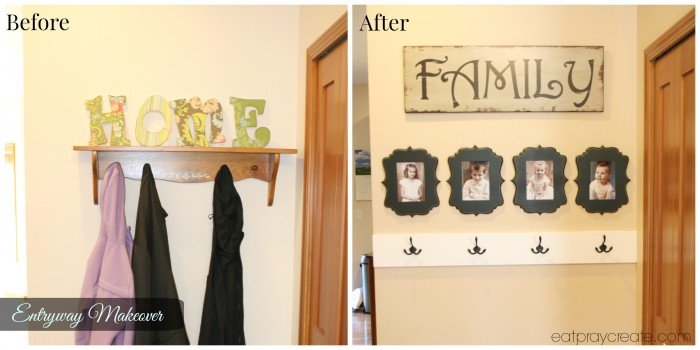 Before all I had was a little shelf with my HOME letters (you can find the tutorial for those HERE) sitting on top. The main problem was my kids couldn't all reach the hooks to hang their coats/backpacks so they would constantly be thrown on the floor.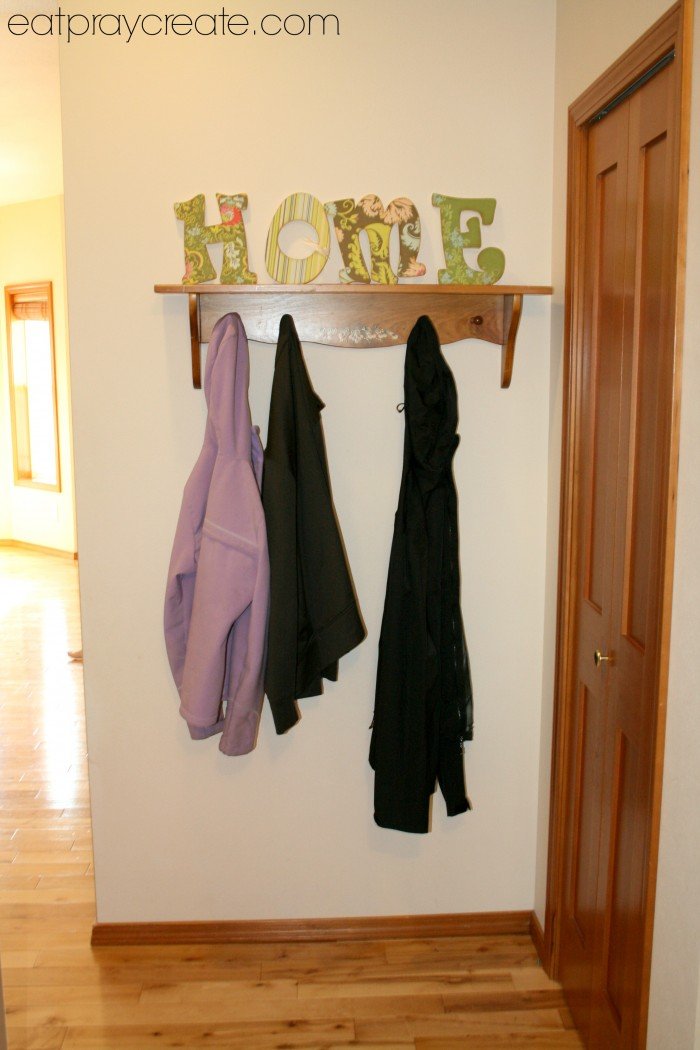 So I came up with this…

(this post contains affiliate links)
Here's a simple step by step DIY tutorial so you can revamp your entryway too!
Supplies:
Cute Sign (I got this 'Family' sign from Hobby Lobby)
Picture Frames (depending on the width of your wall you will need to determine how many to get, I also got these cute frames from Hobby Lobby)
Wood Board – I like the primed stuff (I got this board from Home Depot, measure your wall and have them cut it to size for you!)
Hooks (also from Hobby Lobby)
OTHER: Drill, screws, caulk (get the fast drying stuff), calk gun, calk cap, picture hanging hardware, hammer, white paint and your wall color paint, paintbrush, wet washcloth, level, stud finder, pictures for frames, measuring tape, pencil.


First attach your board to the wall. Use a stud finder to locate the wall studs and mark with a pencil then place your level on top of your wood and drill then screw in your long screws through the wood into the wall studs. You can see below that I had studs on the end and to the left…

Use your white (fast drying) caulk to fill in the seams…


Press the handle of the caulk gun and slowly slide the tip along the seam of  your board and wall until you have a nice bead of caulk…


I also had this handy caulk cap that has an edge that clears up all that extra calk and makes the caulk flat along the seam.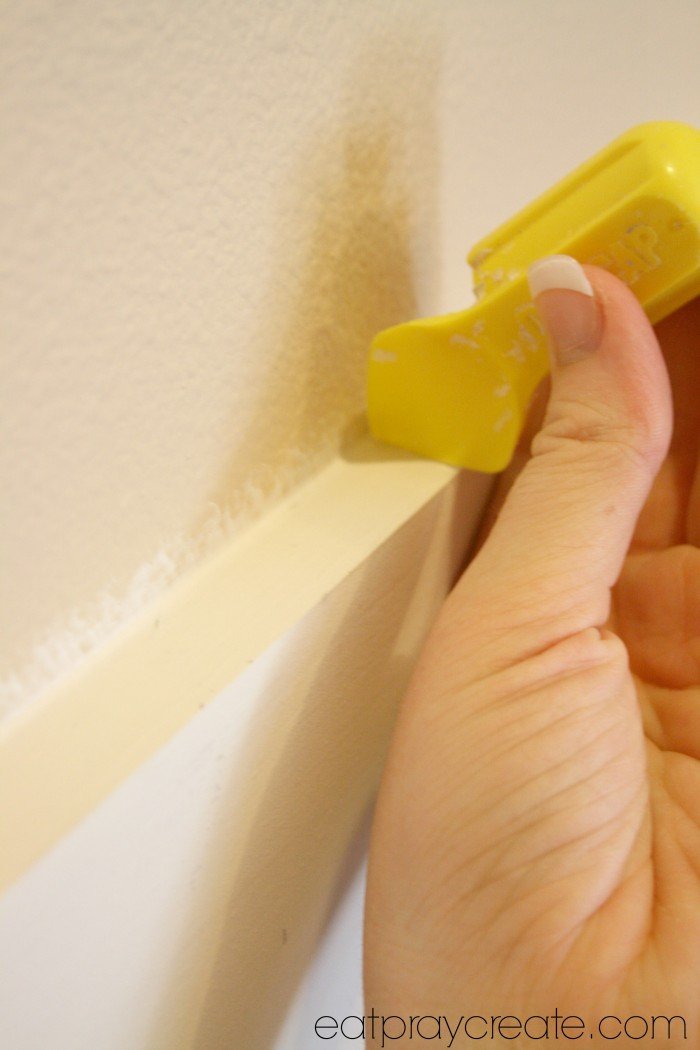 I also used the caulk to fill in the screw holes, also wiping away excess.


While the caulk was drying I measured and hung my frames and sign.


Then I painted over the board using white paint and a bristle paint brush. Once it dried I painted along the edge with my wall color paint (to make a nice line along the wall/board).


Then I measured and marked where to place my hooks and drilled and screwed those in place.


Finally I put my kids pictures in the frames and wa-lah… a beautiful new entry way!


I just love how it turned out, I smile every time I walk in the front door!


And I made it so the kids could reach and hang their own coats and backpacks.


Thanks for stopping by the blog today! Be sure to check out our other home decorating projects HERE.
Click HERE to see all the fun linky parties I link up to!
-Taya
I was featured!
The following two tabs change content below.
Hi I'm Taya! A stay-at-home mother to 5 cuties. I love to craft, sew, blog and make fun things. I'm the creator of the 'Eat-Pray-Create' blog and I'm so glad you're here!
Google+