Centerpieces
,
Christmas
,
Crafts
,
Create
,
Holidays
,
Home Decor
,
kids craft
,
Pray
,
Printables
,
Tutorials
,
Wedding Ideas
3D Paper Christmas Tree Centerpieces
Hope your Holiday's are going great! Today I'm showing you a Tutorial on how to make some 3D Paper Christmas Tree Centerpieces. I made these for a Church Christmas Party I was in charge of 2 years ago and I used them again last year! They are so inexpensive, simple, and easy, even the kids can help make these! They are also great for decorating during Christmas. Use some patterned paper for a festive look.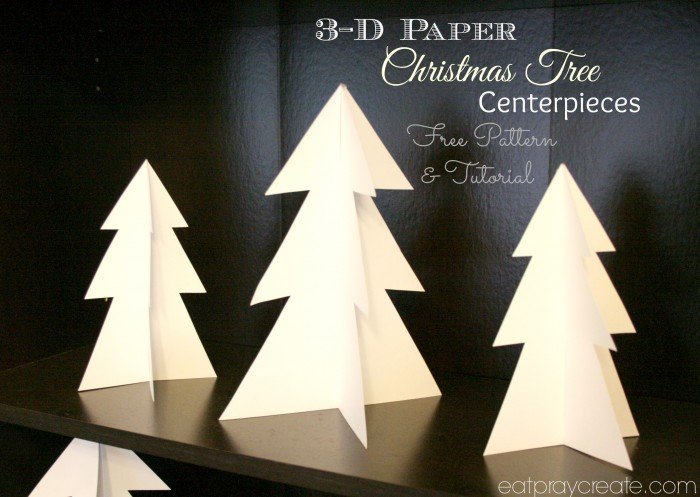 You can see all our Christmas Party Decorating ideas HERE.
Supplies:
Paper (I use 60+lb Cardstock) I buy packs of them at Walmart or off Amazon
Scissors
Printer (optional)
Hot Glue Gun (optional)
*You are going to need a stiff paper like Cardstock so your trees stay up better. You will also need a printer to print the pattern but if you don't have access to one simply draw your own pattern.
Tutorial:
First you are going to want to print the tree patterns.(Large Christmas Tree – Small Christmas Tree). The photos show the small tree example.
Cut out your patterns and trace them on your cardstock, for the small trees you can cut 2 pattern pieces from one piece of cardstock. For the large tree you will need 2 pieces of cardstock per tree. Once your pattern is drawn (Small Tree) fold your paper in half and cut out 2 tree pieces.
Then cut down the center of one tree from the top.
Cut up from the center of the other tree.
Slide one tree into the other tree and stand it up. It will make a "+" shape at the base.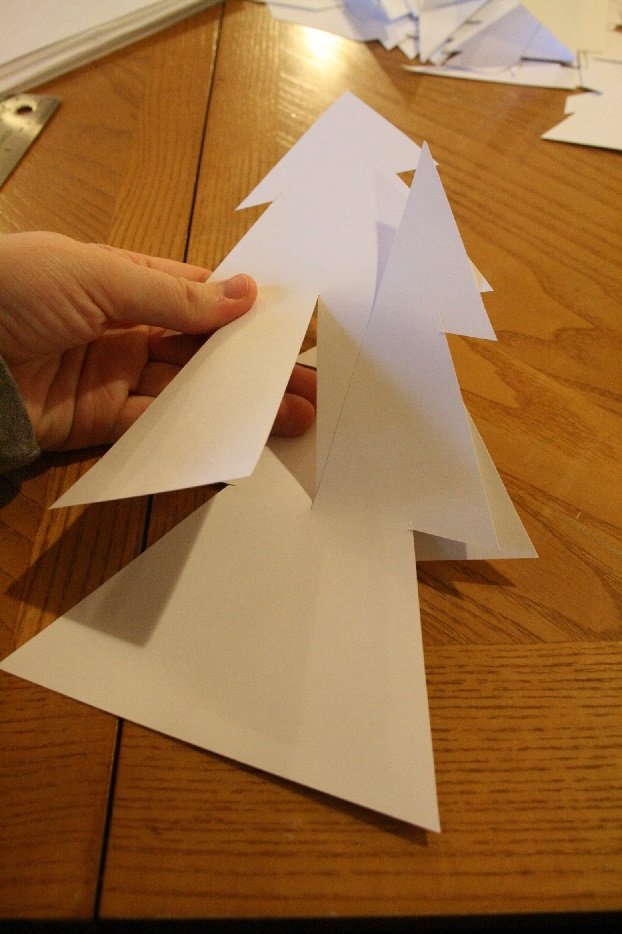 If needed add a dab of hot glue to the top of the tree to keep your trees secure and in place.
That's all there is to it. Simple and beautiful Christmas Tree Centerpieces! You could also make these in different colors (green, red, blue…etc.) When you're done using them lay them flat for easy storage in a file folder!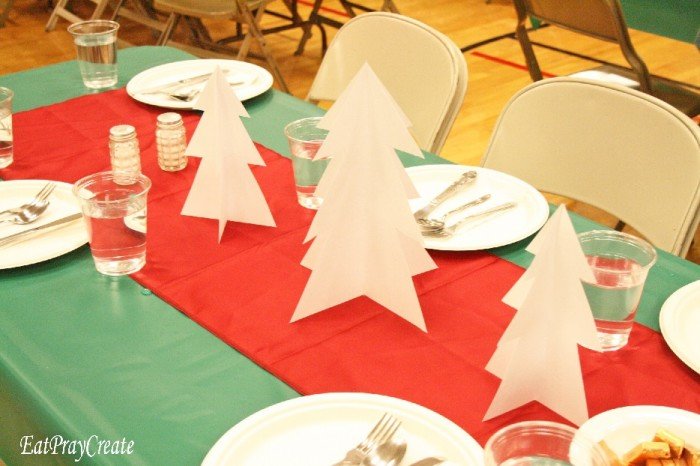 Here are a few more pictures of the parties I've decorated using these paper tree centerpieces…
Check out the other party details here…
Have fun and Happy Holidays!
-Taya
More Christmas fun from eatpraycreate….
The following two tabs change content below.
Hi I'm Taya! A stay-at-home mother to 5 cuties. I love to craft, sew, blog and make fun things. I'm the creator of the 'Eat-Pray-Create' blog and I'm so glad you're here!
Google+