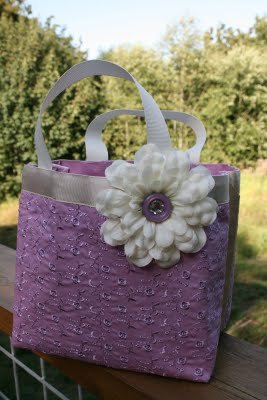 Scripture or Miniture Tote Bag
This is so simple to make!! All you need is a place mat (found this one at the $1 store) Sew the sides together then sew the corners in and trim. Add ribbon for handles and embellish. I used a fake flower with a purple button and rhinestone. Turned out so cute!
The flower before completion.

To view more please visit my blog!
The following two tabs change content below.
Hi I'm Taya! A stay-at-home mother to 5 cuties. I love to craft, sew, blog and make fun things. I'm the creator of the 'Eat-Pray-Create' blog and I'm so glad you're here!
Google+