How to Curl your Hair using Hair Curlers
My sister's wedding is coming up in 3 weeks! I am so excited, and you will be too when you see all the tutorials I have planned to share with you to help you save money by making some DIY wedding décor, flowers, invites and more! Those will be coming soon, but today I want to talk about HAIR…. I have long medium weight hair. Nothing crazy, but my hair does not hold a curl very well. My sister wants all the bridesmaids to wear their hair half down, lots of curls with a pretty clip in the back. So I have been practicing my wedding hairstyle. And I love it…..
First I tried my old curlers I've had for years (you know the kind in the rectangle box that heats up) well that didn't work out so well the curls went flat within an hours time. So I tried hand curling with just a basic curling iron, same thing. So I did some research and came upon these awesome curlers….
I watched a couple you tube videos and couldn't believe the curls they made! So I looked around and found them on Amazon for a great deal!! You can't beat their price! So I ordered 2 packs and had them delivered within a couple days.
I watched a couple more videos on how to put them in (I attached the links to them at the bottom)… and then went to work….alternate between colors… one color curls clockwise, the other curls counter-clockwise.
Now don't laugh, this is what they looked like after I got them all in (no make-up, eeekkk).
*The only tip I would give is if you start feeling pain when you start to pull the hair through the tube, push the stick back to the top and start over with that strand, it shouldn't hurt when you are pulling the hair through! (you may have too much hair in that strand)
*Also I showered and waited about an hour before putting the curlers in, my hair was 1/2 dry, then I left them in for 2 hours (I would recommend 4-5 hours to air dry), I used a hair dryer to dry them quicker because I ran out of time. And this is how they came out…. (notice I didn't put any curlers in my bangs)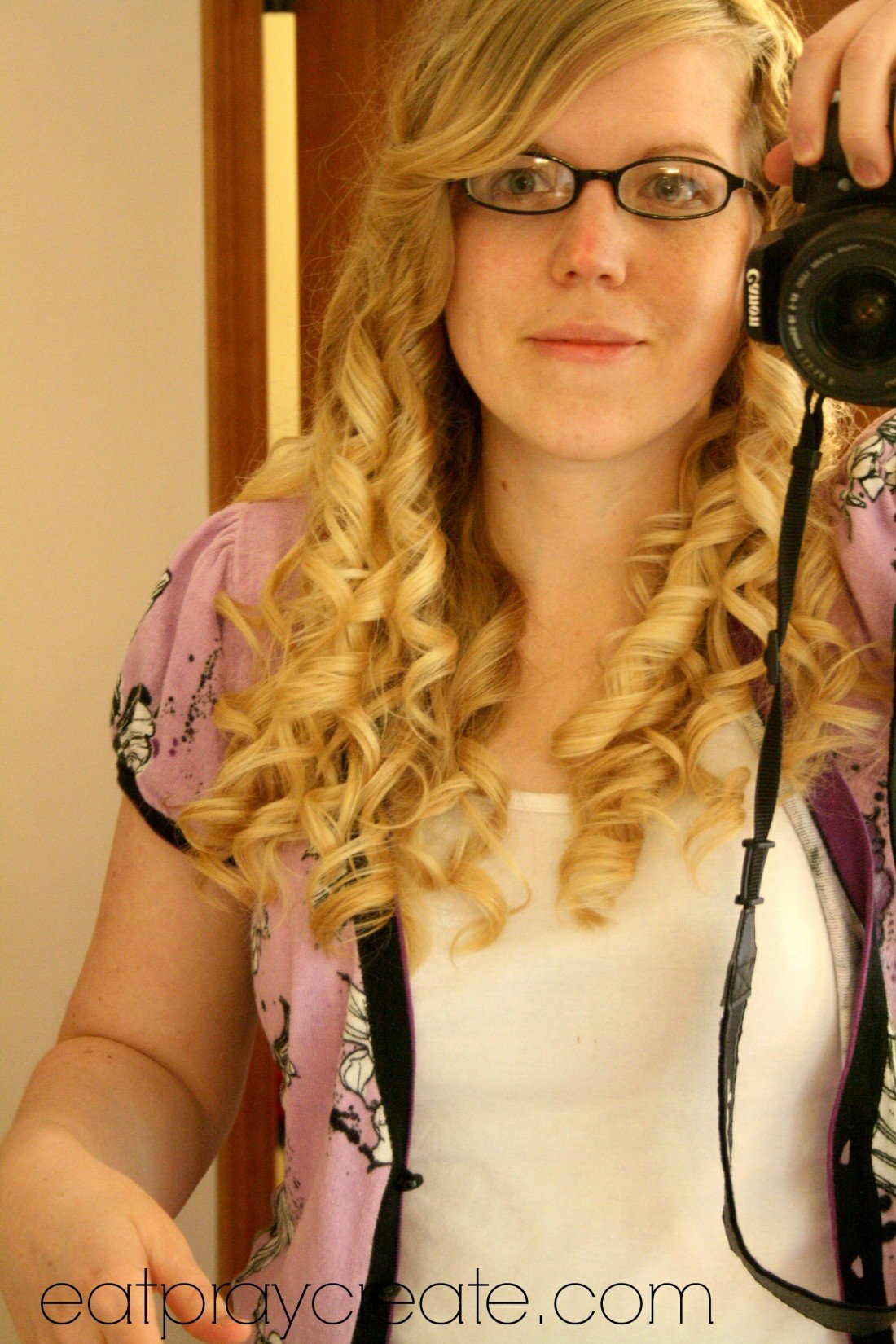 Oh and I only needed about 35 curlers, if you have thick hair you may need the second bag but I didn't. Also, you can probably see that the ends of my hair stuck out the bottom of the curlers (because my hair is so long) so when I took the curlers out I just used my curling iron to curl the couple of ends that needed it!
I styled my hair and bangs and the final result is amazing! I can' believe how beautiful these curls are, and how well they stay put! I will definitely be using them to do my hair for my sister's upcoming wedding!! Here is a little before and after…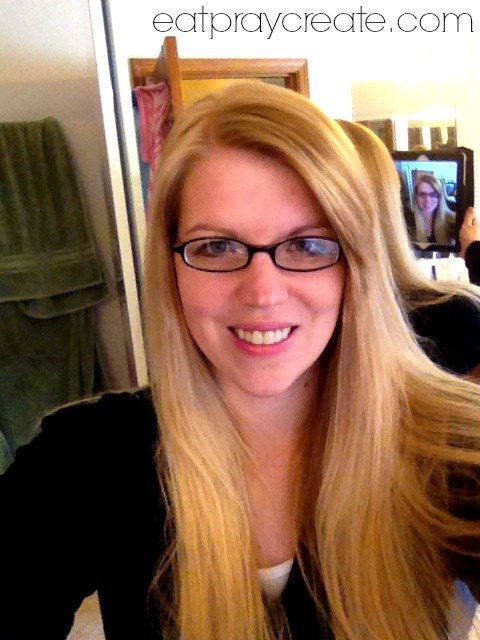 Want some awesome curls too? Just click on the amazon link below and order a set today, believe me, you won't be disappointed!
Here are some instructional videos on you tube that you may find helpful…
https://www.youtube.com/watch?v=tqWTPkph2Co
https://www.youtube.com/watch?v=yJf2czv6M3E
https://www.youtube.com/watch?v=ejEWtJhcBJ0
Click Here to see all the Linky Parties I've linked up to!
Please let me know if you try these out and if you have any questions! I would love to hear from you!
Have a wonderful day everyone ~ Taya
The following two tabs change content below.
Hi I'm Taya! A stay-at-home mother to 5 cuties. I love to craft, sew, blog and make fun things. I'm the creator of the 'Eat-Pray-Create' blog and I'm so glad you're here!
Google+