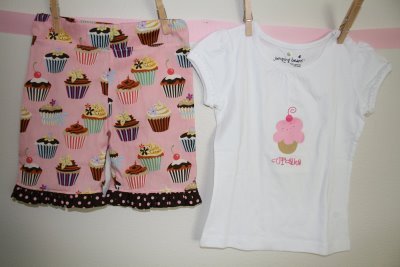 Girls Summer Shorts – Outfit
Crafting with my sister!! My goal was to make my little Sammy her summer wardrobe. Well I didn't get them all done but most are cut out. Cute little modest shorts and some matching tops. Once I finish the others I will get them posted. We made our own pattern for the shorts using a pair of shorts I already had for her that I liked. Modified them a little, added ruffles to some and this is what we got! Adorable. I just bought the shirts and embellish them to match, the cupcake was an iron-on I found at JoAnn's.
To view more please visit my blog!
The following two tabs change content below.
Hi I'm Taya! A stay-at-home mother to 5 cuties. I love to craft, sew, blog and make fun things. I'm the creator of the 'Eat-Pray-Create' blog and I'm so glad you're here!
Google+