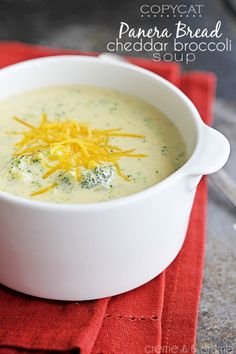 Meal Plan Monday – Week 7
Meal Plan Monday
The day of the week that I plan out our family meals for the coming week, make a grocery list, and go shopping. I like to have a monthly theme and this month our theme is: Desserts!! Click photos or names to find the recipes!
Weekly Meal Plan:
Monday –Copycat Panera Bread Cheddar Broccoli Soup, Bread
 
And our Dessert is….
Super Soft Sugar Cookies!
Here is my Mom's Super Soft Sugar Cookie Recipe. These are soooooo good!!
1 cup butter
1 3/4 cup sugar
1 cup sour cream (makes the cookies so soft!)
2 eggs
1 tsp vanilla
1/2 tsp salt
1 tsp baking powder
1 tsp baking soda
4 cups flour
Mix ingredients in large bowl (i use large mixer). Dough will be very sticky. Cover and chill dough in fridge for about 1 hour. Roll out dough on floured surface, not too thin. Cut with cookie cutter and place on non greased cookie sheet. Bake at 375 for 6 to 10 min. (I watch them carefully, they tend to bake fast if the dough is too thin. I take them out when the edges just start to look brown. Cool on cooling rack. Once frosted store in airtight container.
Frosting
: (mix together-add food coloring if desired)
1 pkg cream cheese, soft
1 cup soft butter
2 cups powdered  sugar
1 tsp vanilla
Tuesday –Cilantro Lime Chicken Tacos, Pico de Gallo and Chips
Wednesday – Big Salad (we love grape tomatoes, red onion, cheese, croutons and dressing on ours)
Thursday – BBQ Chicken Wraps, Fruit
BBQ Chicken Wrap Recipe
Ingredients:
Tortillas
Breaded Chicken – Cooked and chopped
Grape Tomatoes, cut into quarters
Shredded Lettuce
Red Onion, chopped
Ranch Dressing
BBQ Sauce
Directions:
Warm Tortillas, layer ingredients in line, roll up and enjoy!!
Friday – Leftovers
Sunday –Crock Pot Pasta e Fajioli, Rolls
Want more wonderful dessert recipes? Follow my Dessert Pinterest Board for a bunch of yummy treat ideas! Have a wonderful week everyone!
The following two tabs change content below.
Hi I'm Taya! A stay-at-home mother to 5 cuties. I love to craft, sew, blog and make fun things. I'm the creator of the 'Eat-Pray-Create' blog and I'm so glad you're here!
Google+