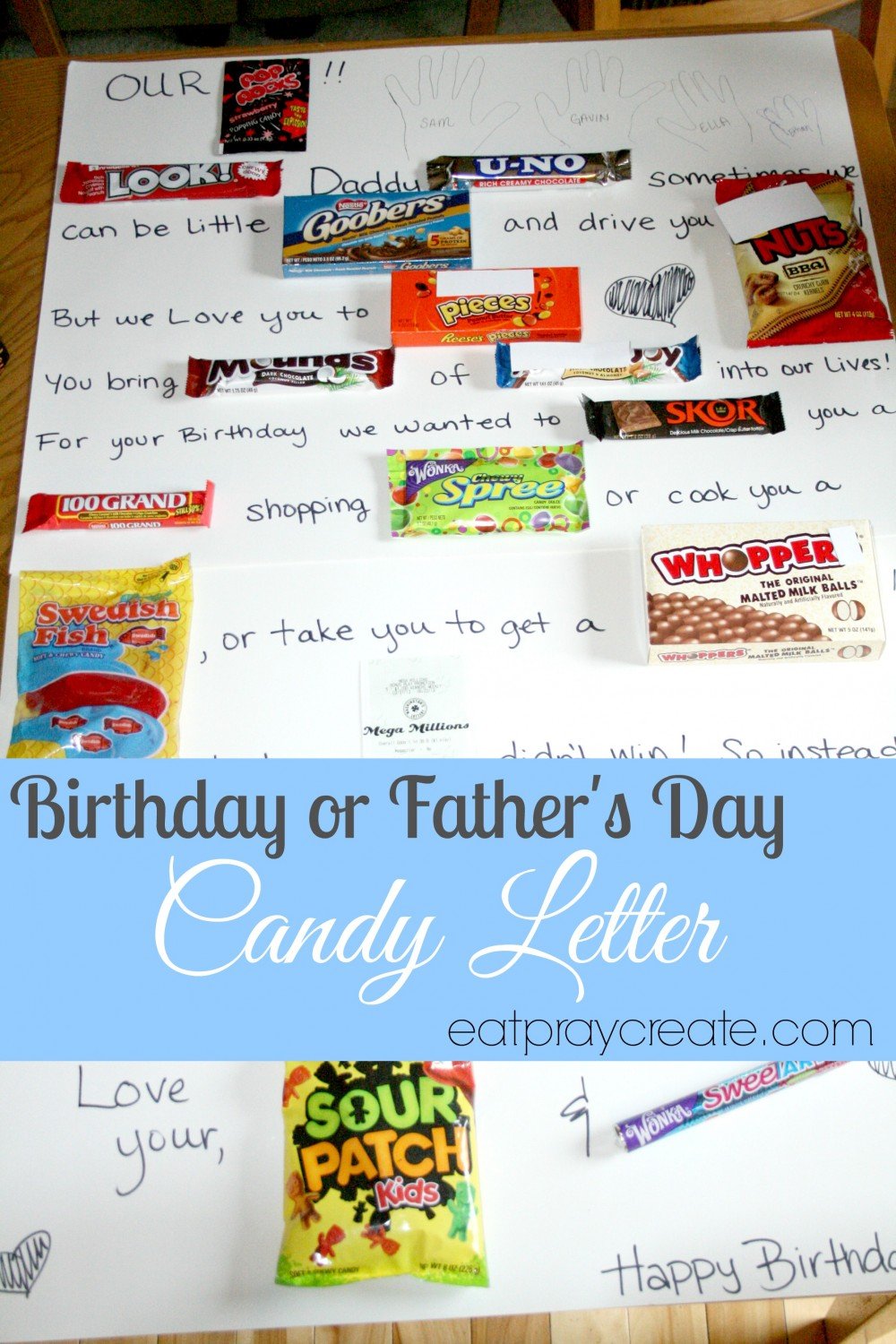 Father's Day Candy Letter – For Dad
Father's Day is coming up fast. Here is a fun treat idea for Dad this year… a yummy Candy Letter! So fun and easy to make, the kids will love finding and attaching the candy. It's a great way to make a personalized gift for Dad this Father's Day or for his Birthday. This is the one we made for Dad for his Birthday…
Here's what you'll need to make your own Father's Day/Birthday Candy letter for Dad.
Supplies:
2 pieces poster board or foam core board for stability (can be found at the $1 store)
Marker
Candy
Tape/ Paper/ Scissors

Here's what ours said and the candies we used:
'Our Pop Rocks – Look Dad U-NO sometimes we can be little Goobers and drive you Nuts (corn nuts) but we love you to Pieces. (Reese's Pieces) You bring Mounds of Joy(Almond Joy) into our lives. For your Birthday(Father's Day) we wanted to Skor you 100 Grand shopping Spree or cook you a Swedish fish or take you to get a Whopper, but our mega millions didn't win! So instead we promise to be more Mello(Caramello) and not give you such a Rocky Road!! Love your, Sour Patch Kids & Sweetart.'
*You could easily exchange the lotto ticket to say 'but we spent all our money(candy coins)'
To Make:
All you have to do is cover up any candy wording with paper and tape. Then start writing and attaching your candies as you go! These candy letters are great for Father's Day, Birthdays, Christmas, Teacher gifts, Graduation, etc.
Have fun creating this fun gift for Dad and check out our other fun Father's Day Gift Ideas…
Have a great weekend!
-Taya
Click HERE to see all the fun linky Parties I've linked up to!
The following two tabs change content below.
Hi I'm Taya! A stay-at-home mother to 5 cuties. I love to craft, sew, blog and make fun things. I'm the creator of the 'Eat-Pray-Create' blog and I'm so glad you're here!
Google+