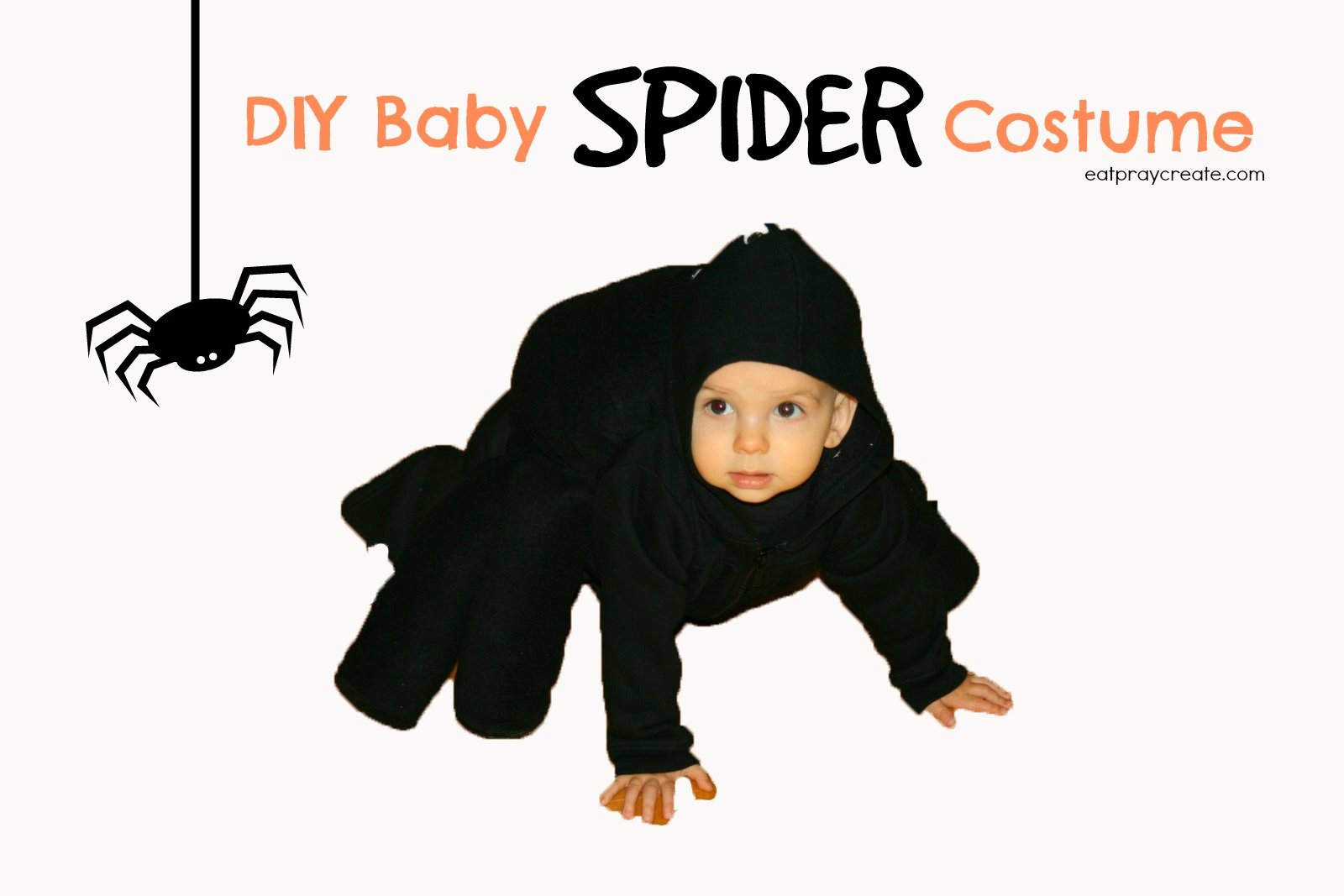 Simple and cute DIY Baby Spider Costume! I made this for my little guy several years ago. It's perfect for your little crawler, with the legs moving along the side as they crawl, so funny! This is a great costume to keep your little one warm if you live in a cold place!
Here's what you'll need to make your own…
Supplies:
Black Hooded Jacket
Black Pants
Googly Eyes
Black Fleece (or other black fabric that doesn't fray)
Batting (stuffing for the legs and back)
Other: Sewing Machine, Thread, hot glue gun, needle.

Start by making your legs. They will be about the same length as the arms of your jacket. Just make sure to add extra on the ends for seam allowance. Cut 4 rectangles, then sew up the long side with right sides together to make a tube.

Cut 4 circles and attach them to one end of each leg tube.

Once the circles are sewn on flip your legs right side out.

Stuff each leg with batting, leaving a couple inches at the top of each opening for sewing. Sew 2 legs to each side of the jacket.

Attach a large circle of fleece to the back of the jacket. I do this by starting to sew with my machine around the circle with the circle edge where I want it to end and slowly pinch and slightly gather the circle edge as I line it up along the jacket as I go. Once you can't sew with your machine anymore, because you're essentially on the inside of the circle just stop sewing with the machine, leaving an opening for stuffing. Then stuff the circle back with batting and hand stitch the opening closed.

Hot glue some googly eyes to the back of the hood and your spider is complete!

Thanks for stopping by the blog today! Hope you have a very Happy Halloween!
Click HERE to see all the fun linky parties I link up to!
-Taya
The following two tabs change content below.
Hi I'm Taya! A stay-at-home mother to 5 cuties. I love to craft, sew, blog and make fun things. I'm the creator of the 'Eat-Pray-Create' blog and I'm so glad you're here!
Google+