Halloween Advent Calendar Tutorial and a few Trunk or Treat Ideas!
Can you believe it's already October! I love fall, it's my favorite season. I love the leaves changing colors, falling from the trees, leaf piles, the pumpkin patch, apples, hot cocoa, apple cider, trunk or treat, thanksgiving…..the list goes on and on! 3 of my cuties were born in the fall too! And in October my favorite decoration is our Felt Halloween Advent Calendar. It is the perfect way for the kids to countdown to Halloween. I made this several years ago with my sister-in-laws and we use it every year. Sometimes we put treats inside (like candy corn) or stickers, or activity ideas. Its always the kids favorite part of the day….moving the stick and seeing what's inside the pockets.
We got the inspiration from these cute Halloween Calendars Pottery Barn use to sell…
Here's what you'll need to make one…
Black Felt (we used glittery black)
Orange Felt for Pockets
Other Felt colors for numbers/shapes
Embellishments – Halloween themed buttons, ribbon, stickers
Orange rick-rack
Orange or Black ribbon for hanging
Dowel and Popsicle stick
Sewing machine, craft/fabric glue, or hot glue gun.
Scissors
Black paint/paint brush
*You can find your supplies at most Fabric/Craft stores. We found ours at JoAnn's and Michaels.
Tutorial:
Cut 2 pieces of Black Felt (36″x 22″). Then cut out your orange pockets 35 (2-1/2″x 2-3/4″) squares.
Pin your pockets in place evenly on one of your black pieces of felt then sew (or glue) them in place, leaving the tops open. Attach rick-rack as well (sew down the center or glue in place.) *Note: My pockets start about 8″ down from the top, 2-1/2″ from the sides, and 3″ up from the bottom.
Put your other black piece of felt on top of your pockets piece and sew right sides together, leaving an opening at the bottom big enough to turn your calendar right side out. Then tuck under and top stitch all the way around the outside edge.
Design your pockets and then start cutting out all your designs and numbers and 'Happy Halloween' and laying them in place. Once you like how it all looks, start gluing your pieces on to the pockets.
Finally paint the ends of your dowel black and your little popsicle stick. Once dry attach embellishment to top end. Now you will need to unstitch about 1/2″ opening to the top 2 upper sides of your calendar for the dowel to slide through. Put in the dowel attach ribbon and hang!
Here are some more up close pictures of the pockets so you can get some ideas…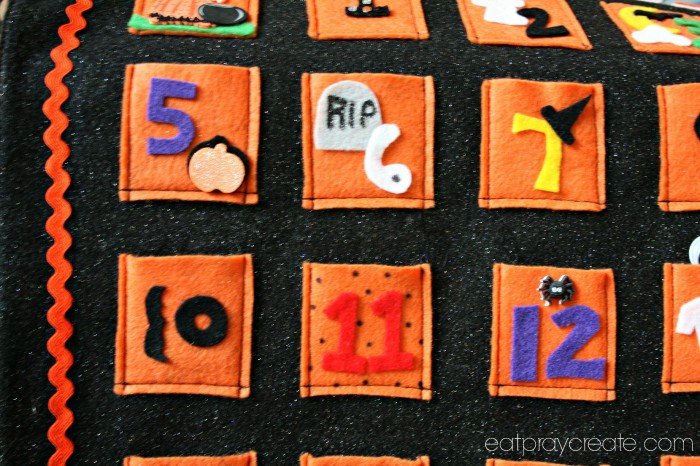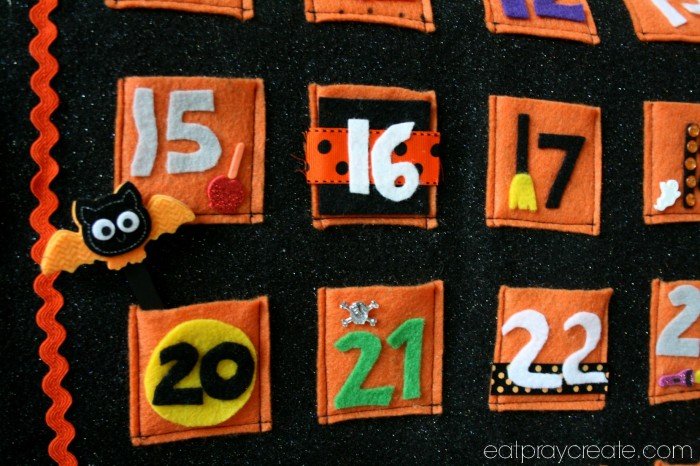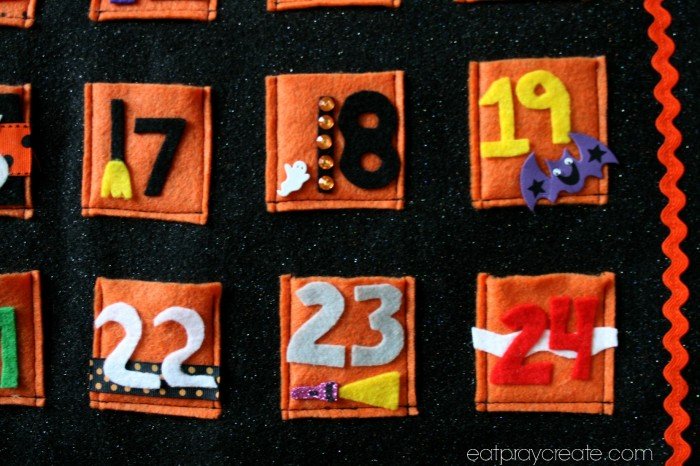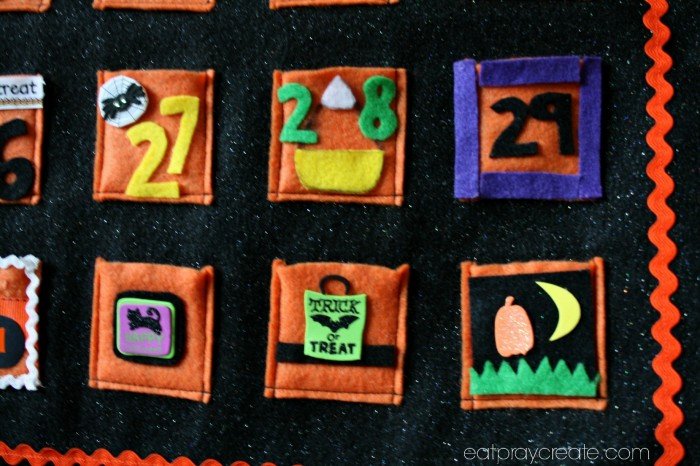 And here are a couple Halloween Trunk or Treat ideas… 

The candy came out of the trunk of the Elephant!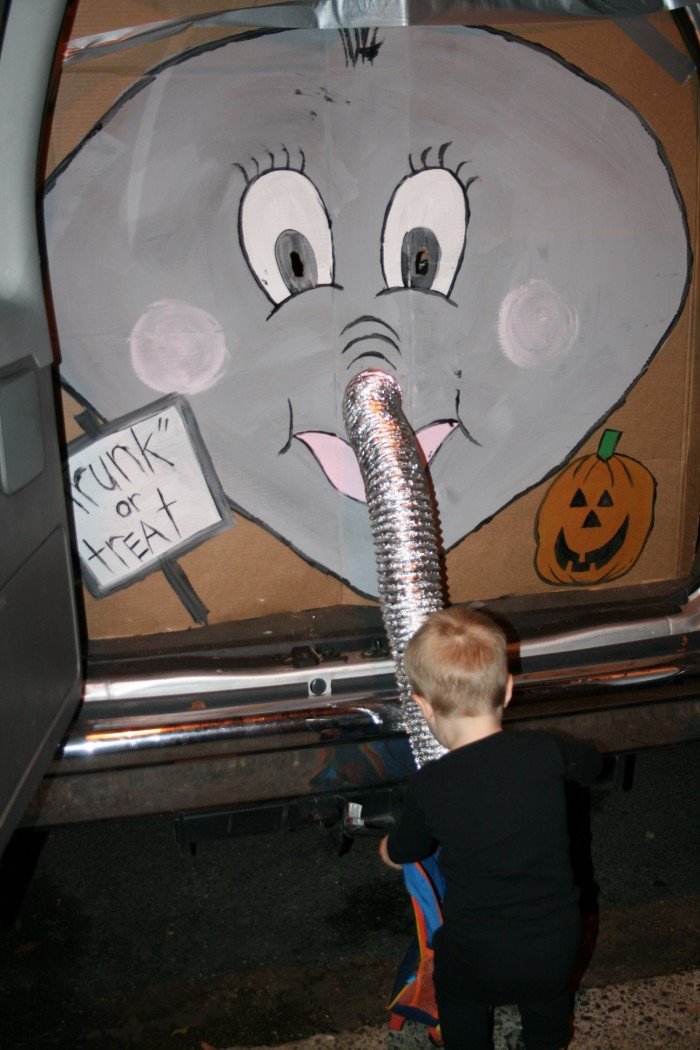 Our little Elephant Ethan last year…
Hope you enjoy the Fall and have fun counting down to Halloween!!
Click HERE to see all the fun Linky Parties I've linked up to!
The following two tabs change content below.
Hi I'm Taya! A stay-at-home mother to 5 cuties. I love to craft, sew, blog and make fun things. I'm the creator of the 'Eat-Pray-Create' blog and I'm so glad you're here!
Google+