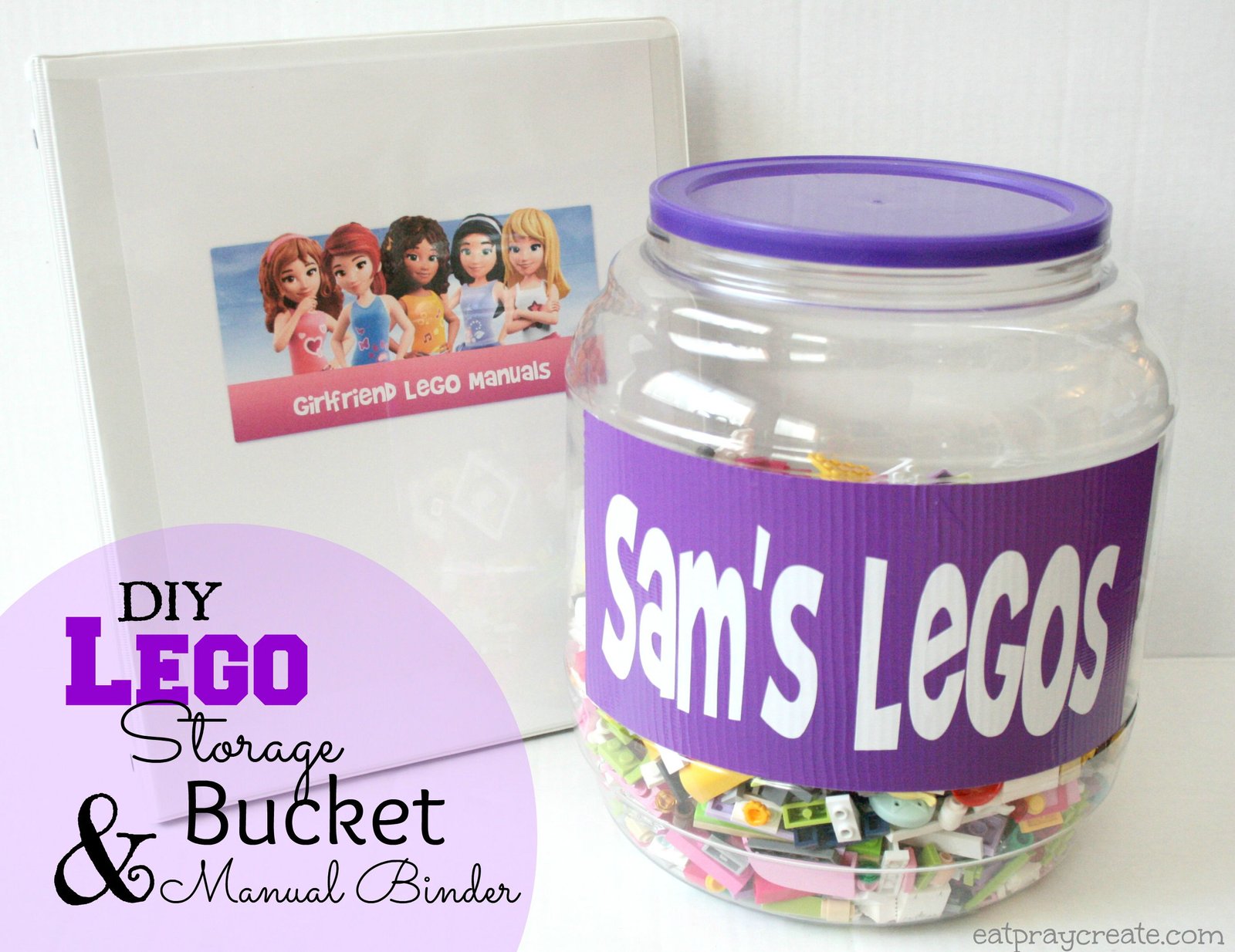 Our kids LOVE Legos! And if you're reading this I'm guessing your kids do too!
You may remember the post where we shared the Lego Drawers we built for our son not to long ago. Our daughter also has a few sets of girl Lego Friends and we needed a good way to store them when she wasn't playing with them. However, she doesn't have quite the amount of Legos as her brother so I decided to make something a little more simple for her Legos… this recycled Lego Storage Container. It's made from an old cheese ball container! Recycling at its finest!
It turned out so cute, and she loves it. And if you're sick of stepping on Legos, like I was, you need to make one of these! Best of all, it's quick and easy!
 (This post contains affiliate links)
Here's what you'll need to make your own…
Supplies:
 Steps:
Start off by getting rid of the label on your container (if it has one). I used goof off and a rag.

Cut your duct tape sheet to fit.


Peel and attach it to your container.


Use some transfer paper and a credit card to peel your vinyl letters from their backing and attach to your container. Just lightly press your card on top of the transfer paper once it's placed on top of the vinyl, then peel off the backing.


Place transfer paper, with vinyl attached, onto your bucket. Use your card again to press across each letter so it sticks to your surface.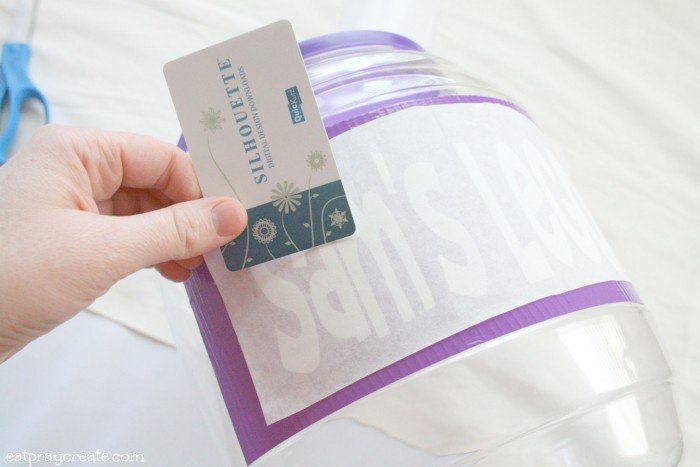 Then peel off the transfer paper leaving your vinyl attached.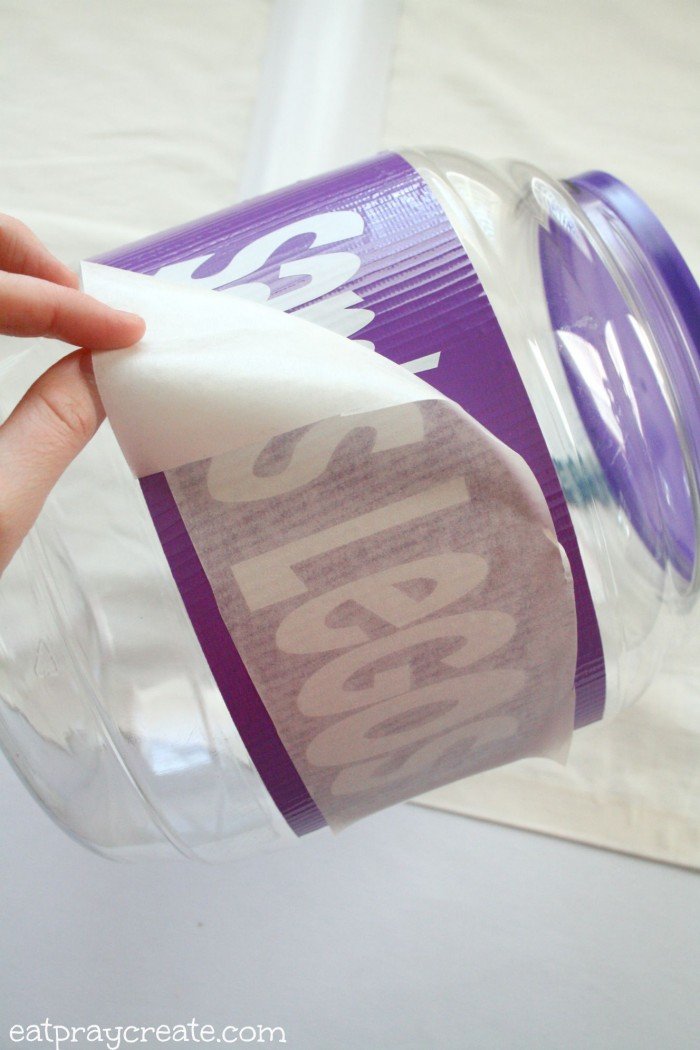 Check out that cute, personalized Lego Container!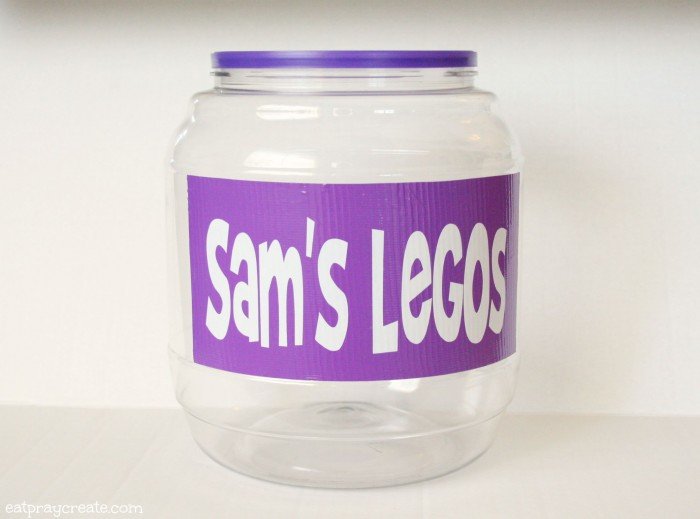 Fill with Legos and you're good to go!


Add your Lego manuals into your sleeve protectors and put in your binder.


Add a cute binder cover. I just added wording to a Girl Lego Friends Picture I found online using google images.


Perfect Lego Storage for all those Legos your kids have lying around.

Perhaps you've got more Legos than this! So you may need to make a few of these…
So your kids Love Legos huh?!? Here's another little Lego craft for the kids…
Thanks for stopping by the blog today. Be sure to look around and be inspired to create something fun! And check out all the fun Linky Parties I love to link up to!
– Taya
The following two tabs change content below.
Hi I'm Taya! A stay-at-home mother to 5 cuties. I love to craft, sew, blog and make fun things. I'm the creator of the 'Eat-Pray-Create' blog and I'm so glad you're here!
Google+