Super Easy 1-Hour Breadstick Recipe
 
By: Megan
I know that using yeast intimidates some people.  However, this recipe is so easy that you can't go wrong.  I make this recipe all the time and love making it when I take dinners to friends.  It is my most requested recipe.  People can't believe they are homemade!  This is a recipe of my moms.  I wrote down the ingredients years ago, but I had to watch her make them so I could learn how to do it.   My family gobbles them up.  My kids will eat them for all 3 meals if I have leftovers.  And it doesn't take a lot of time – so I can start them at the same time I start working on dinner.
Super Easy Bread Sticks
1 1/2 cups warm warm (I just use tap water)
1 T yeast
3 cups flour
2 T sugar
1 1/2 tsp salt
1/2 cup butter (1 stick)
Parmesan cheese
1.  Put warm water in bowl and add yeast, mixing slightly.  Let yeast dissolve in water for a minute or so.  Add flour, sugar, and salt.  Mix until dough forms.  Knead until dough is smooth.  Place back in bowl (I like to spray my bowl with Pam spray), cover, and let rise until double.  About 20 minutes.    While your dough is rising, melt the butter and put it in a 9×13 pan.
2.  Once dough is ready, roll it out on a floured surface.  Roll into a rectangular shape – slightly larger than your 9×13 pan.  Using a knife, cut about 1″-1 1/2″  pieces and place in pan.  You want them to be snug -so just squeeze them in there.  You should be able to fit about 12-14 pieces in the pan.   Cover with a towel, and let rise again about 20 minutes.    Preheat oven to 350 degrees.
3.  When bread sticks have risen, sprinkle with Parmesan cheese, and place uncovered in a preheated oven.  Bake for about 12-15 minutes, or until they start to brown slightly on top.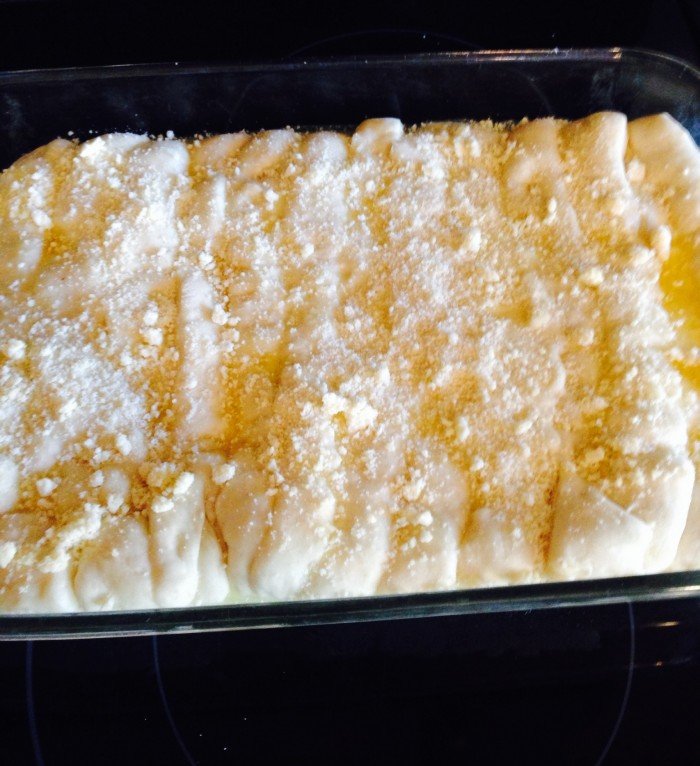 Serve while warm.  Enjoy!
Click HERE to see all the fun Linky Parties I've Linked up to:)
The following two tabs change content below.
I am a busy mom of 4 children, ages 10 down to 2. I love being a mom and spending time with my cute family. In my spare time (which doesn't seem to be often these days), I enjoying crafting, cooking, and being creative!
Google+